Season 4 of the STARZ hit series Outlander has some new faces that Claire and Jamie meet in the Americas, and today we've got our first look at some of them.
Released today, this official photo shows some of the local Native Americans that Claire (Catriona Balfe) and Jamie (Sam Heughan) meet in their time in the Carolinas. The pictured group are more than 100 First Nation Canadians who arrived in Scotland to play a number of speaking and supporting roles.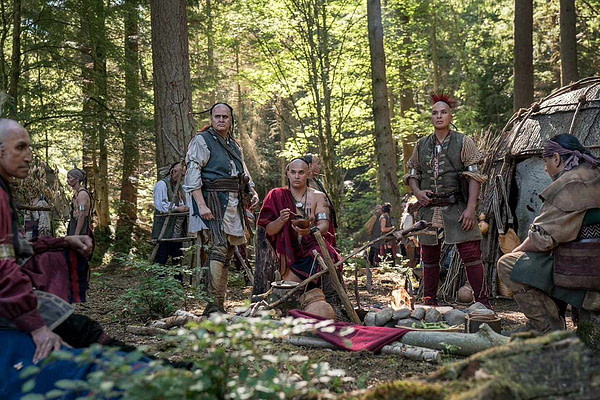 The RadioTimes writes:
"Every department, from production design to costume and hair and makeup does a huge amount of research to ensure we create a world that feels authentic to the time and place," executive producer Matthew B. Roberts told the outlet.

"To build our Native American world, they have learned traditional techniques, from canoe building to hand weaving and, to populate that world, we have welcomed a great team from Canada to play both the speaking and supporting roles of the Cherokee and Mohawk Nations in Outlander season four."
Season 4 will follow Drums of Autumn, the fourth book of the Diana Gabaldon Outlander book series, which picks up right after the end of season 3/book 3 where Jamie and Claire find themselves in the Americas.
Without too many spoilers — there will be some characters introduced in season 4 that will change the lives of the Fraser clan forever, like the white sow.
Outlander is expected to return sometime this fall.