"NCIS": CBS Entertainment Prez Kelly Kahl – Pauley Perrette Assault Claims "Resolved"
CBS President of Entertainment Kelly Kahl took some time during their Television Critics Association (TCA) summer press event to address accusations made by ex-NCIS star Pauley Perrette against both the series and series star/executive producer Mark Harmon in May 2018 and June 2019 (see below). From Kahl's perspective, the matter Perrette brought to the network's attention was "resolved" and couldn't address what Perrette was referencing in her June 2019 tweets:
"I can't speak to to what she's addressing in her tweets. She came to us with a workplace concern, we immediately investigated it and resolved it to everyone's satisfaction and we're very happy to have her on the air with us this year. I don't think she'd be back with us if she had huge concerns." In May 2018, Perrette's forensics specialist Abby Sciuto made her final appearance on CBS' NCIS in season 15 episode "Two Steps Back," where the character's final fate took her across the pond to London and to a "To Be Continued" ending that offered viewers a glimmer of hope of Abby's return. Then a few days later, the other shoe dropped with regards to Perrette's departure: in a series of tweets, the actress alleged that she was the victim of bullying and "multiple physical assaults" while on set – and that those led to her departing the series after 15 years. So talk of a return were pretty much put to rest.
Flash ahead to June 2019, approximately three weeks after the NCIS season 16 finale saw the shocking and unexpected return of an old character (NO SPOILERS!). With that still fresh in their minds, it appears NCIS fans forgot the reasons for Perrette's departure and started asking her if she planned on making a return of any type to the series for season 17 this fall.
In the following tweet, Perrette not only gave a pretty blunt response about never coming back to the series and for fans to stop asking about it, she also formally named Harmon as being a direct reason why she would never return:
"I am terrified of Harmon and him attacking me. I have nightmares about it."
Here's a look at Perrette's original tweet: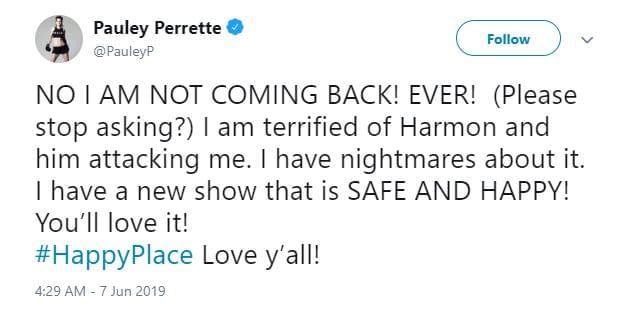 What she meant by "attack" still isn't quite clear, and Perrette goes on to say that she's currently working on a new series that has her feeling "safe and happy." Here's a look at Perrette's new CBS series Broke:
https://www.youtube.com/watch?v=61peJy7J56M
Jaime Camil and Pauley Perrette star in BROKE, a comedy about Jackie (Perrette), a single suburban mother who's shocked when her estranged sister, Elizabeth (Natasha Leggero), her sister's outrageously wealthy, big-hearted husband, Javier (Camil), and Javier's fiercely loyal assistant/driver/friend, Luis (Izzy Diaz), land on her doorstep in need of a place to live after the couple's money dries up. Though class differences may separate the women, and the size of the house and the number of people living in it will test the limits of family ties, the familial bond of sisterhood might be the catalyst they need to restore their relationship.

Emmy Award winner Alex Herschlag ("Will & Grace," "Modern Family"), Jennie Snyder Urman ("Jane the Virgin"), Joanna Klein, Ben Silverman, Jaime Camil, Guillermo Restrepo, Gonzalo Cilley and Maria Lucia Hernandez are executive producers for CBS Television Studio/Sutton Street Prods./Propagate, with creative partners RCN TV and Resonant TV. Victor Gonzalez directed the pilot from a script by Herschlag.
CBS' Broke also stars Jaime Camil as Javier, Natasha Leggero as Elizabeth, Izzy Diaz as Luis, and Antonio Corbo as Sammy.