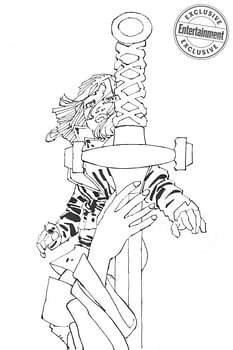 Netflix has tapped comic writer/artist Frank Miller (Sin City) and writer/producer Tom Wheeler (Puss In Boots) for a new original drama called Cursed. It will focus on the Lady of the Lake from the Arthurian Legends and has received a 10-episode order based on the Miller/Wheeler upcoming illustrated YA book of the same name. This is most likely the first time the same creative team will be working on a book and TV series for the same property at the same time.
Cursed is a re-imagining of the King Arthur story from the point-of-view of Nimue, a teenage girl with a mysterious gift and who is destined to become the powerful yet tragic Lady of the Lake. We meet Nimue after her mothers death when she teams with Arthur, a young mercenary, to find Merlin and deliver to him an ancient sword. During their journey, Nimue becomes a symbol of courage and rebellion against King Uther and his Red Paladins. Uther is of course, Arthur's father. The book, written by Wheeler and with art by Miller, will be published in the fall of 2019 by Simon & Schuster.
Miller is known best know for his celebrated comic book runs The Dark Knight Returns, Daredevil: Born Again, Ronin, Sin City and 300. He co-directed the Sin City film and it's sequel with Robert Rodriguez directed The Spirit film on his own. Wheeler co-wrote the LEGO: Ninjago Movie, wrote the script for Puss in Boots and was the creator and executive producer on the NBC series The Cape.
Source: Deadline
Enjoyed this article? Share it!