It's Always Sunny in Philadelphia Season 13, Episode 10 'Mac Finds His Pride': McElhenney Shines in Bold, Heartfelt Finale (REVIEW)
Welcome back to Bleeding Cool's weekly review of FXX's It's Always Sunny in Philadelphia, as we offer up our thoughts on the 13th season finale, 'Mac Finds His Pride.'
He faced his Dennis (Glenn Howerton) issues with a sex doll. He helped The Gang escape. He found an interesting new way to "elevate" Dee (Kaitlin Olson). He beat a bunch of kids to near-death with Charlie (Charlie Day). He sparked a gender-based bathroom debate, helped alter reality, and even helped the Philadelphia Eagles win the Super Bowl. All-in-all, Mac's (Rob McElhenney) had a pretty productive 13th season.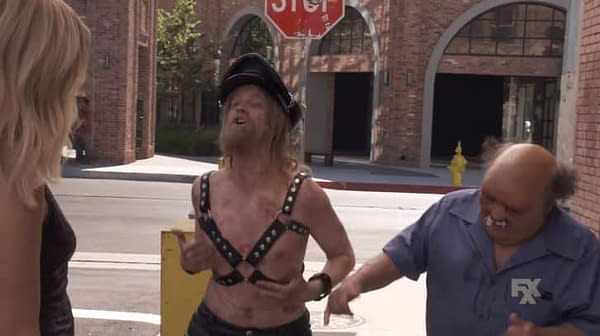 But one thing he hasn't done? Come out to his dad Luther Mac (Gregory Scott Cummins), a move Frank (Danny DeVito) realizes Mac has to pull off if he's ever going to feel secure as a gay man. So on the eve of Paddy's run at Philadelphia's Gay Pride Parade, The Gang's going to do what they have to do until 'Mac Finds His Pride.'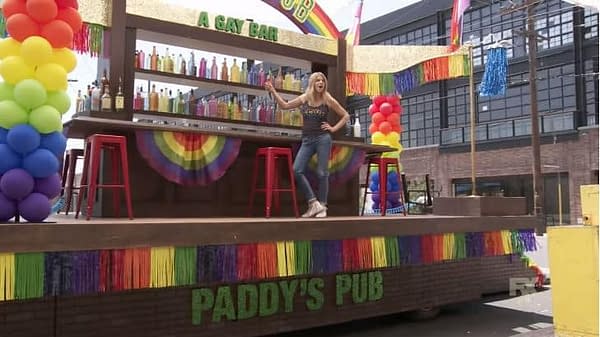 So check out our review of FXX's It's Always Sunny in Philadelphia s13e10 'Mac Finds His Pride' and see why this episode not only wore its heart on both sleeves but served as the exclamation point to a season that went in some bold, new – and hysterically funny – directions.
Spoiler Warnings: I'll be covering some themes and takeaways involving major and minor plot points from the episode, so just keep that in mind. Definitely not looking for pitchforks and torches outside my apartment.
It's Always Sunny in Philadelphia Season 13, Episode 10 'Mac Finds His Pride': Frank tries to recruit Mac for the gang's kickass float for the Gay Pride Parade. It dawns on Frank that Mac will never be secure with his sexual identity unless he comes out to his father. Written by Rob McElhenney & Charlie Day; Directed by Todd Biermann.
https://www.youtube.com/watch?v=lF5v-YDX0FQ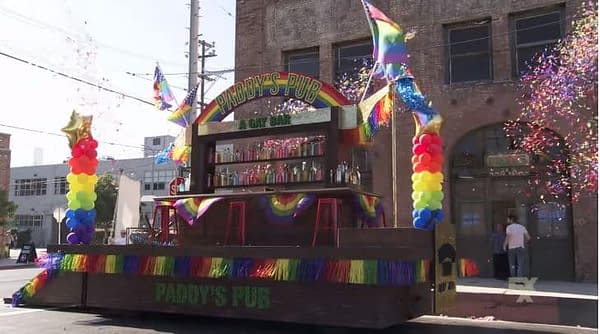 They say that desperate times call for desperate measure – but in this scene from 'Mac Finds His Pride,' for The Gang it's more like desperate times call for…Cricket (David Hornsby)?!?!?