There has been a spate of television programmes being pulled off streaming services of late, notably those including white comedians  playing black characters, though there may be a number of other issues associated with the shows. Comedy sketch show Little Britain was pulled by Netflix, Britbox, and the BBC Player, and now broken comedy series The League Of Gentlemen and the Mighty Boosh have also been pulled from Netflix – though they both still remain on the iPlayer.
The League Of Gentlemen has been criticised for their transexual cab driver Barbara, seen in close up cuts emphasising hairy chests, large hands, hairy eyebrows and the like, with many trans women over the years reporting 'Barbara' being used as an insult, shouted at them. A recent revival of The League Of Gentlemen saw them attempt to recreate Barbara in light of different mores, demanding she be treated more respectfully, but failing rather.
But another character who has often been criticised but some and seen as dark satire by others is Papa Lazarou, a grotesque creature who appears in classic minstrel makeup, with long curly hair. One of many characters played by Reece Shearsmith, he runs the travelling circus, enslaved women in the towns he travels through making them his 'wives' and imprisons audience members within the circus' animals. Later episodes reveal that he is not in makeup, it's his actual skin colour, and in one episode disguises himself with white facepaint. In the revival, he has moved on to imprisoning women underground in his 'wife mine'.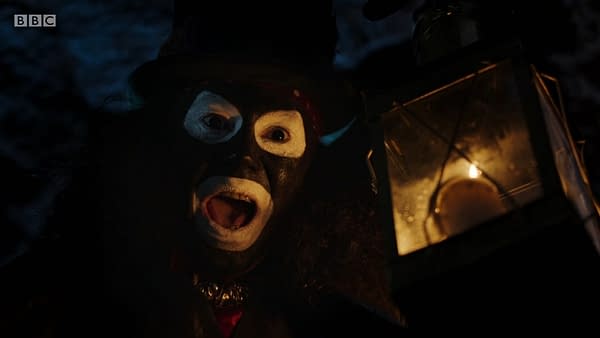 The Mighty Boosh had Noel Fielding dress as a black character, the Spirit of Jazz, the character of Naboo has been described as a parody of "orientalism" and Julian Barrett in blackface as Rudy, a Hendrix-style musical priest with a door in his hair, who was always "searching for the new sound."
As of now, they both remains on the BBC Player. Let's see what happens in the morning, shall we? In the light of Little Britain and Come Fly With Me being pulled, DVD sales rocketed to the top of the Amazon UK charts, but as of now almost every copy on Amazon or Amazon marketplace has been sold. The League Of Gentlemen DVD set is just behind where Little Britain would have been in the chart and sales of The Mighty Boosh are also increasing too.
Enjoyed this article? Share it!