While reports are that network executives are still very high on its long-term series prospects, ABC will not be moving forward with NYPD Blue for the fall – but reshoots have been ordered and the pilot is up for midseason consideration. The proposed revival centers on Theo Sipowicz (Fabien Frankel, Last Christmas) – son of original series' Detective Andy Sipowicz (Dennis Franz) – who works to earn his detective shield while investigating his father's murder. Theo seems to have taken after his father as he too is a hard-drinking, hard-headed, and quick-witted cop.
[Ed. Note: Possibly to give ABC more time to convince Franz to have more involvement? Hmmm…]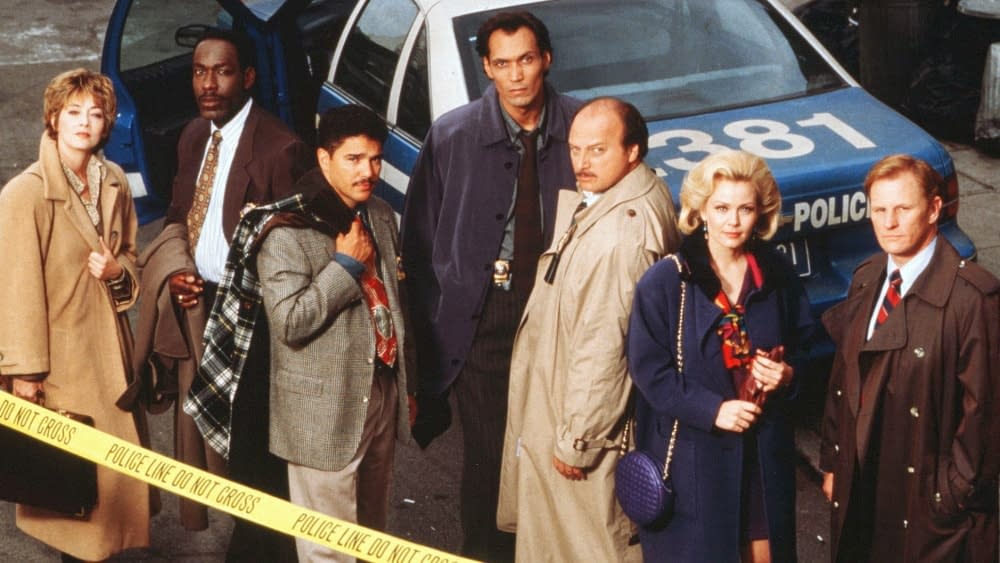 The series' setting would still be the 15th precinct, with Theo leading a group of officers/detectives that includes Detective Craig Pettibone (Rick Gomez, The Crossing), Detective Chris Gamble (Ashley Thomas, 24: Legacy), Detective Nicole Lazarus (Alona Tal, SEAL Team). So far, two cast members from the original series are set to reprise their roles: Kim Delaney (Diane Russell) and Bill Brochtrup (John Irvin).
Gomez's Pettibone is studying law at night with the goal of passing the bar one day. Although he hasn't passed it yet, he's aggressive enough to be already drumming up clients by passing out his business card. Thomas' Gamble is another detective on the team, while Tal's Lazarus has a tangled personal life: as her soon-to-be-ex-husband divorces her and tries getting a percentage of her pension, she's trying to ease the pain with a no-strings affair.
Fans of the original NYPD Blue will remember that Sharon Lawrence's Sylvia was gunned down at the end of the sixth season (with her heartbreaking final words to Sipowicz: "Take care of the baby."):
Matt Olmstead and Nick Wootton are championing the project, with both having worked on the original NYPD Blue. Jesse Bochco – son of late series co-creator Steven Bochco – will direct the pilot; with Bochco's widow Dayna Bochco serving as producer. During its 1993 to 2005 run, the original ABC series was nominated for 84 Emmy Awards, walking away with the award for Outstanding Drama Series in 1995.
Enjoyed this article? Share it!