Please Tell Us M&M's Pulling Its Spokescandies Is A Super Bowl Thing?
There's no way this whole thing with M&M's, Maya Rudolph & the spokescandies being pulled isn't some Super Bowl marketing... right?
---
There's no way this isn't some kind of elaborate marketing campaign that reaches its crescendo during the NFL Super Bowl next month, right? Because as thrilled as we are to see Maya Rudolph in pretty much anything (M&M's "Chief of Fun" is a pretty cool title), we keep having a hard time buying into the idea that the Mars, Incorporated-owned candy company would just roll over and play dead for the likes of FOX "News" Minister of Propaganda Tucker Carlson and his gaggle of whackjobs. In case you missed it, M&M's announced on Monday that their spokescandies were being put on an "indefinite pause" due to some folks out there who won't own up to their sexual fetish for candy calling out the candy company for "playing politics" and (wait for it) "being woke." Now, here's the thing. There's no reason not to believe it because (while we love your candy, so nothing personal) Mars wouldn't be the first (or the last) company to fold under whackjob pressure. And there's no saying that Rudolph won't be making her own social issue statements during her run as "Chief of Fun." But it all just feels so… wrong.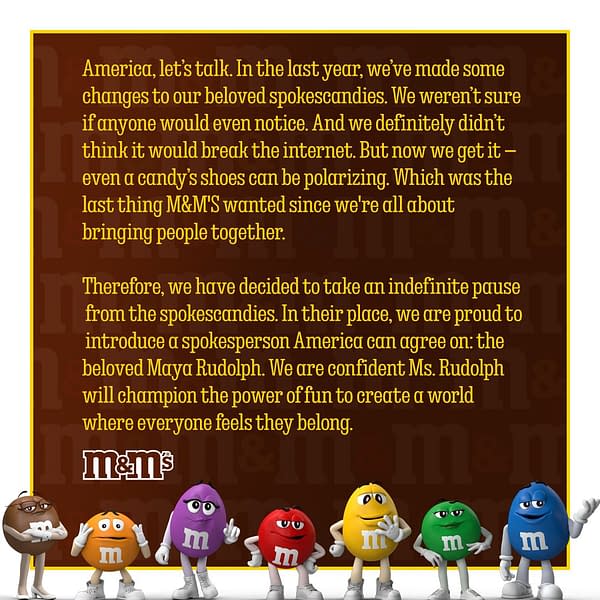 So it's the cynical optimist in me who believes the story at face value yet holds out some "lesser of two evils" hope that all of this culminates in a return to spokescandies normalcy during the NFL's biggest game. Because if this is a Super Bowl stunt, then it's a really bad move that's making light of a serious "bigger picture" issue in the media for the sake of sales. It's going to be very interesting to see how this plays out either way…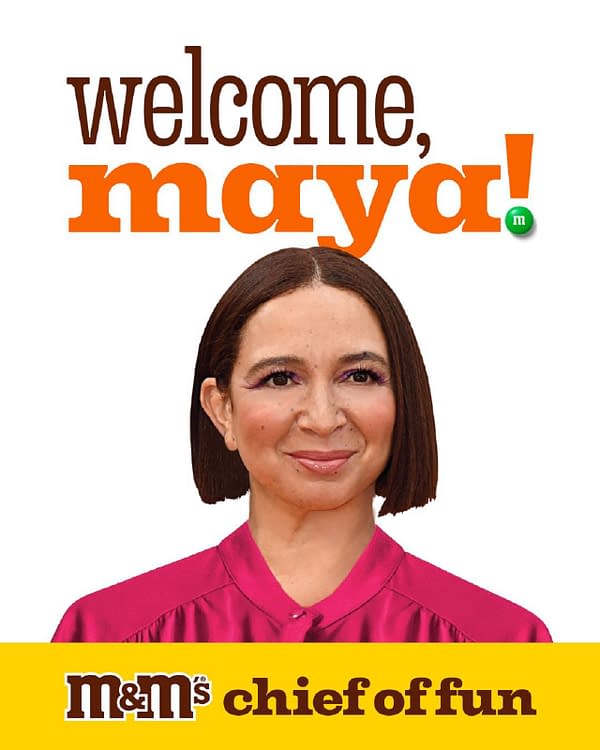 "In the last year, we've made some changes to our beloved spokescandies. We weren't sure if anyone would even notice. And we definitely didn't think it would break the internet. But now we get it—even a candy's shoes can be polarizing. Which was the last thing M&M's [a product of the Mars Wrigley Confectionery division of Mars, Incorporated] wanted since we're all about bringing people together," read the statement released. Here's a look back at the tweet posted by M&M's on Monday apparently confirming the change (and giving tons of tinfoil-hatters bragging rights over getting a "win"):