"Preacher" Season 4: Have "Faith" to Follow "The River" – There's a Surprise Waiting (Trust Us)
Folks, we are less than 72 hours away from Jesse's (Dominic Cooper) final sermon from "The Book of Genesis" for AMC's series adaptation of Garth Ennis and Steve Dillon's Preacher – where we find out what God's (Mark Harelik) "master plan" has in store for Jesse, Tulip (Ruth Negga), Cassidy (Joseph Gilgun), Herr Starr (Pip Torrens) and their blessed/cursed crew.
What follows are the teasers "Faith" and "The River," which we hope you enjoy – and then ask that you stay around for some Bleeding Cool/Preacher-related news that you're the first to hear about…
Now for the really cool "breaking news," Preacher fans!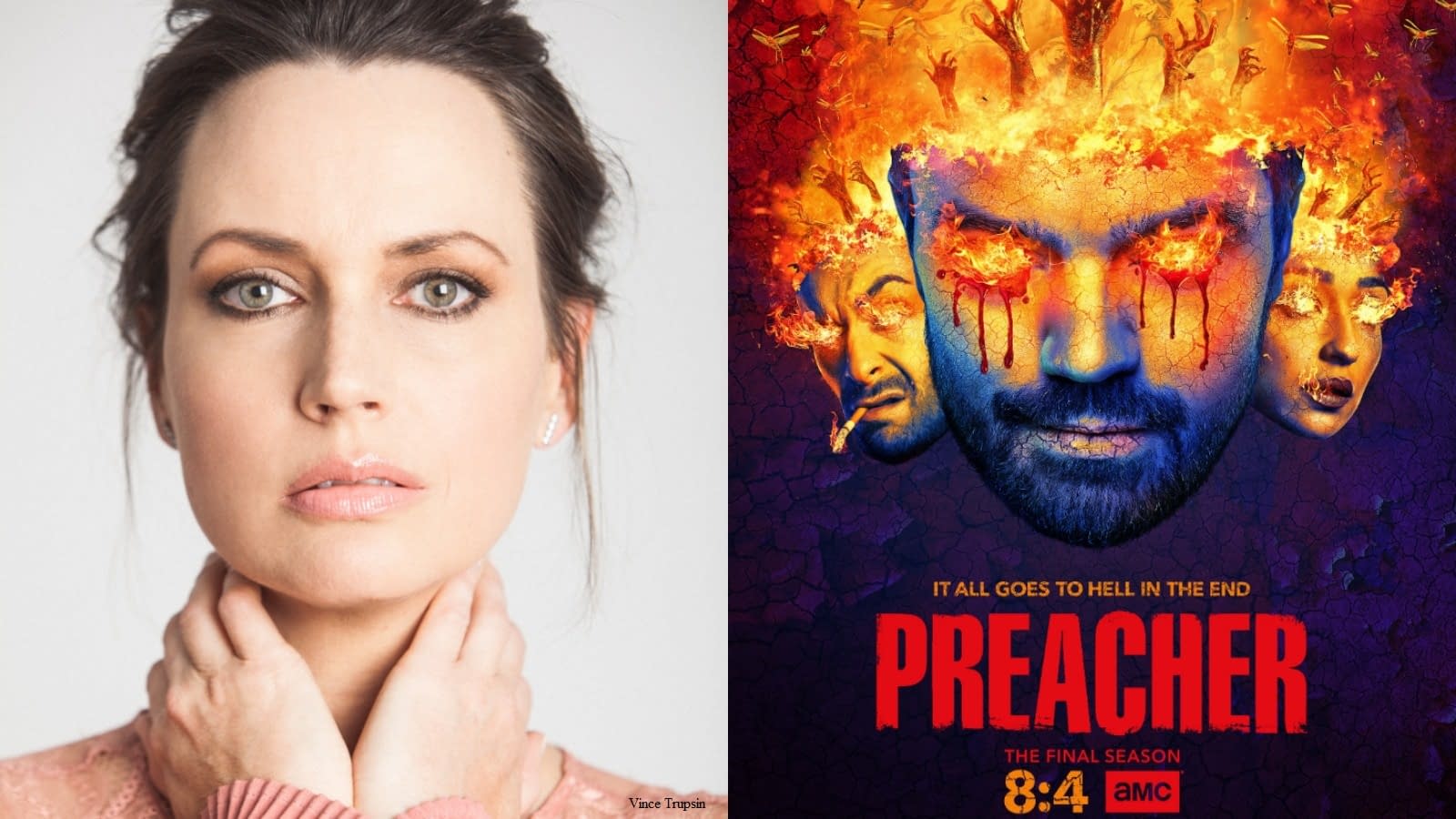 To celebrate the start of the fourth season on Sunday, August 4, the amazing Julie Ann Emery (The Grail's Featherstone) will be taking over our social media, and live-tweeting opener "Masada" starting at 9 p.m. ET/6 p.m. PT. – and you're the first ones to know about it!
So here's what you need to do to get in on the action and ask some questions:
● If you haven't done so already, follow Bleeding Cool's official Twitter account (@BleedingCool) – which you can do by clicking here.
● Tweet your questions for Emery using the hashtag: #askjulieann (feel free to throw in #BleedingCool, #Preacher, and more "hashtag" love – but if you want your question answered, you have to have #askjulieann).
● On Sunday, August 4, starting at 9 p.m. ET/6 p.m. PT, Emery will be in control of Bleeding Cool's Twitter account – and ready to answer your questions!
Make sure to check out Bleeding Cool's recent interview with Emery here.

AMC's Preacher comes storming its way back onto our screens starting Sunday, August 4.
As our story inches closer to the finale, God's endgame for the universe begins to click into place. Trapped between heavenly prophecies, hellish prisons, and all-out nuclear war, Jesse, Tulip, and Cassidy make their bloody way to the Most High. Whether they can reach God in time — or whether all this carnage is part of His divine plan — will soon be revealed as PREACHER barrels towards the end of the world.

Preacher season 4, episode 1 "Masada": Jesse is rocked by visions of an apocalyptic future as he and Tulip prepare for an all-out assault on Masada, where Cassidy – trapped to a torturous fate – struggles to hang on. But Starr and his Grail operatives are ready for them…