There was much to celebrate on this week's episode of FOX's Prodigal Son: the Whitly family is back together – and getting some collective screen time together, too!
Dr. Whitly aka "The Surgeon" (Michael Sheen) is finally out of solitary for saving a member of the ward and getting his TV and phone privileges back – step one obsessively dial Malcolm Bright (Tom Payne) – clearly nothing has changed); Jessica (Bellamy Young) is possibly back on the road to getting accepted by the elite circles; Bright practices his sword catching skills and gets ready to take a vacation – well to be frank, he packs a suitcase, and never quite makes it to the airport.
A compelling series of homicides, a villain seeking justice for being done wrong in Monte Cristo fashion, antique weaponry, carvings in the inner arms, and truly creative ways to kill/attempt to kill, black widow bomb, how poetic.
[rwp_box id="0"]
Is Dr. Whitly feeling remorse, sorrow, possibly even love? After a horrible dream when he is deemed a villain by his son and no amount of professing love changes things, Dr. Whitly seeks out therapy to process his feelings. You might remember that "The Surgeon" was convinced Malcolm was dead at the hands of the "Junk Yard Killer". Has the asylum made him soft? He seems so desperate to reconnect with his family, or is all this out of sheer boredom. Being out of solitary Dr. Whitly doesn't waste time trying to reconnect with Malcolm, there is something to be said for timing.
Malcolm – dressed up for his Caribbean vacation – is escorted by Gil (Lou Diamond Phillips) to the airport, because nobody trusts him to actually make it to the airport. A call comes in on the radio for a homicide, and Malcolm convinces Gil to detour on the way so he can take a quick peak. The victim, a former district attorney with "Villfor' carved out on his inner arm a villain form "Monte Cristo", there was no way Bright was giving up this case, a killer romanticizing one of his favorite books.
Bright profiles the culprit as a revenge killer seeking poetic justice. Meanwhile the ME lifts the victims hand and Bright screams and jumps for it – the black widow bomb. The NYPD is escorted out of the room because it seems that the bomb is unstable, not much time to deactivate -so Dr. Whitly calls, and Malcolm answers.
Why?
Could it be that Bright actually wanted to hear his father's voice before he possibly dies? After exchanging some pleasantries and peaking "The Surgeon's" interest in the theatrical case, Bright hangs up, shoots through the window, and throws himself out – landing on Gil's car ("Under Pressure" playing in the background – way to set the tone).
Dr. Whitly makes another contribution by calling in to the precinct and participating in a meeting – welcome to the team! Bouncing ideas, the NYPD realizes that there shall be three victims in all, all connected and responsible for some viscous injustice. Another possible homicide, gruesome, creative, poetic, and exhilarating to watch.
A man is center stage, gagged and trapped among strings, if he moves, if he pulls a string a series of swords will swing and plunge into his body. The daggers are suspended in midair and attached to banisters, that's ok though, Bright has a brilliant plan – have Dani (Aurora Perrineau) and JT (Frank Harts) cut the strings one at a time for him to catch. That totally seems plausible.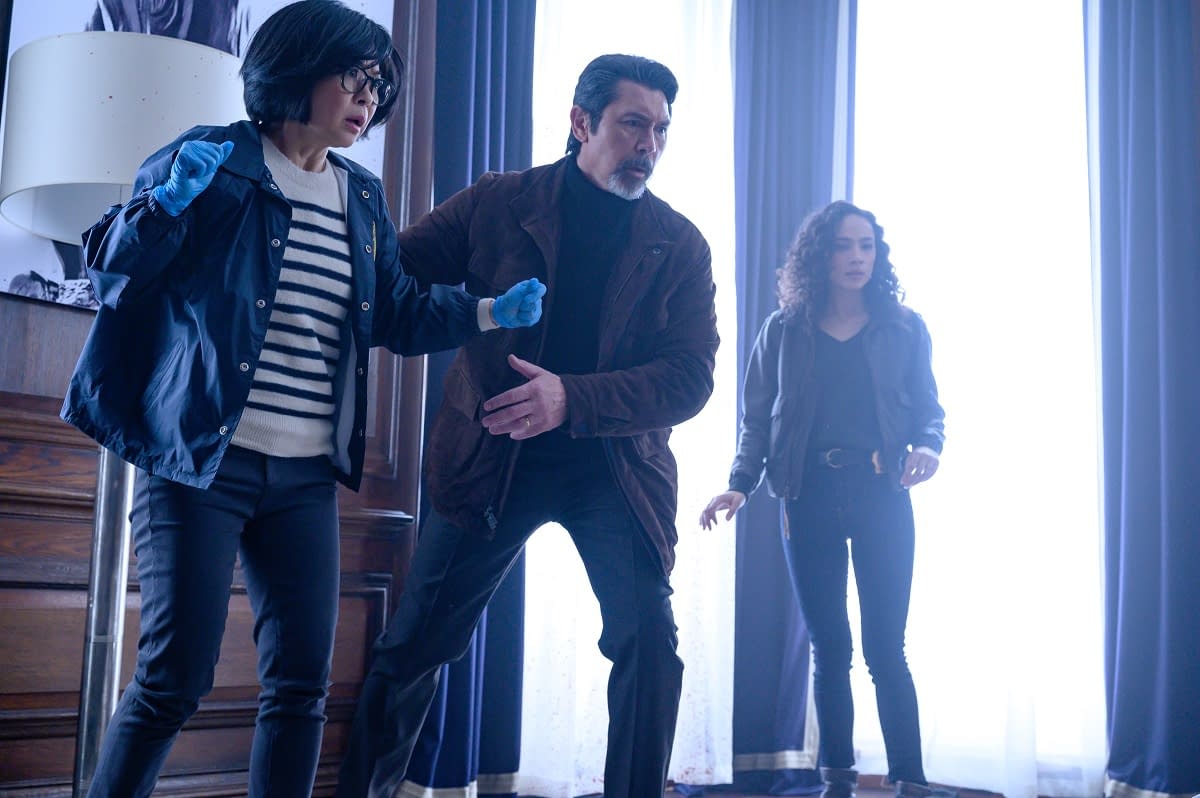 While this very sadistic plan is underway, Bright interrogates the victim and finds out that the swords and the gun from the previous homicide belong to Cal Taylor a member of the elite circles. Apparently the man was indirectly responsible for the death of his at the time lower class girlfriend, allowing her to drown to save his own ass, something that has been covered up by his family.
The NYPD rushes to his home and questions his father who assures them that no one will try and kill any member of his family nor destroy the upcoming wedding because there is security and cameras. Upon investigation of the premises, Bright stumbles on Isabella's father (the girl who drowned), he is taken in to police custody, case closed.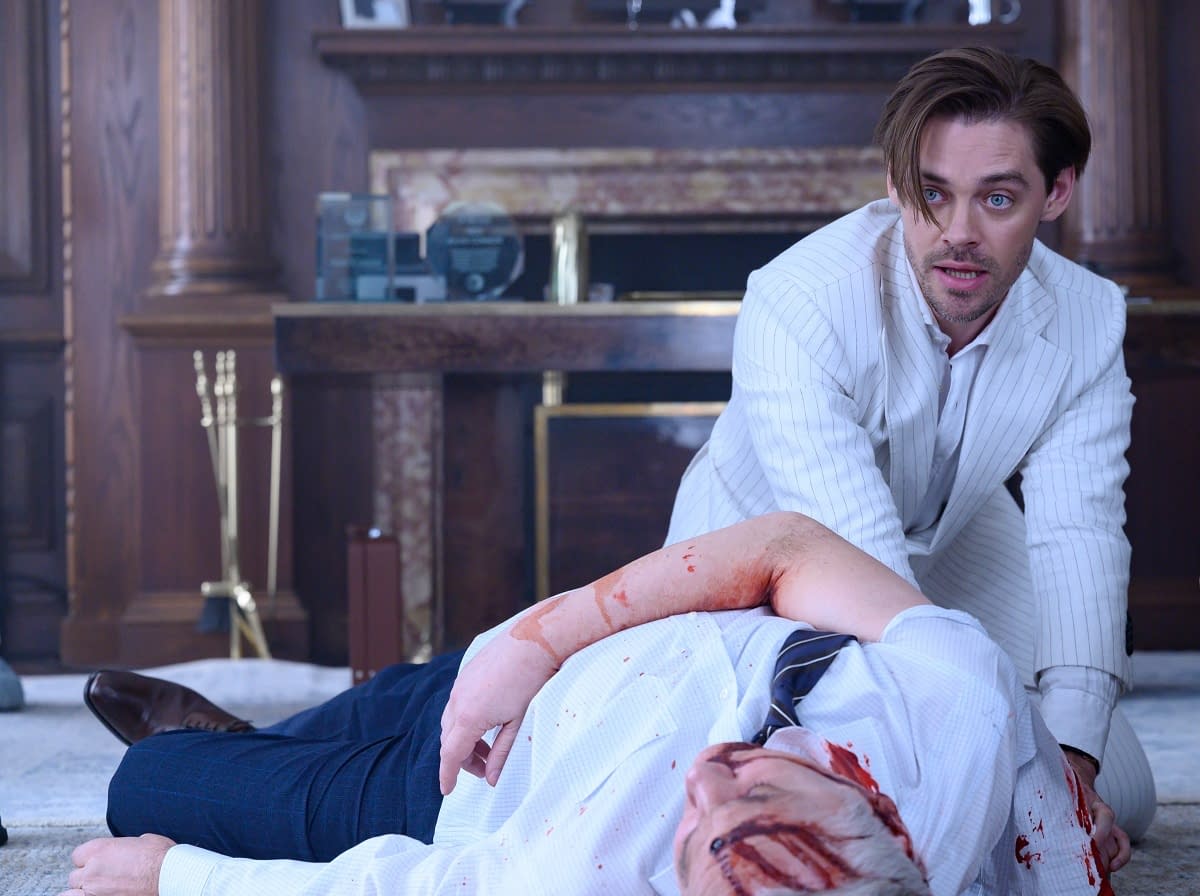 Something just doesn't sit well with Bright and instead of heading off to sip Mai Tai's on the beach, he drags Dani to see his father. The two of them have been subtly getting a little chummy, and this episode dare I say a cozier. Dr. Whitly beams at Malcolm bringing a girl "home". Bright quickly confronts his father about trying to kill him as a young boy, something he denies.
Dr. Whitly does shed light on the case, perhaps, the son is trying to rebel against his father, having had lead his entire life doing what Taylor wants. The entire exchange seems so natural, minus the lock up and speaking to a serial killer, it really watched as just a man getting guidance form his father and showing off his new girlfriend, who he takes shopping shortly after for a gown to the ball.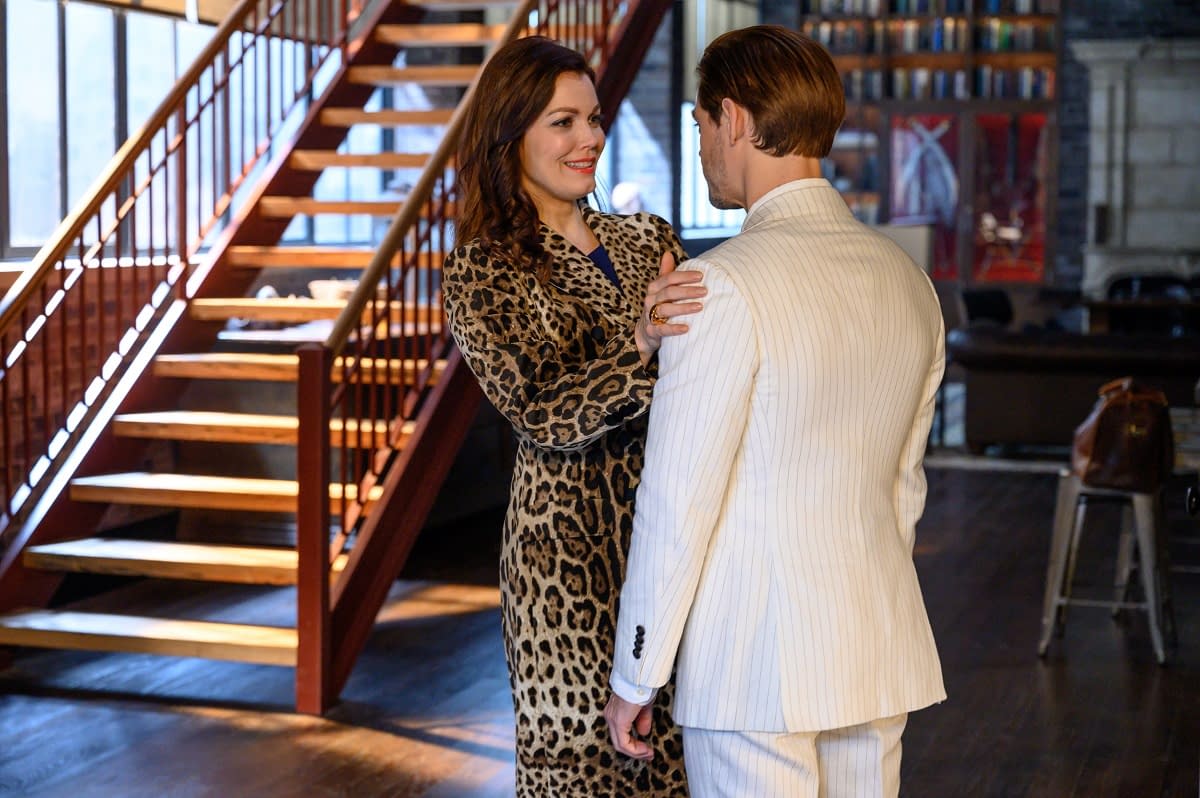 Crashing the Taylor wedding, Dani and Malcolm look exceptional. As they work the room with Jessica too present, Bright realizes that the killer is not the son, but rather the girl who drowned, or in this case didn't. He steals the spotlight at the event to draw the culprit out and prevent her from shooting Cal and ultimately takes her down.
The crowd cheers, and Jessica expresses pride at it being her son. It's possible that her socialite black listed mark has been lifted. A moment between father and son, mother and son, and then to wrap up the family affair, Malcolm thanks Ainsley (Halston Sage) for getting their mother on the invite list. Meanwhile – full circle – Dr. Whitly watches Ainsley report on the case on his TV.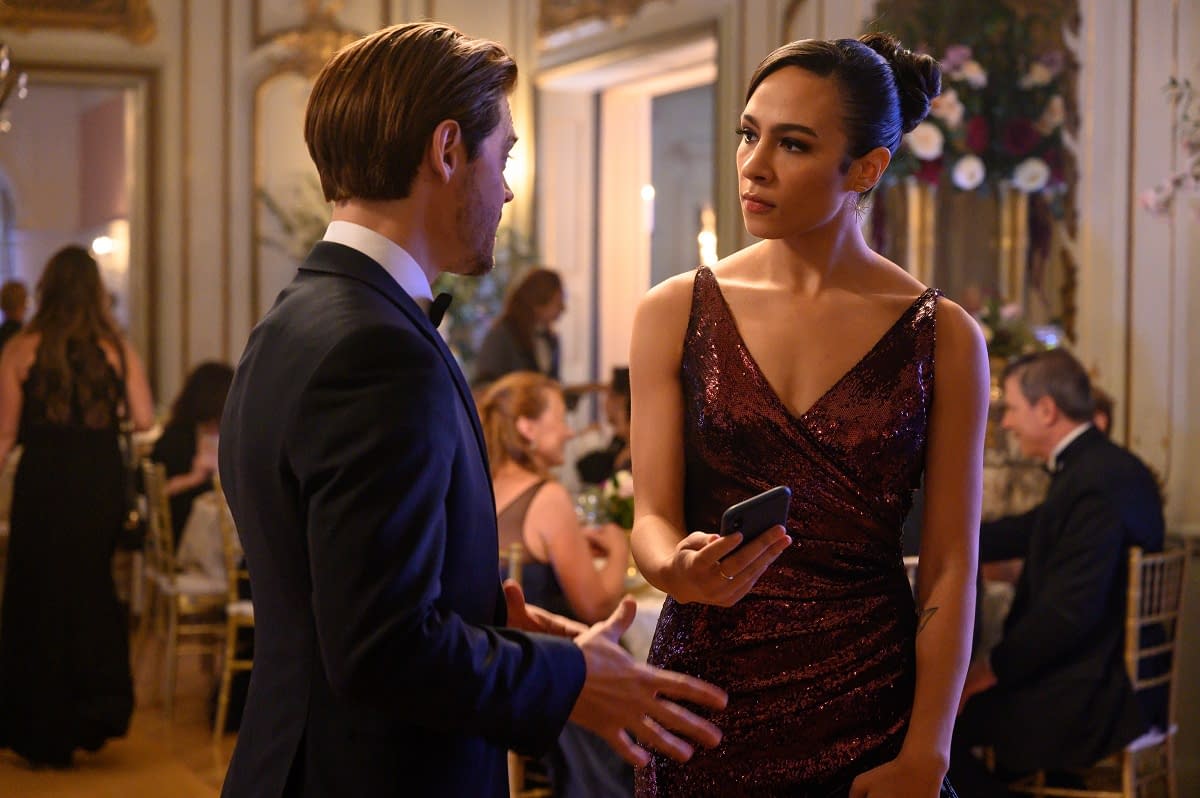 So what's up next for the Whitly family? Now that Martin has his privileges back, and has proven to be an asset to Malcolm, will they continue their relationship, and will it progress to be a little less dysfunctional. I am really growing to love all the characters, and love how they are developing as individuals, and the dynamics among them. I am especially interested to see where the Malcolm/Dani angle goes, and did Gil and Jessica have an affair?