"Prodigal Son" Season 1 "Death's Door": Edrisa, "Girl in the Box" Clues Take Center Stage in Strong Effort [SPOILER REVIEW]
FOX's Prodigal Son "Death's Door" finally gave us a face to the "Girl in the Box" and the inner workings of her capture, and to a very catchy tune. The Surgeon (Michael Sheen) proves smooth in his opportunistic hunting and exceptional at improving – especially when Jessica (Bellamy Young) comes home – as he is in the middle of playing with his prey.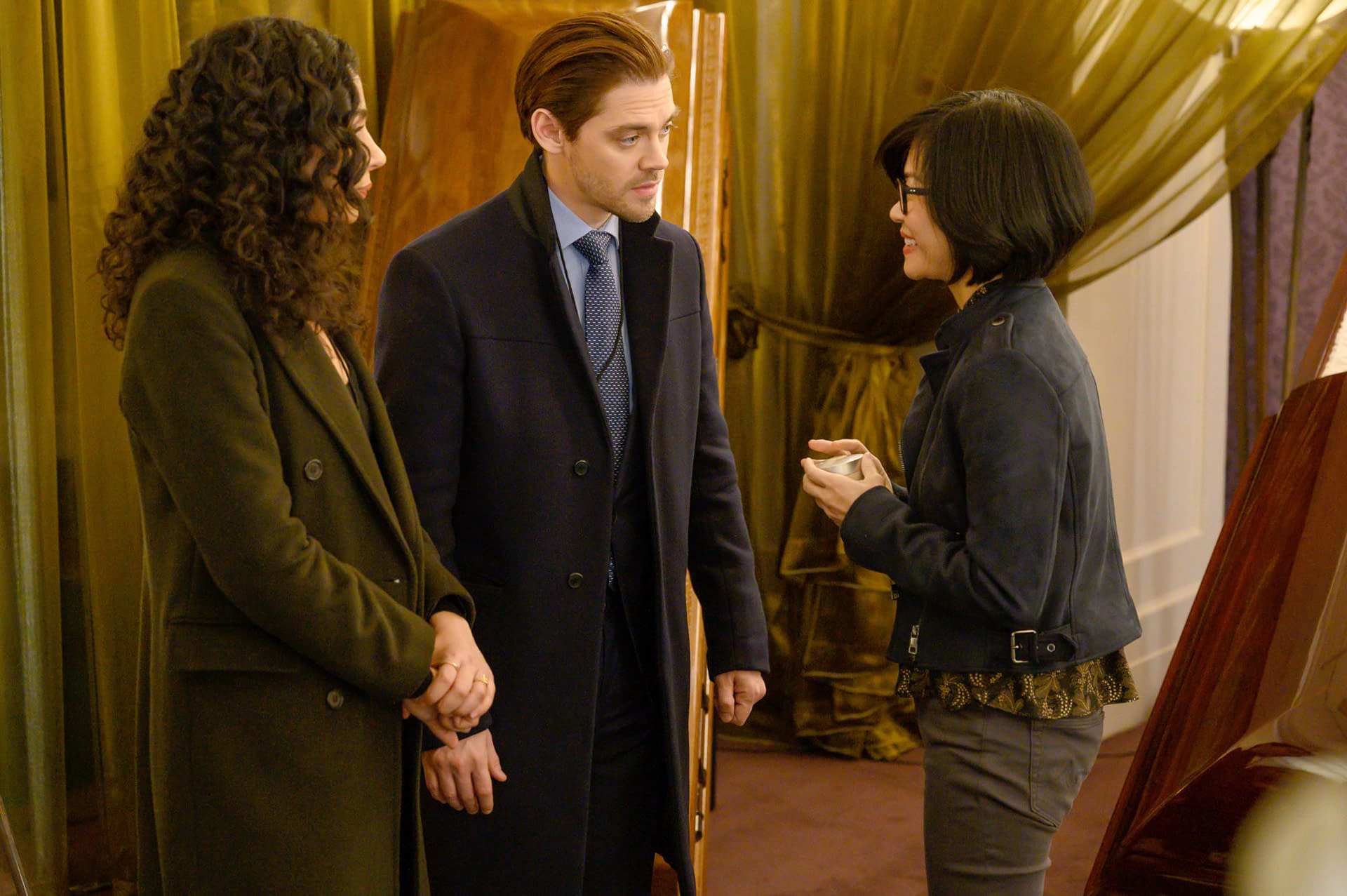 [rwp_box id="0"]
Unfortunately, Dr. Whitly's hallucination turns hostile and aggressive – hitting a nerve by attempting to slaughter his family, a predatory psychopath can't control even his nightmares. The NYPD investigate a fascinating murder: a victim in a state of embalming, perfectly preserved and looking freakishly alive. Bright (Tom Payne) struggles with his father in a coma and named healthcare proxy and given power of attorney. He refuses to enter the hospital room, while Ainsley (Halston Sage) plays the role of supportive and caring daughter, never leaving Martin's side.
Jessica is adamant about protecting her son, and continues to push that she stabbed Martin. Bright begs her to change her mind, and Ainsley urges her to get a good criminal attorney – because if Martin dies, she will be looking at a murder charge. Then a phone call comes from "The Devil" – Sterling (Brian Stokes Mitchell), a lawyer who represented "The Surgeon" and got him his comfortable current digs instead of rotting in a cell and is now offering his services. Jessica refuses and takes the honorable route, hiring Eve (Molly Griggs), an attorney fighting for human rights. After Bright almost killed her, Jessica and Eve exchange interesting pleasantries over lunch.
Dr. Edrisa Tanaka (Keiko Agena) takes center stage this week, and we finally get more insight into her character. With the new victim being perfectly embalmed, the spot light is on a mortician convention happening in town – with 3,000 members attending – figuring out who the perpetrator is might prove to be challenging. Dealing with a possible necrophiliac, the team attends to learn all about caskets and cremation. Bright profiles the killer as someone who has a fear of rejection and a deep need for a connection, preserving a perfect scene and even hiding the victim's imperfections.
The funeral director convention couldn't come at a worst time, as Bright struggles with his father's mortality. Finding it difficult to connect and deal with Martin possibly dying, Dani (Aurora Perrineau) offers a shoulder to lean on, which Bright abruptly rejects. I'm enjoying the slow development of their relationship, building trust first, a foundation, and hopefully a romance will develop with someone who has a true understanding and acceptance of Bright's more unique neurotic qualities.
The NYPD zero in on a group of funeral directors who had their lives shattered by a fire, possibly one of them is seeking revenge against those involved. The alleged suspect however is found dying in his shower. Edrisa must overcome her fear of working with the living to save his life. With Bright offering support and guidance, and a few passive aggressive comments, she injects him with a temporary antidote of alcohol, and proceeds to drink it herself.
Martin continues to hallucinate "Girl in the Box" who is taunting and haunting him, representative of all his past victims. She hits a nerve when she tell him she will annihilate his entire family. He thinks he captures her, but instead she ends up in his living room making a call, turning on him, she stabs Martin multiple times in retaliation. What actually happened to this victim? Did she try to escape? Where is she now? Martin codes and his prognosis is not looking good, Bright refuses to go see him.
Bright reaches out to Edrisa to apologize for some of the commentary he made earlier accusing her of not knowing how to work with the living. Her responses are very cold and detached, atypical of her usual worship of him and bubbly personality. Wanting to make amends, and feeling that something is not quite right, Bright rushes to the ME's lab.
Meanwhile, the NYPD find out that there was a silent partner employed at the funeral home who was unlicensed due to not passing her psychological, she apparently had an interesting in spending extended time with the dead in an intimate way.
Leanne is holding Edrisa at gun point demanding she release the first victim's body to her. Edrisa refuses, and Bright joins the party after actually notifying his team. With back up on the way, Bright works his magic to talk Leanne down. What caused all this instability? Leanne found her mother dead in bed, and spent 12 hours laying at her side, only to feel her grow cold, she dedicated her life to keeping the dead warm for as long as she could – really a heart wrenching scene. The walk down memory lane gives Edrisa the opportunity to whack her with a surgical tray.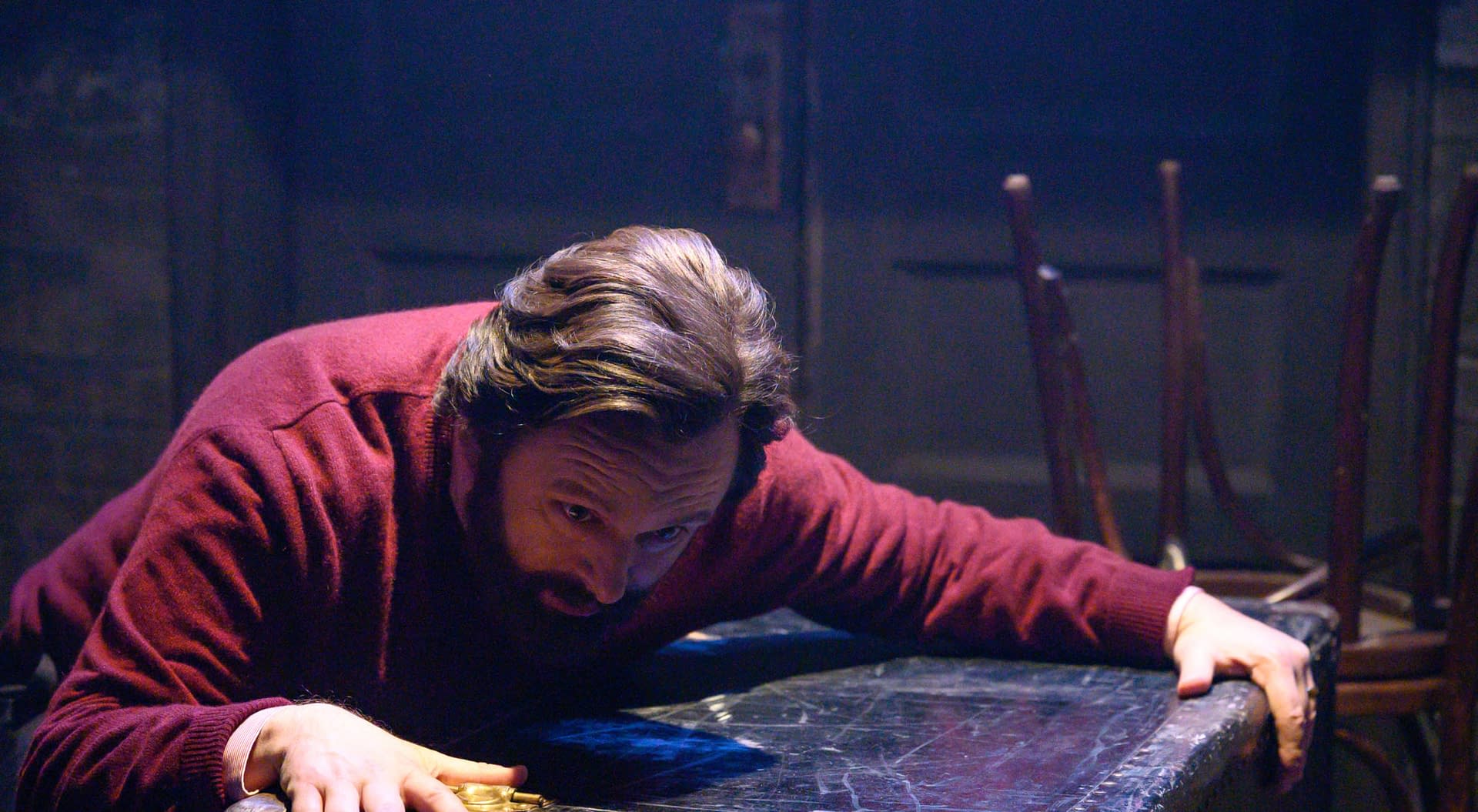 Bright comes to realize that he should take Dani up on her friendship, and truly invest in the relationship and communication and sharing. Coming face to face with the inner workings of a necrophiliac even prompts him to venture in to The Surgeon's room. It must be challenging to love a serial killer father, Ainsley seems to be the only one handling it well – almost a childlike. As if sensing Malcom's presence, Martin Whitly wakes up from his coma. . . "My Boy".
A very strong episode of Prodigal Son, there doesn't seem to be an end to unique plots, creative homicides, and the psychology of the characters and their conflict is brilliantly displayed it on screen. At least we know that Jessica will not be looking at murder charges, but was there another reason for reintroducing Eve? Dani and Bright are clearly getting closer, so how long before they become intimate – and could that be the biggest danger to them both?