"Ratched": Sarah Paulson Talks "Cuckoo's Nest" Prequel Series Timeline, Ryan Murphy's Pitch & More
Ratched star and executive producer Sarah Paulson is not exactly what you would call "lacking in things to do" lately. Currently filming FX's upcoming miniseries Ms. America with Cate Blanchett, Paulson is also set to star as Linda Tripp in and produce (alongside Monica Lewinsky) Impeachment: American Crime Story.
But it's her work on Ryan Murphy's series for Netflix telling the backstory of a younger version of sadistic Nurse Mildred Ratched from One Flew Over the Cuckoo's Nest that's had our attention since it was first announced. During a talk with Michael Schulman (The New Yorker) over the weekend, Paulson offered up more details on what viewers can expect: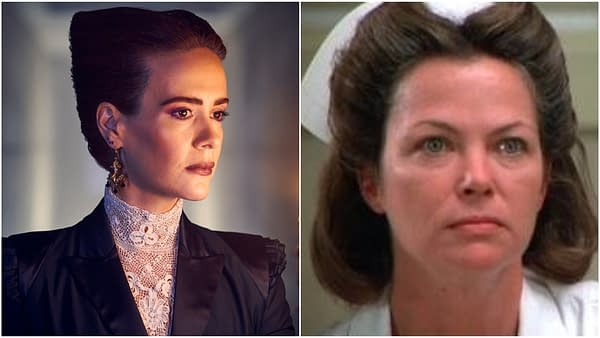 ● The series will begin in 1946, placing it approximately 20 before the events of the book. Pauslon confirmed both the multi-season story arc set-up as well as the timeline Murphy revealed previously – and also addressed that hair issue: "I don't have this massive hairdo that is sort of iconic that Louise Fletcher had. This is how we discover who the woman was and how she came to be. Ideally, by the time we're in season four, we're in that story of the Cuckoo's Nest."
● With eight episodes filmed and camera work completed, Paulson revealed the Breaking Bad-themed pitch Murphy made to her for the series: "Lady, do you want to have some like Walter White shit happen?"
● The "psychological strengths or weaknesses" of Nurse Ratched are just one of the aspects of the character that drew Paulson to the role – how she defies the easy label of "villain" was another:
"Ratched was complicated and dark and not what I expected, and totally terrifying. It's more psychological than murder-scary where somebody jumps out from behind you. It's sort of a meditation on someone's psychological strengths or weaknesses. What I found really interesting is that people prescribe such villainy to her and the truth of the matter is that she really was a product of her time. Part of the conceit of the movie is that you fall in love with all the men and their friendship, but you never want the killjoy coming in to say, 'We have to follow the rules.' But she was, in her way, trying to offer them help, just with devastating consequences. [But] there was no mustache-twisting. There was a real steadiness and a stillness to her that I like to try to steal."
● Previously-announced cast member Judy Davis is expected to play Paulson's on-screen nemesis Betsy Bucket, with Paulson offering an example of the possible anomosity between them: "She eats my food out of the refrigerator and that doesn't make Mildred very happy."
● The Nurse Ratched viewers saw in One Flew Over the Cuckoo's Nest wasn't just born that way, with Ratched offering an understanding of her influences and motivations:
"I don't want to give away a piece that comes out in the second episode where you realize, 'Oh, that's why she behaved that way,' [but] this is sort of a contextualization of how Mildred Ratched became the woman that you see in that movie. I do think any character you play, particularly the ones that on the surface seem difficult, angry or monstrous, a lot of people don't like to investigate that stuff and to me, I think it's our job to represent all kinds of people without judgment, if possible."
● "Difficult" roles like Nurse Ratched are the kind Paulson searches out – and the kind of role she wishes other actors would tackle, also:
"A lot of times, I wish actors were less afraid of what people thought of them and they didn't make choices that were going to get in the way of their branding, in terms of their ability to sell shoes or open a movie or something. From an acting standpoint, I feel like there's a larger calling. There's a greater nobility in not shying away from something because it's awful."
Joining Paulson on the series are Jon Jon Briones (Sons of Anarchy), Charlie Carver (The Leftovers), Judy Davis (Feud), Harriet Harris (Nurse Betty), Cynthia Nixon (Sex and the City), Hunter Parrish (Weeds), Amanda Plummer (Pulp Fiction), Corey Stoll (The Strain), Sharon Stone (Casino) Finn Wittrock (American Horror Story), and Rosanna Arquette (Pulp Fiction), which has a two-season, 18-episode, straight-to-series commitment from the streaming service. Murphy is set to direct the opening episode – as he's known to do on all of his series – from a script by newcomer writer Evan Romansky. It was at the Television Critics Association (TCA) press event in January 2018 that Murphy first revealed that he had mapped out a four-season origin arc for Paulson's Nurse Ratched, where she would face off against a different male adversary each season; with the fourth and final season blending One Flew Over the Cuckoo's Nest into the narrative.
Similar in approach to Bates Motel, Ratched is an origins story that begins in 1947 and follows Ratched's (Paulson) devolution from nurse to full-fledged monster as she makes her way up through the mental health care system. The Academy Award-winning 1976 film One Flew Over the Cuckoo's Nest (based on Ken Kesey's novel) introduced audiences to the character of Nurse Ratched, who instantly became one of the most famous and infamous pop culture villains of all time. Ratched was played in the movie by Louise Fletcher, who would go on to win a Best Actress Academy Award for the role, one of five Oscars that the film would win.

Speaking at GQ Live in Los Angeles in December 2018, Murphy described the series as a "gorgeous story" that champions feminism and likened the character to another cinematic "big bad": "She's one of the great villains…she's like a female Lecter (from The Silence of the Lambs). She's a great, great villain, very misunderstood."
Murphy's interest was sparked by a viewing of Milos Forman's 1975 film where the writer-director-producer looked at the story from Nurse Ratched's perspective: "How did she get that way? What made her do that? How do you become a sociopath? Most people are not born that way." As has been his custom in the past, women will be taking the lead in a series Murphy describes as "a feminist horror story, that a lot of women are involved with, so I keep waiting for them to tell me when something's too much."
Murphy, original film producer Michael Douglas, as well as Aleen Keshishian, Margaret Riley, and Jacob Epstein of Lighthouse Management & Media will serve as executive producers; with Romansky co-executive producing the series. Paulson produces along with Paul Zaentz of the Saul Zaentz Company, which owns the rights to the Cuckoo's Nest feature.