This week, Sony officially released the Farscape – The Complete Series on Blu-ray as part of the show's 20th Anniversary celebration. The show has been released onto home media a few different ways since it was dropped onto Australia's Nine Network and North America's old Sci-Fi Channel back in the late '90s. And while every incarnation has something a little different, they ultimately focus on presenting the show as best as possible. The same goes for the Blu-ray edition as the miniseries looks far better than it ever did in the broadcast. Whether they cleaned up the episodes and the audio, or that was just the effect of putting it on a better quality format, it's hard to tell. But for those obsessed with looks, this is as good as it gets.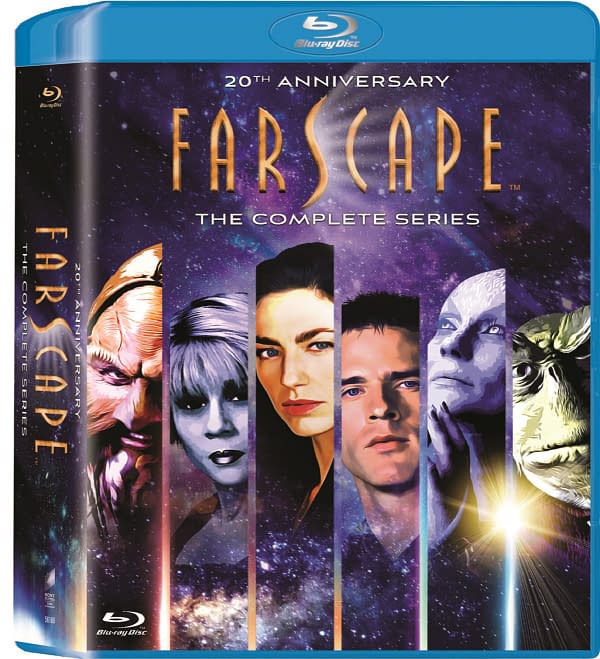 The set also comes with over 15 hours of extras that include commentaries, deleted scenes, director's cuts, interviews, documentaries, bloopers, promos, and more. However, and I want to stress this… there's nothing new here. Everything that's been added to the special features came from previous DVD releases. Much like what Paramount did a few years ago with all their Star Trek complete box sets, everything in here for Farscape was previously released as a special add-on to some other set. What's more, when it comes to the box, there's nothing special about it. It's your standard big plastic box with several double-sided disc sleeves. There's no booklet, no special add-ons, no features whatsoever. Just the Blu-ray discs and nothing more.
I recommend it if you don't own anything for Farscape and want everything in one collection, or if you want everything looking better than previous editions. However, if you already own all the DVD sets that previously came out and you're not a hardcore collector, you could pass on this one. Sony had an awesome chance to celebrate the show in a major way on a milestone anniversary. And instead, we got what a lot of companies are doing during this streaming-media era. They upgraded everything to Blu-ray, threw it in an unremarkable box and slipped some artwork on the front. It's not a bad set by any means, I just think fans of the show deserved better.
Enjoyed this article? Share it!