"Rick and Morty": Did AEW "Le Champion" Chris Jericho's Stolen Title Involve "A Little Bit of Bubbly" – and A Portal Gun?
Fans of Adult Swim's Rick and Morty are couting the days down until Dan Harmon and Justin Roiland's animated mayhem returns to grace their screens once more (with five episode airing in 2019, beginning Sunday, November 10, at 11:30 p.m).
Now that we're less than a month away until the premiere (possibly less if we get one of those random airings on a Sunday night…???), it looks like Harmon and Roiland's dynamic duo will be partnering-up with All Elite Wrestling (AEW) next week for something (more on that in a minute) – but could we be getting more than what even AEW and Adult Swim even expected?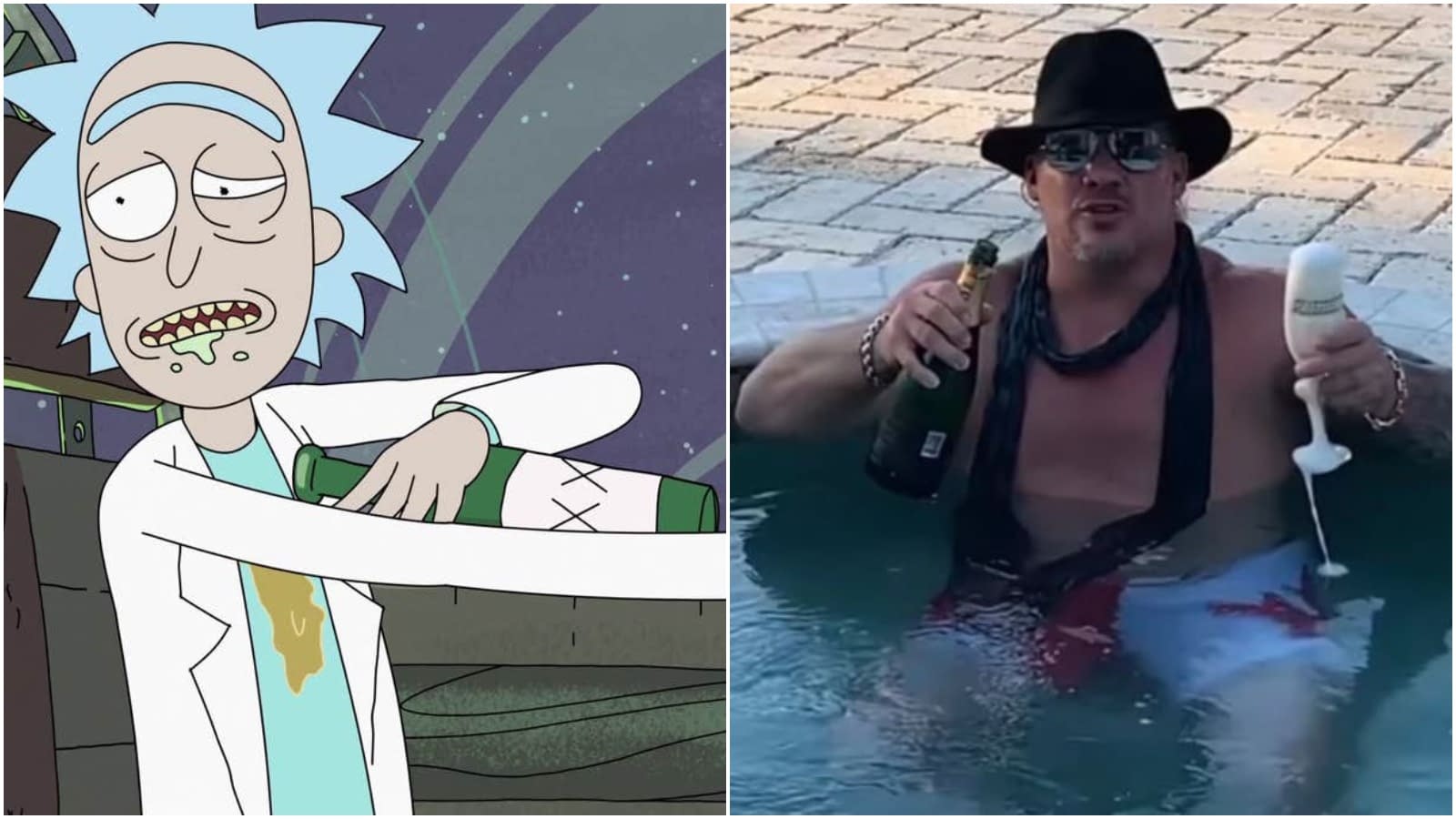 Is AEW World "Le Champion" Chris Jericho ready to reveal the truth behind his previously-missing title belt?
As a refresher, Jericho beat "The Hangman" Adam Page at AEW's All Out pay-per-view event on August 31st to become the company's first world champion – only for Tallahassee Police to report the next day that the actual championship belt was "real world" stolen from Jericho's limo during his travels. In response, Jericho launched a "worldwide investigation" on his Instagram account and across AEW's social media accounts – and less than seventy-two hours after the belt disappeared, it was recovered.
But who was it that really got their hands on "The Gold" in the first place? Based on a recent post from Jericho (with a quality artistic rendering of the crime from ssss_wrestling), it would appear we're getting a clearer picture of what truly went down – and it appears to have involved "a little bit of bubbly" and whole lot of portal gun:
Earlier this week, AEW posted on social media that Rick and Morty were both "#AllElite" – fueling speculation as to what exactly that meant. Since… well… they're animated characters.
Not long after, Cody Rhodes – fresh off of Wednesday night's throwdown with Chris Jericho and Dippin' Dots – "spoiled" that fans in attendance at Wednesday's October 30th AEW Dynamite broadcast would be receiving Rick and Morty masks to mark the Halloween season.
Now do we think that's all there's going to be? Nope. Not by a long shot.
Because TNT and Cartoon Network's Adult Swim are both under the same corporate banner. So if you're going to have that many people wearing Rick and Morty masks on an international broadcast like that, you're doing it for a reason. In this case, we wouldn't be surprised to see a new teaser or trailer – possibly a wrestling-themed clip?
Will truth behind "The Case of the Missing AEW Title" finally come to light?
Could Rick and/or Morty be looking for "equal time" to address Jericho's implications?
Here's a look at Rhodes' tweet: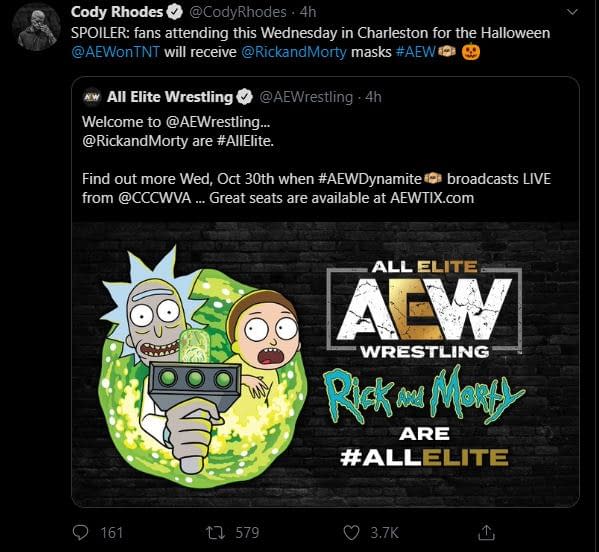 On Monday, fans learned the names of those five 2019 episodes (we're assuming since there are five titles) via Adult Swim's episode title reveal video.
Fair warning: Harmon and Roiland's Rick/Morty "Pun Fu" is strong this season… let the speculation begin!
"Edge of Tomorty: Rick Die Rickpeat"

"The Old Man and the Seat"

"One Crew Over the Crewcoo's Morty"

"Claw and Hoarder: Special Ricktim's Morty"

"Rattlestar Ricklactica"

From the Upfronts earlier in the summer, there was the announcement of season 4 with an accompanying video (see below), and red carpet interviews with Harmon and Roiland that teased (jokingly?) a Rick and Morty future with Daniel Radcliffe and Kanye West in it. In late June, Adult Swim announced a second addition of its two-day festival in Los Angeles – which will be of particular interest to fans (more below).
But now? Things are getting serious: it's the season 4 trailer!
https://www.youtube.com/watch?v=Rw6BrzB1drs

To coincide with the show's Comic-Con International: San Diego (SDCC) appearance during the summer's ultimate "geekfest" (and only days after two images from the upcoming season were released and the creators discussed the new season), Rick and Morty fans were given their first look at the upcoming 10-episode season – and it involves apps, matching jumpsuits, what looks like a bad start-up, and a ton of slapping around:

Fans of Rick and Morty who plan on being in the Los Angeles area in mid-November have a chance at a very cool opportunity. The Adult Swim Festival (Friday, November 15 and Saturday, November 16 at Banc Of California Stadium in Los Angeles, California) will feature an exclusive, premiere screening of Rick and Morty's fourth season (though no word yet on if Dan Harmon and/or Justin Roiland will make an appearance).
Speaking of "Rick and Morty" Season 4…
In May 2018, Roiland took to Twitter to officially announce that the series had been renewed by Adult Swim – and what a renewal it was! We weren't talking ten… twenty… even fifty episodes. Oh no, this order was for a whopping seventy episodes– which increases the chances of there being a Noob Noob solo episode that much more.
Not to be left out of the celebration, Harmon released his own shower-themed announcement and offered good tidings to the fans:
If anyone thought Adult Swim had any doubts about their decision, the network cleared that up pretty quickly: