"Rick and Morty" Season 4 "Rattlestar Ricklactica": We're Glad Morty Didn't Stay In the F***ing Car (Sorry, Rick) [SPOILER REVIEW]
Fans of Adult Swim's Rick and Morty counted down the months and days until Dan Harmon and Justin Roiland's animated mayhem returned to their screens. That wait ended early last month with season premiere "Edge of Tomorty: Rick Die Rickpeat" (reviewed here), where we got a crash course in "death crystals" and gained a deeper understanding of just how hard it would be to kill Rick Sanchez – and keep his dead.
"The Old Man and the Seat" (our review here) proved a brilliant balance between sharp social satire and a gut-punch examination of love, loss, control… and poop. Which lead to "One Crew Over the Crewcoo's Morty", which "heisted" our minds in such a way that it made it our favorite episode of the season so far (check out our review here).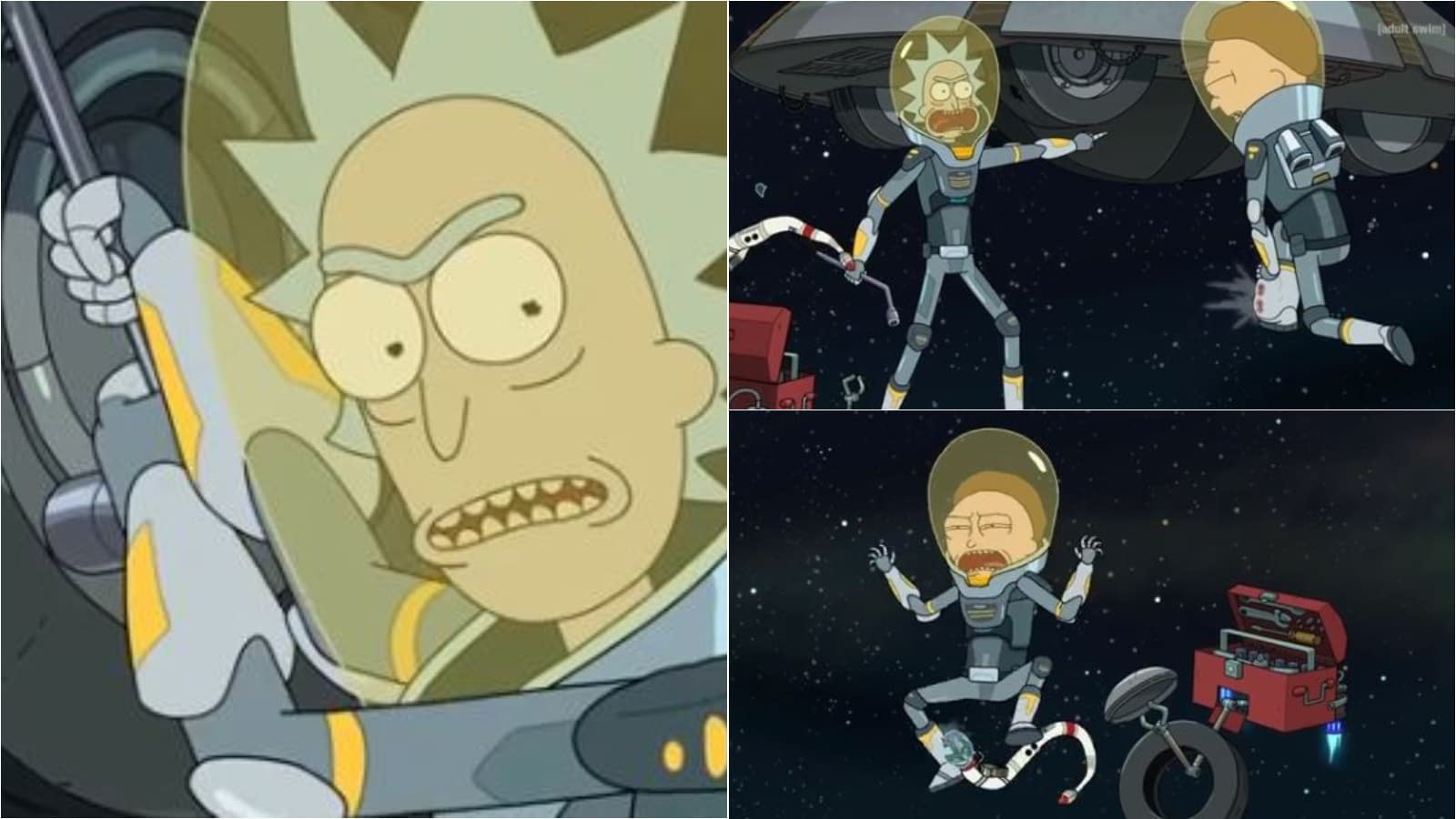 After a week to sleep it all off, our dimension-hopping dysfunctional duo returned with "Claw and Hoarder: Special Ricktim's Morty" (treat yourselves to our humbly-enriching review here). Which leads us to our look at midseason finale "Rattlestar Ricklactica" – the one Roiland says is his favorite of these first five.
So what does that mean? MAJOR SPOILERS ahead…
Directed by Jacob Hair and written by James Siciliano, the mideseason finale was one of those outings that offered us nearly zero clues as to what to expect – and "Rattlestar Ricklactica" benefitted from that greatly. I'm not exactly sure what I was expecting from Rick's ship getting a flat and Morty slowly dying from a "space snake " bite, but here's what I got:
● A smart, biting take on how being a little "too woke" can lead to a lot of harm – in the form of Morty looking to play god (meddling to get a species back to where he thinks they need to be) instead of allowing the snakes' existence to evolve naturally (in other words, stay in the f***ing car, Morty).
Before some of your eyeballs roll back into a staring contest with your brain… Jerry's subplot had the undertones of "privilege": benefitting from others while claiming he's doing everything "on his own", oblivious to the damage he does around him just as long as proves Beth and Rick wrong, and then looking to be "down" with those who saved his butt (again!) once the dust settles. Basically, Jerry's every horrible white steroytype/trait come to life: "whiter" than a Twilight vampire dressed all in white… in a snowstorm… in the arctic.
He did call himself the "Jesus Christ of Christmas"…
● Listen up, Terminator franchise: if you thought the Rick and Morty team hated heist films, you might want to skip this outing. Best part? They did it with snakes to represent the absurd "ouroboros" aspect of time travel – and clearly they're looking at you, entertainment industry. Time paradoxes… time loopholes… fixed points in time… throw in whatever phrases you want. But in the end, the longer any story travels down the time travel bunny trail, the more absurd the task of keeping things in any kind of linear narrative becomes.
So sometimes? You say, "f*ck it" and blow past the storyline speed bumps for the the sake of a fun story. Or you call in the walking, talking testicles otherwise known as the Time Police to literally beat the timeline right.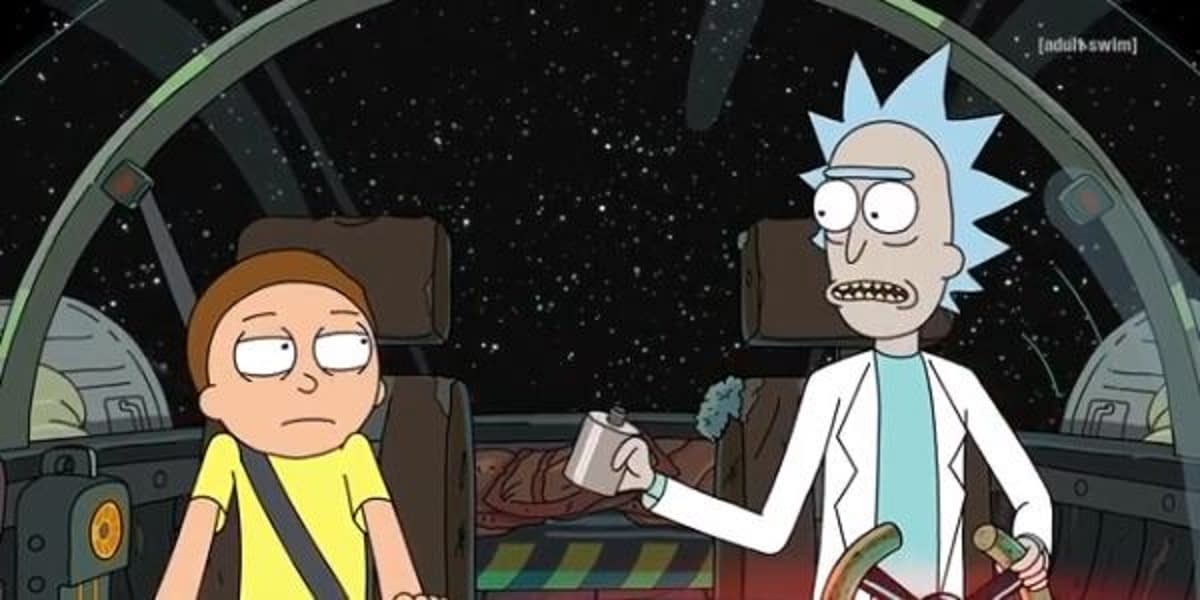 ● Rick driving a stake in the heart of "privilege" when he tells Morty he wasn't "born into the god business" – he had to work at it.
● So we're guessing that we can now officially add Saturday Night Live to the list of things the Rick and Morty team doesn't like – along with time travel plots and heist films?
● Apprarently, racism is an evil even snakes are forced to face – and that snakes prcied at $50 or more long for life among the stars.
● "Tales from Snake World" needs to happen, Harmon and Roiland (and we haven't forgotten about The Talking Cat's backstory).
● Now that Morty's feeling much more emboldened in his relationship with Rick, are we seeing the building blocks towards an Evil Morty? Would be pretty ironic that Morty broke bad because Rick was forced to be too "respectful" and "considerate" of his feelings
● I know it was addressed pretty directly in "The ABC's of Beth" but it should probably be addressed again: anyone else still concerned with how easily Beth can slip into "kill anything around me" mode? Not saying we wouldn't have crushed that grotesque little "savior" in the heat of battle, either – it's just that we're not really sure Beth cares.
● Thinking that your flight's pilots might be on Molly is probably not the best way to go into takeoff – and since we're on the subject…
Are we really okay with Jerry most likely killing (possibly murdering, depending on charges) and entire airplane filled with travellers? Feel like it needed to be asked…
● Morty's end-credits Christmas "present" from Rick will hopefully serve him well the next time he thinks about stretching his "space legs".

From the Upfronts earlier in the summer, there was the announcement of season 4 with an accompanying video (see below), and red carpet interviews with Harmon and Roiland that teased (jokingly?) a Rick and Morty future with Daniel Radcliffe and Kanye West in it. And then? Things got serious with the season 4 trailer…
https://www.youtube.com/watch?v=Rw6BrzB1drs
Buckle in for disappointment because there's no way these episodes will be good enough for how long you waited. But maybe they will be? It's season four! It's sexy and smooth. Buckle in! Did I already say that? Definitely stay buckled in.

Rick and Morty is the Emmy-award-winning half-hour animated hit comedy series on Adult Swim that follows a sociopathic genius scientist who drags his inherently timid grandson on insanely dangerous adventures across the universe. Rick Sanchez is living with his daughter Beth's family and constantly bringing her, his son-in-law Jerry, granddaughter Summer, and grandson Morty into intergalactic escapades.

Rick and Morty stars Justin Roiland (Adventure Time), Sarah Chalke (Scrubs), Chris Parnell (Saturday Night Live), and Spencer Grammer (Greek). The series is created by Dan Harmon (Community) and Roiland, who also serve as executive producers.