"Rick and Morty" Season 4 "The Old Man and the Seat": A Tale of Love, Loss & Poop [SPOILER REVIEW]
Fans of Adult Swim's Rick and Morty had been counting down the months and days until Dan Harmon and Justin Roiland's animated mayhem returned to their screens once more. That wait ended earlier this month with season premiere "Edge of Tomorty: Rick Die Rickpeat" (reviewed here), where we got a crash course in "death crystals" and gained a deeper understanding of just how hard it would be to kill Rick Sanchez – and keep his dead.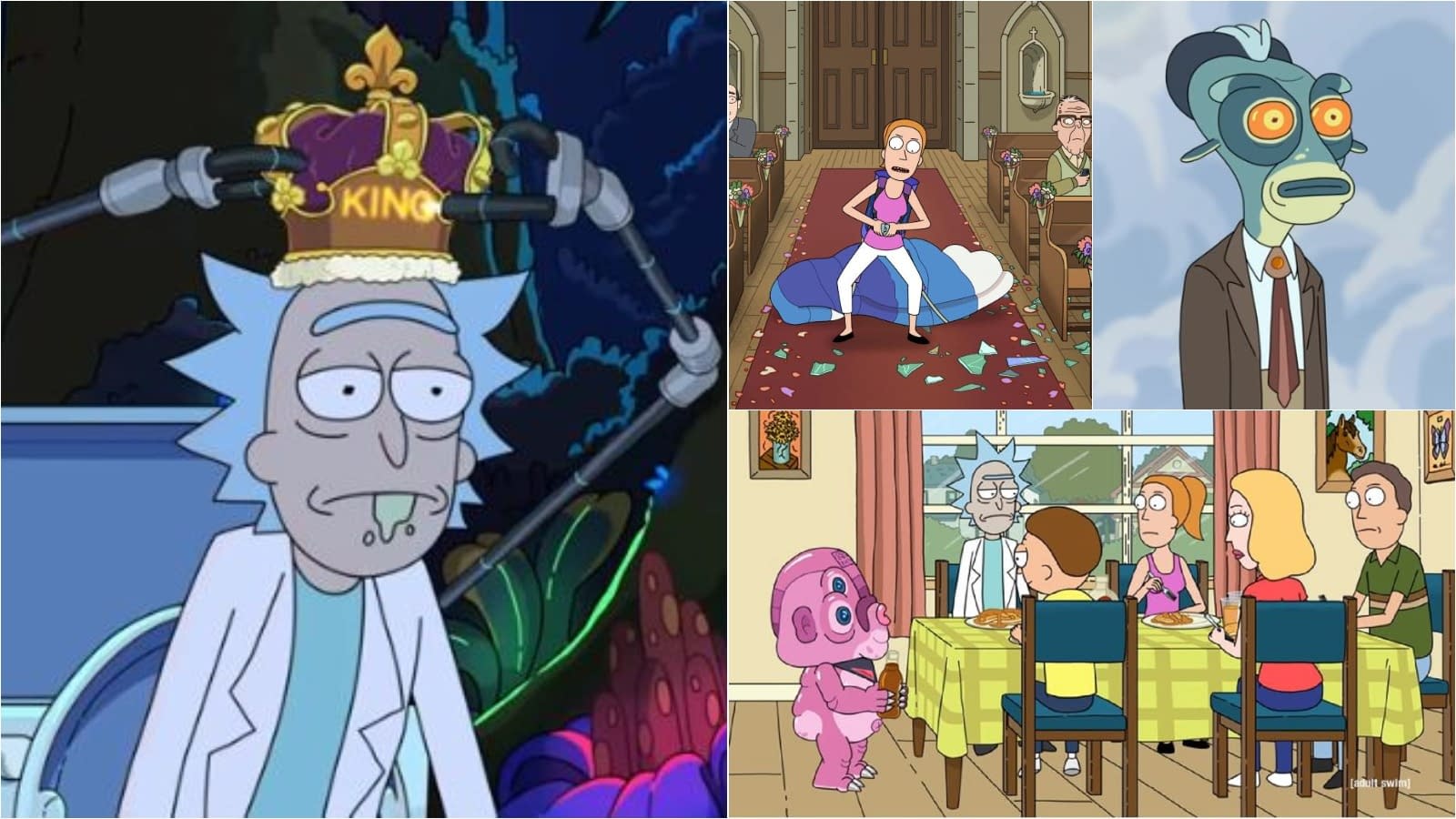 Which leads us to this week's episode "The Old Man and the Seat" (for a look back at the previously-released previews, click here), and a less-than-formal, family breakfast-timed introduction to Rick's new intern Glootie.
See that message on Glootie's forehead (???) that reads, "DO NOT DEVELOP MY APP"?
Well, with Jerry being Jerry and all…
But was "The Old Man and the Seat" worth developing as an episode? MAJOR SPOILERS ahead…
"Rick and Morty" season 4, episode 2 "The Old Man and the Seat": We all have one thing in common broh. I don't know broh. Watch this one.
Written by Michael Waldron and directed by Jacob Hair, "The Old Man and the Seat" combined the emotional gut-punch of the ending to "Auto Erotic Assimilation" with the chainsaw-slicing social satire found in "Rick Potion No. 9" and any of the "Interdimensional Cable" segments.
So let's take a look at the episode's key components: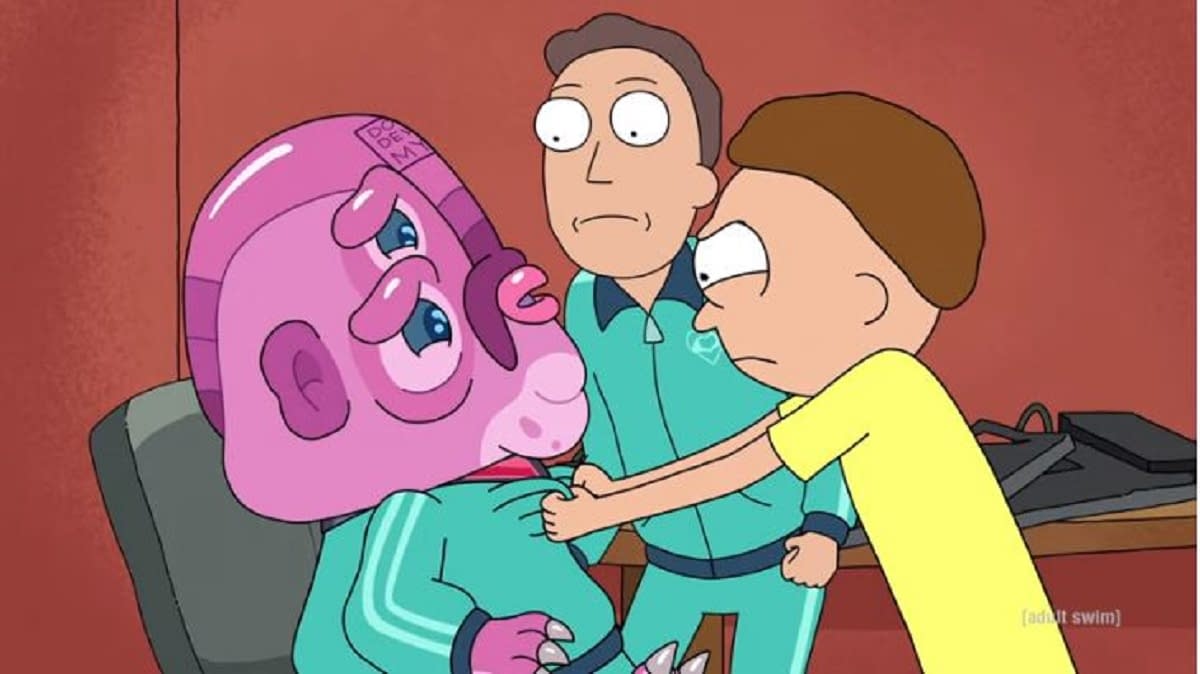 LOVE: Jerry and Glootie's (Thor: Ragnarok director Taika Waititi) "LOVEFINDERRZ" dating/relationship app was about as in-your-face a statement on how love and relationships have changed in the age of social media. Simply put: all of the data, analytics, demographics, and logarithms in the world can't take the place of actual interaction.
Who gives a shit if someone "likes" puppy pics or uses the right hashtag?
Do they bite their toenails and put the toilet paper on the roll the wrong way?
Now that's the stuff that matters…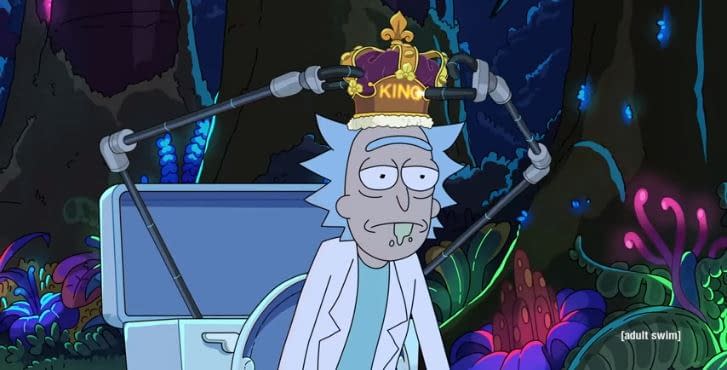 LOSS: We're worried about Rick this season. We're not sure if it's just the change in the dynamic at home or if he's starting to feel his age (though we're sure Ricks give – not get – mid-life crises), but he's coming across much angrier and less sure of himself than we've ever seen him.
And we're liking it.
It's not that we want a "kinder, softer" Rick – dearlordno!
But it falls in line with I said last week about the change in Jerry: if Rick "wins" all of the time and there isn't some level of pushback, where's the growth? We would pretty much be watching rehash after rehash of past episodes, and that's not something we've come to expect from Harmon, Roiland, and the Rick and Morty team.
Not everything they throw out will work for everyone, but even a "beautiful disaster" deserves credit for swinging for the creative fences – even if it stikes out.
So if you're going to tell a tale of how Rick deals with loss, there's no better subject to come at it from than poop – one of our most personal and intimate experiences.
It's also the one thing Rick still has control of, in the form of a planet built for private, majestic shitting.
Until Tony finds it and uses it – and Rick goes John Wick to track his toilet "assailant" down.
What follows is a series of exchanges between the two that results in an odd "friendship" – and Rick realizing that his need for total control of every aspect of his life has left him with a multiverse of "friends" but constantly alone.
Remember, this is a Rick who now has to "ask permission" to take Morty on an adventure or verbally castrate Jerry any chance he gets – and now he lost his private poop pass? For a control freak like Rick, that's a lot of change for him to deal with. We're talking about a man who would rather "VR vacation" those who get close to him: not that he doesn't want them in his life, but under his terms… under his control.
But Tony short-changed him of even that, dying on his terms and living a life he wanted – inspired by man who finds himself alone, on a toliet.
The "King of Shit" who can't be inspired by his own inspiration. Sitting on his throne, mocked by "ghosts" of himself.
Yeah. That's some heavy shit.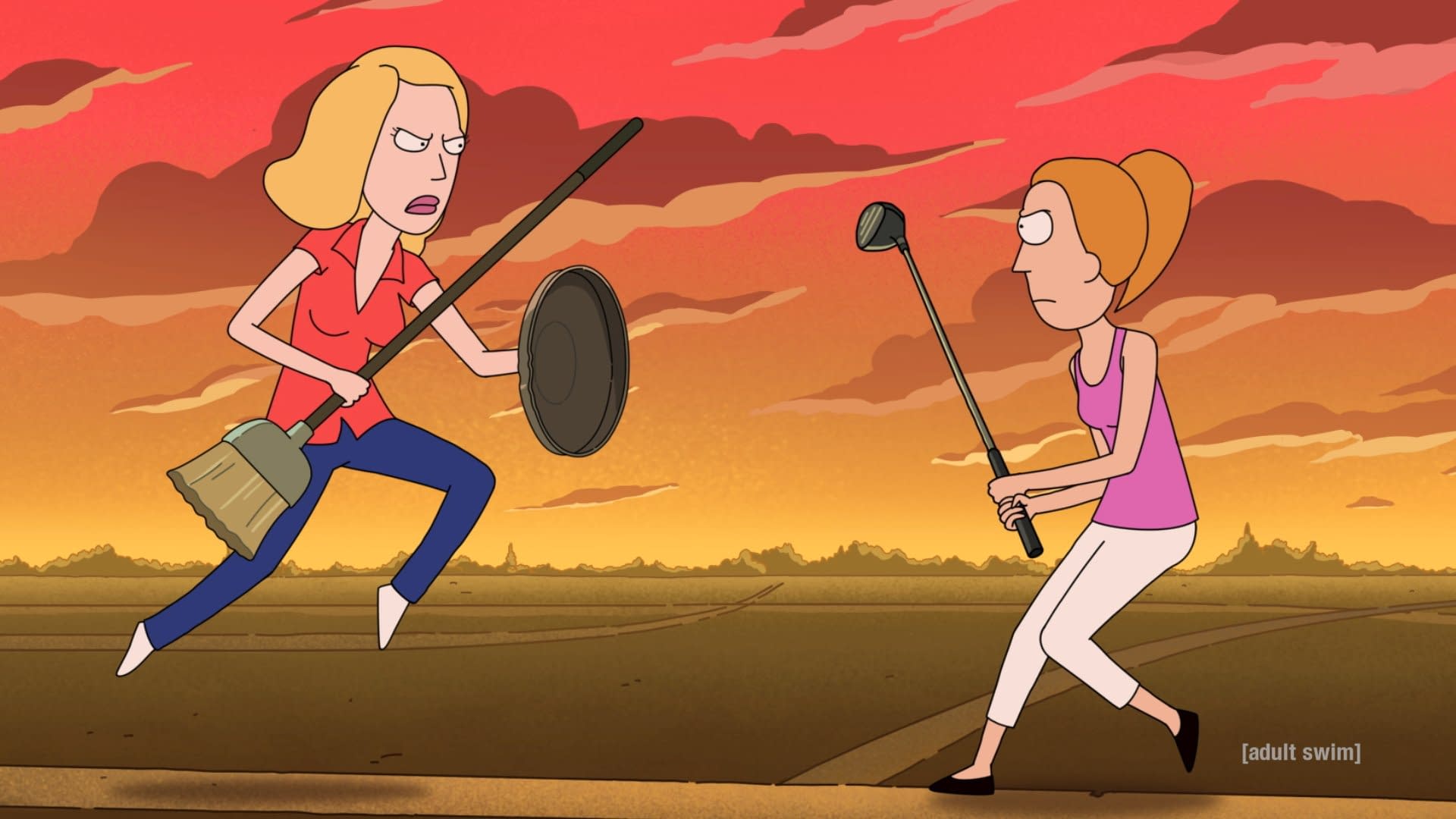 POOP: Best way to describe Beth and Jerry as parents, who get some well-deserved payback from Summer and Morty. Summer's was more subtle – at least until it turned into "junkyard Game of Thrones". Morty's takedown was like a verbal shiv to Jerry's weak ego: still wanting credit for maybe helping make better a situation he should've never started in the first place, Jerry gets a "tough love" assessment of how Morty feels about being his son and having him as a father.
Damn. That was rough. Especially when you know there's not more coming – even before Jerry does.
The family's dynamic seems in flux right now – very curious to see how lines shift over the course of the season.
● We definitely need more of Waititi's Glootie in our life – with spinning move and everything – and we agree: a bug running a frog restaurant does beg for more backstory.
● Apparently, "strap-on porn" can be the kind of thing that bonds couples together. Nice to know…
● The Adventures of Jerry & Morty would probably last one episode, with Jerry dead, a planet destroyed, and Morty locked away in a psychiatric facility. Either that, or Jerry dies two minutes in from "friendly fire" – courtesy of Morty.
● Could the "NO MATCH" for Jerry mean Rick and Morty picked up the wrong "Jerry" earlier in the series?
● Looks like Beth's interested in securing a soft spot in NBC's The Good Place…

From the Upfronts earlier in the summer, there was the announcement of season 4 with an accompanying video (see below), and red carpet interviews with Harmon and Roiland that teased (jokingly?) a Rick and Morty future with Daniel Radcliffe and Kanye West in it. In late June, Adult Swim announced a second addition of its two-day festival in Los Angeles – which will be of particular interest to fans (more below).
And then? Things got serious with the season 4 trailer…
https://www.youtube.com/watch?v=Rw6BrzB1drs
Buckle in for disappointment because there's no way these episodes will be good enough for how long you waited. But maybe they will be? It's season four! It's sexy and smooth. Buckle in! Did I already say that? Definitely stay buckled in.

Rick and Morty is the Emmy-award-winning half-hour animated hit comedy series on Adult Swim that follows a sociopathic genius scientist who drags his inherently timid grandson on insanely dangerous adventures across the universe. Rick Sanchez is living with his daughter Beth's family and constantly bringing her, his son-in-law Jerry, granddaughter Summer, and grandson Morty into intergalactic escapades.

Rick and Morty stars Justin Roiland (Adventure Time), Sarah Chalke (Scrubs), Chris Parnell (Saturday Night Live), and Spencer Grammer (Greek). The series is created by Dan Harmon (Community) and Roiland, who also serve as executive producers.

In October, fans learned the titles of this season's opener as well as the following four episodes via an Adult Swim reveal video.
Fair warning: Harmon and Roiland's Rick and Morty "Pun Fu" is strong this season… let the speculation begin!