Rise of the Teenage Mutant Ninja Turtles: It's a Cersei/Cena Smackdown! (PREVIEW)
So Cersei Lannister has a plan to take out Leonardo, Donatello, Michaelangelo, and Raphael that involves her literally turning from a criminal underworld boos into a giant spider. Before she can accomplish her goals, John Cena comes crashing into the room – but he's there to take down the turtles, too…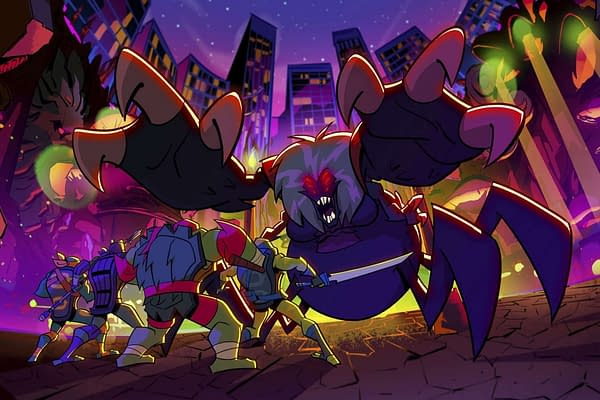 Now before you contact the authorities and put an emergency trace out on my laptop, this is the world of Nickelodeon's Rise of the Teenage Mutant Ninja Turtles – so some explanation is necessary. Game of Thrones' Lena Headey plays Big Mama, a powerful Hidden City mob boss in her human form and a righteously huge spider yokai when she feels like ditching the work clothes – shoots webs and everything.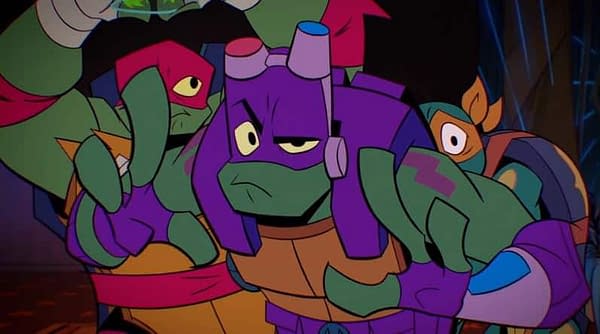 As for the John Cena connection, that comes in the form of fellow/rival villain Baron Draxum (voiced by Cena) – who (in the preview clip below for Saturday's episode) appears just when the turtles need him (or anyone at this point, honestly) most. Looks like Big Mama couldn't see Draxum coming – and that's about to set up a major smackdown.
Here's a look at the preview, courtesy of our friends at Entertainment Weekly:

Rise of the Teenage Mutant Ninja Turtles follows the band of brothers, Raph, Leo, Donnie and Mikey, as they discover new powers and encounter a mystical world they never knew existed beneath the streets of New York City. The series stars Omar Miller (Ballers) as Raphael, a jagged-shelled snapping turtle; Ben Schwartz (Parks and Recreation) as Leonardo, a red-eared slider turtle; Josh Brener (Silicon Valley) as Donatello, a soft-shell turtle; Brandon Mychal Smith (You're The Worst) as Michaelangelo, a box turtle; Kat Graham (The Vampire Diaries) as April O'Neil, a street savvy native New Yorker; Eric Bauza as Splinter, father figure and sensei to the Turtles; and WWE Superstar John Cena as the villainous, Baron Draxum.
Rise of the Teenage Mutant Ninja Turtles airs Saturdays at 9:30 a.m. ET on Nickelodeon.