Riverdale Season 3, Episode 4 Recap: "The Midnight Club"
Riverdale continued its strong opening to its forth season last night with its highly anticipated flashback episode. It finally happened, and it was glorious. The kids playing the younger versions of their parents is a ridiculously great idea, and it delivered in almost every way. Almost.
The flashbacks are being narrated by Alice to Betty as she recounts how the group became friends and started playing Gryphons and Gargoyles, and how it led to the pact they all made to never speak of it again. Turns out, this was a turning point for every single one of their lives. More on that later, because we have copious amounts of 80's references and fashion to get to! Which was weird, since this episode took place in the 90's, but whatever! After Alice, FP, Fred, Hermione, Penelope, and Sierra all get detention, watched over by Anthony Michael Hall as Principal Featherhead. They start to form bonds and relationships with one another. Alice is pregnant and not telling anyone, madly in love with FP, who is a jock desperately trying to avoid the trapping of the south side. Fred is taking care of his dad and a musician, Sierra is with Tom Keller even though their families disapprove. Hermione and Penelope both seem lost in their family situations. As they share with each other, they stumble upon the rulebook for the game.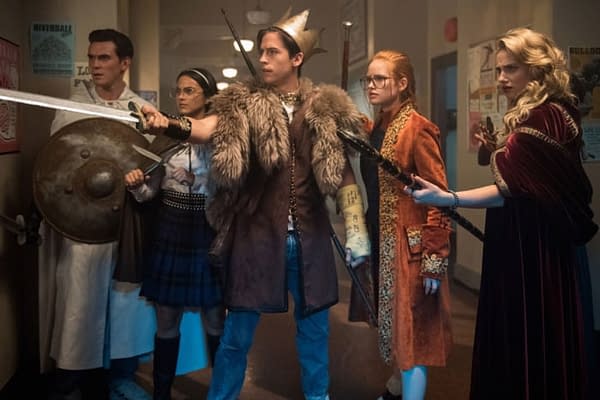 From there, they all go hardcore RPG. They dress up as their characters, the play constantly, and end up meeting up with more players when they discover Marty Mantle, Daryl Doiley, and others are also playing. It all leads to what they refer to as Ascension Night, which they were all invited to be the Gargoyle King. Hmm. Marty Mantle gives everyone drugs called Fizzle Rocks (at least it is not Jingle Jangle) and their "dark dopplegangers come out", basically meaning they are really high and do a bunch of silly stuff. While everyone else is tripping big time, Alice encounters the blue liquid in the chalices. Saying "no thanks" to choosing, she runs into the Gargoyle King in the hallway and takes off, leaving poor Principal Featherhead all alone to deal with him. He goes missing, and is found dead in a hallway closet in the school days later, symbols everywhere.
At Pop's the kids decide to not incriminate themselves for breaking into the school to play the game and swear to keep it secret. They all drift apart. Alice meets her future serial killer husband, Fred sells his guitar and starts working on the quarry, FP joins the Serpents and leaves sports behind, Penelope sinks further into the nightmare that is the Blossom family, Sierra and Tom break up, and Hermione begins a relationship with Hiram.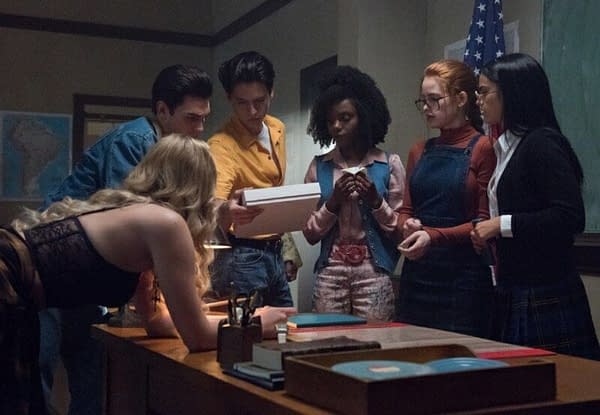 We end with Alice trying to dissuade Betty from investigating and playing the game, which Betty cannot promise. When she goes to the bunker in the woods to tell the story to Jughead, she finds him deeply engrossed in the game, talking about ascending.
All of the flashbacks are great, even if they are a little wonky with their references in the time period. It is a real treat to see the kids play their parents, none more so than Lily Reinhart as Alice. She let her hair down for this episode, both literally and figuratively. They all brought their A-game however, and kudos to the producers and writers for making this such a fun ride. Four episodes in, I don't think this whole season will end up being all about the Gargoyle King. So far though this is a much better start than season 2, and hopefully we can see more flashbacks later.
Some other highlights:
-So who do we think the Gargoyle King is anyway? I am thinking Tom Keller personally, but I am open to hearing other theories. One thing I do know: I do not think it is cult leader Edgar Evernever.
-If you would have told me that we would get a performance of Dokken's "Dream Warriors" from A Nightmare on Elm Street 3, I would have laughed at you. Then I would have realized this is Riverdale we are talking about and I should have expected it.
-Anthony Michael Hall looked great! I wish he did more, and I was begging for him to give the kids the "mess with the bull" speech from Breakfast Club.
-How likely on a 20-sided die is it that ALL of Riverdale would start playing G&G? I mean, RPG's are awesome, but come on.
-Apologies as well, dear readers. Turns out I have been spelling Gryphons and Gargoyles wrong this whole season so far. In my defense: that spelling is stupid. G&G from here on out.