Riverdale Season 2: The Black Hood is Coming Back
If you think Riverdale is done with the Black Hood, think again. Series executive producer Roberto Aguirre-Sacasa revealed at PaleyFest that the villain who was terrorizing the town did not die earlier this season as it may have appeared.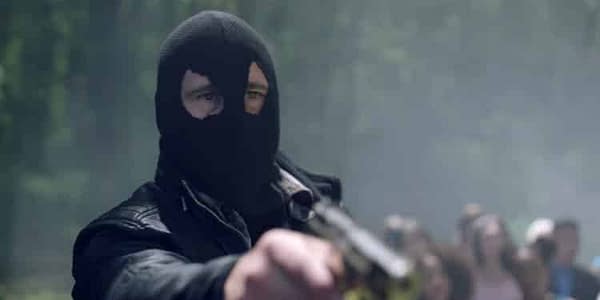 When we started, we had three likely suspects, so for the first half of the season, we were always dropping red herrings so we could pick [one of the three]. As we moved into the second half, and we get back to the Black Hood for the last few episodes, we always knew it wasn't Svenson, [the janitor], but for the last 10 episodes or so, we've had a pretty clear idea and have been writing toward that.
The Black Hood was introduced in the season 1 finale when he shot Fred Andrews (Luke Perry). He was previously revealed to be the Riverdale High janitor Joseph Svenson (Cameron McDonald) and he was killed by the sheriff, but Archie (K.J. Apa) didn't believe Svenson was the Black Hood. This coming right after Betty (Lili Reinhart) discovered that her brother Chic (Hart Denton) isn't the son of Hal Cooper (Lochlyn Munro). He could still be Alice's (Mädchen Amick) son, or he could be an impostor altogether — which might lead some to think he could be the Black Hood, while others think he might be the son of F.P. (Skeet Ulrich). That's something Aguirre-Sacasa talked about, saying fans of the Alice-F.P. pairing will want to tune in this week.
This is a big episode for Alice, the Serpents and F.P.. If people are interested in seeing more of F.P. and Alice, I think you should watch this week's episode.
Riverdale airs Wednesdays at 8 p.m. on The CW.
Source: EW.com