Posted in: ABC, Review, Trailer, TV | Tagged: action, Afton Williamson, bishop, bleeding cool, cable, crime, drama, Episode 15, LAPD, los angeles, manhunt, Melissa O'Neil, nathan fillion, ovaries of steel, police, recap, Review, Richard T. Jones, sarah shahi, Season 1, streaming, television, The Rookie, Titus Makin, tv
---
'The Rookie' Season 1, Episode 15 "Manhunt": Bishop's "Ovaries of Steel" for the Win! [SPOILER REVIEW]
Some days are just days.
You go to work, you walk your beat, finish your shift, come home, and Netflix and chill.
Other times, you know a day is going to be rough so you prepare, psych yourself up, and go in with your head held high.
Every once in a while, however, there are those days that start out normal but then everything just goes to hell in a handbasket.
This week's episode of ABC's The Rookie ("Manhunt") is about one of those days. In order for our rookies and their training officers to survive it, they are going to have to bring out the big… words?
Warning, full clips of auto fed spoilers below.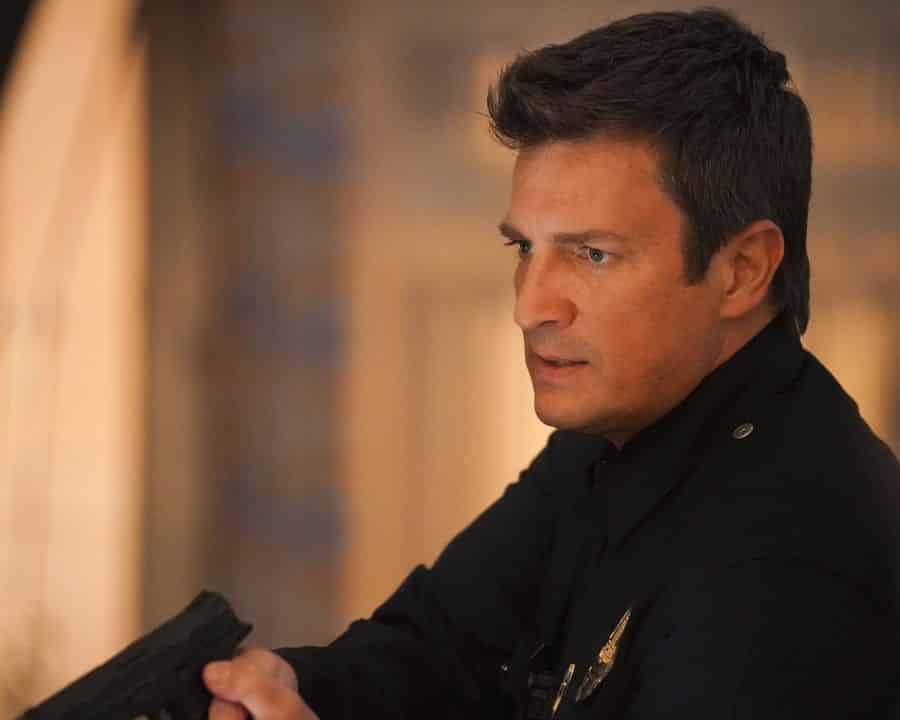 In "Manhunt," the pandemonium starts when a prison bus crashes near a residential neighborhood. Guards and inmates are among the injured and dead, and seven prisoners escape. It is an "all hands on deck" situation, with Sergeant Gray (Richard T. Jones) out in the field and the entire precinct hunting down the convicted felons. Spread thin, everyone has to step up and make some hard calls.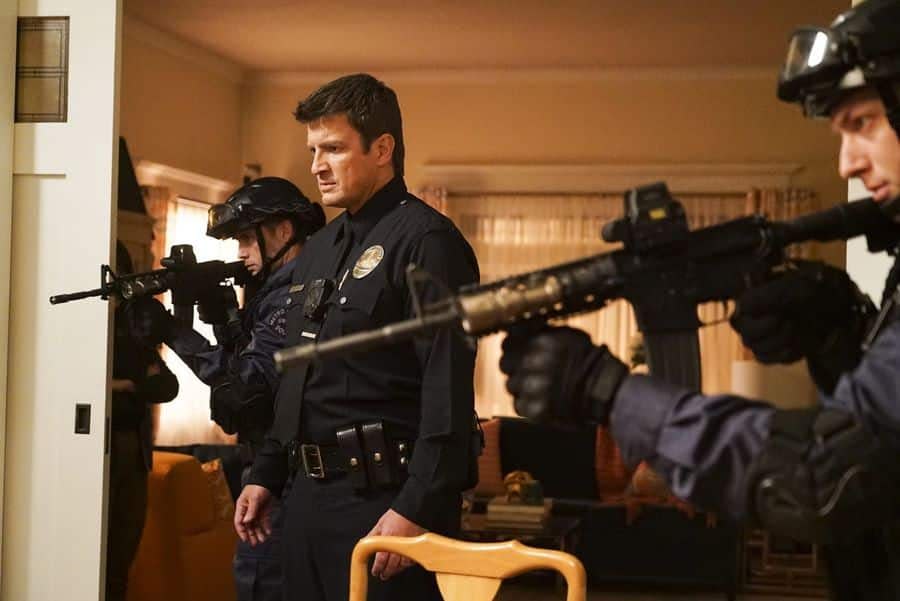 After the first round of escaped prisoners are rounded up, West (Titus Makin Jr.) takes the one he and Lopez (Alyssa Diaz) captured back to lock-up. Coincidentally, West's escaped felon actually knew Papa West (Michael Beach) back in the 1990's, and boy does he have stories to tell!
The prisoner even goes so far as to tell West that Papa West planted a gun on the prisoner to get him convicted of murder (to be fair, he was guilty). West spends the rest of the episode grappling with whether or not he could believe these negative stories about Papa West, and what to do if he does. In the end, the prisoner tells West that the truth is in his file.
My guess is that West is going to go look…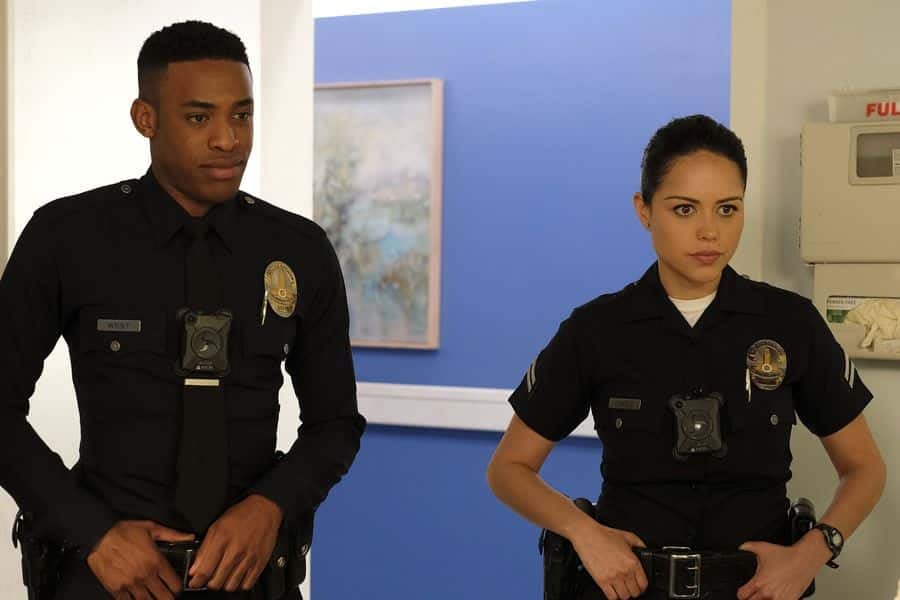 A lot of this season has been about West separating his career from his father's. West is almost obsessed with both following in his father's footsteps, and then going even higher. Given that West has only ever known his dad as an Internal Affairs cop, he doesn't believe Papa West capable of questionable deeds. Maybe it is a history of questionable deeds and the consequences of them that led Papa West to pursue Internal Affairs in the first place?
Is Papa West a reformed bad cop?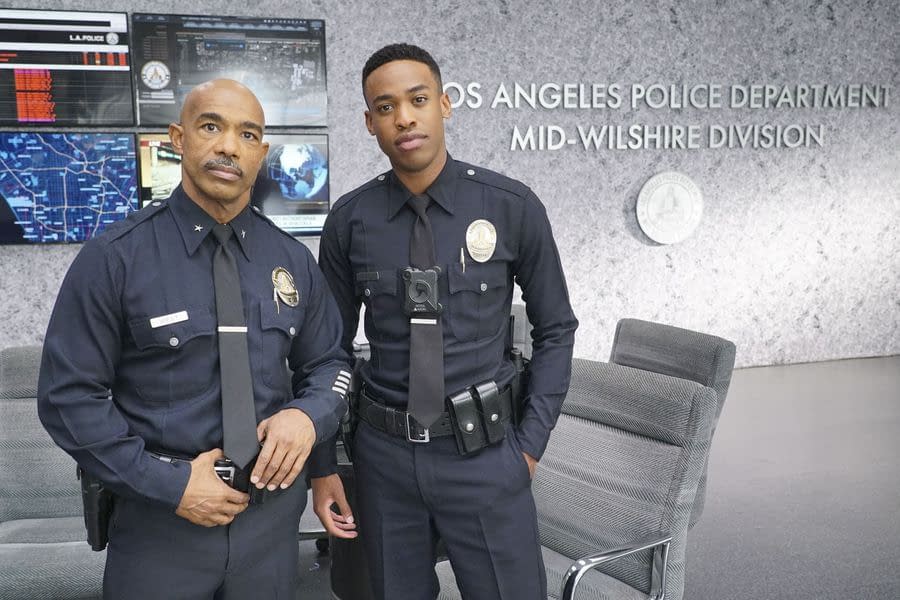 Chen (Melissa O'Neil) and Bradford (Eric Winter) have a pretty rough shift. After picking up an escapee, they confront a group of well-armed militia men patrolling the streets looking for trouble. After a tense exchange, Bradford is finally able to disperse the mob, saving an innocent gardener in the process… but when Bradford gets a call from an informant that an escaped gang member has shown up on the informant's doorstep, things get really bad, really quickly.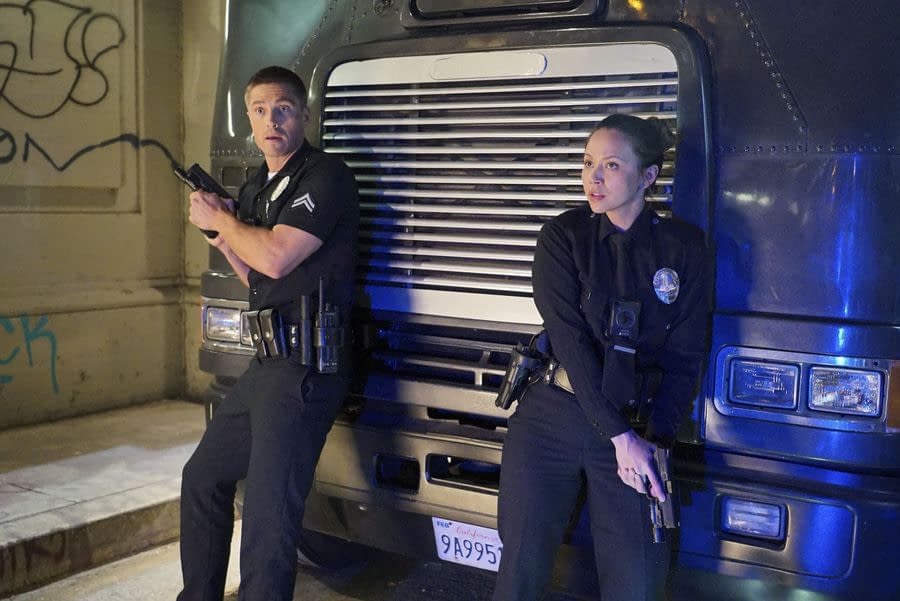 Trapped in the informant's house with angry gang members determined to get revenge, Bradford and Chen are outmatched. In an effort to prevent a shootout, they tell back-up to wait to intervene until they know they can win. Chen (a bit uncharacteristically) questions why they should put their butts on the line for an escaped felon, but Bradford sets her straight. Bradford's world is black and white, so the hard decisions aren't really that hard. In the end, Bradford proves that the LAPD always comes through for him. The scenes between Bradford and Chen here have thawed my frozen heart a little bit when it comes to the Bradford character… but I am still not a fan.
Nolan, however, took the time to shine. After successfully making himself a teacher's pet of visiting former FBI hostage negotiator Jessica Russo (a fantastic Sarah Shahi), Nolan continues to talk himself into success after success. He uses his empathy to save a little girl's life. Then he uses it to fulfill the last wishes of a dead prison guard.
Finally, Nolan uses his sterling ability to communicate to end a hostage situation without any loss of life. I like how the show combines jokes about Nolan's age and dated cultural references with a serious meditation on the skills and experience that older "second career" employees can bring to the table. Nolan is good at what he does precisely because he is older, has a wealth of normal human experiences, and can translate those into success in dealing with the public. He must have been pretty darn good, because he got Russo's number.
The real star of "Manhunt" was Talia Bishop (Afton Williamson) and her ovaries of steel. Faced with a hostage situation and no back-up except for her rookie partner, Bishop did not waver once. When the felon tries to engage Bishop, in the classic condescending "you don't talk much, do you?" Bishop stares him down, and the violent felon is the first to flinch. Bishop just continues to be an all-around good cop and interesting character and I love watching her kick ass every week. This week, however, was especially satisfying.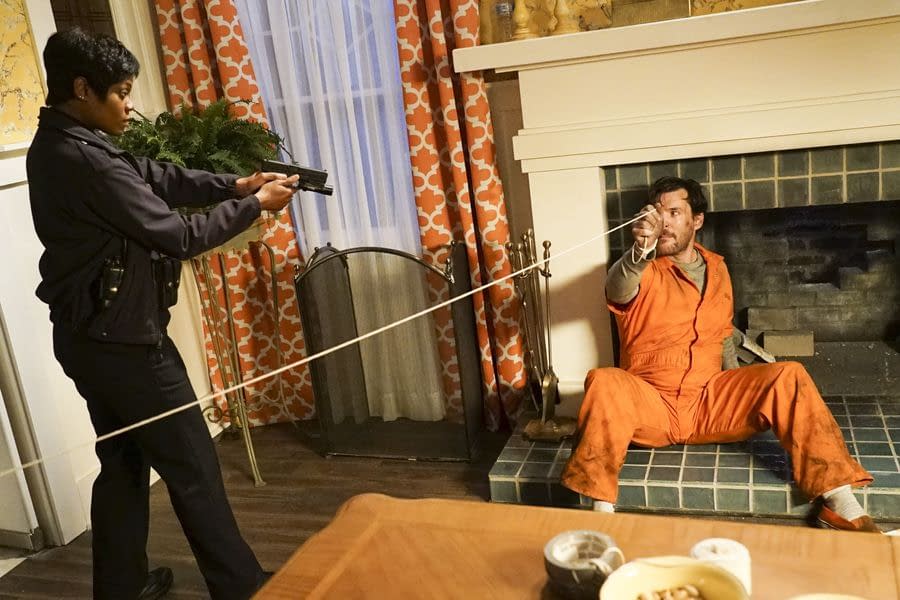 The last few episodes have left us with lots of loose ends to tie up.
● Is it really over between Bradford and his wife?
● Will Nolan date Russo?
● How is it going with West and his mom?
● How about West and the nurse?
● Did Lopez get back together with the hot lawyer?
● Is Bishop going to go out with the hot detective whose life she saved?
● What is the real story with Papa West?
● Is anyone going to follow up on what happened in Chen's polygraph?
Each new episode seems to add more questions than it answers. As we start to head into finale season, one has to wonder if we are going to get all the answers we want before the show goes on hiatus. Only one way to find out…
New episodes of The Rookie air on Tuesdays at 10 p.m. on ABC.
---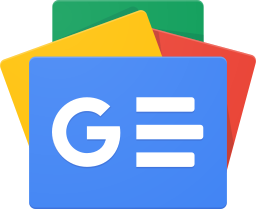 Stay up-to-date and support the site by following Bleeding Cool on Google News today!