RuPaul's Drag Race All Stars S05E03 Pit Stop Was All About The Looks
Bob The Drag Queen is back, baby! Of course, she never really left, but that's neither here nor there. The fifth season of RuPaul's Drag Race All Stars has left us all gagging – and we're only on the third episode. Bob and special guest The Vivienne (from Drag Race UK) chat about the girls, the episode, and of course, all the looks. From there, the queens were tasked with a little interior decorating – they have to group up and design a suite for a themed hotel, either Golden Girls, jungle room, or solid gold. To top it off, they also had to present their rooms to potential guests, Michelle Visage, Ross Mathews, and the week's guest judges Nicole Byer and Martyn Lawrence Bullard. So pack your bags and get ready to enjoy your stay, because we have a look at the full Maxi challenge following the latest edition of "The Pit Stop," below: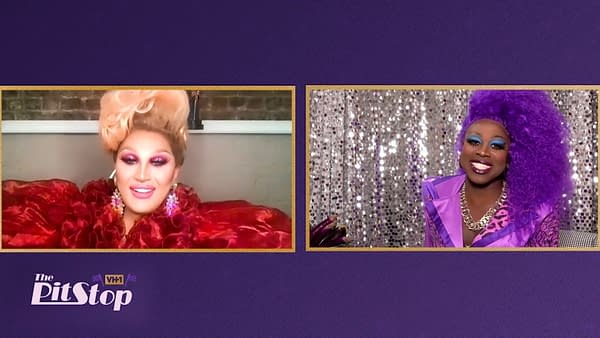 This week's runway category is: reveals. Three of them, to be exact. The queens had to create three distinct looks to be revealed in a single walk of the runway. We're just going to gloss over Miz Cracker's "Faberge egg" look, though as she was birthed from it, the gown was pretty sickening. Jujubee's time has finally come as she won this week's challenge – her very first win, despite her many seasons of Drag Race. She went up against lip-sync assassin Monet X Change, but her winning streak didn't roll over to the performance, unfortunately. That sweet tip money rolled over to next week and we turned to the lipstick vote box to tell us who goes home: Mariah Paris Balenciaga. This competition is tough and getting tougher – anything could happen next week. Be sure to come back around next week for a kiki about the next episode, one that's sure to be wild.