RuPaul's Drag Race All Stars S05E05 "Pit Stop" After India's Goodbye
I am absolutely gagged this episode, let me tell you. Bob was right there with me in being stressed because this round of RuPaul's Drag Race All Stars competition just got cutthroat. Did we also mention that India Ferrah is a dirty liar playing a ridiculous game and if Alexis Mateo doesn't win this season I will riot. But I'm getting ahead of myself. Bob the Showgirl – I mean, Bob the Drag Queen is back with special guest Jinkx Monsoon. Let me tell you, I am loving this chartreuse on Bob this week – full Vegas and I am living for it! Jinkx is back and no shade, but can I spill the real tea for a minute? I like her better in her more recent appearances than I ever did on her season.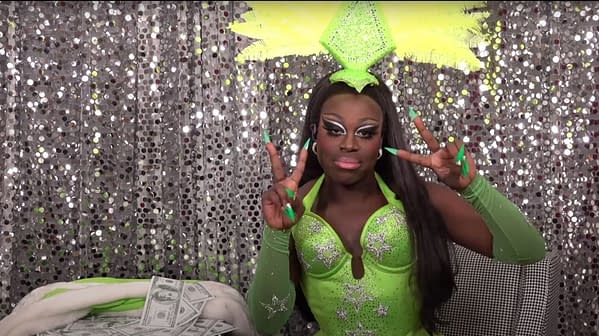 She was just too young and unpolished and frankly kind of weird (like in an "I'm home-schooled, what's a 'television'?" kind of way) for me to really dig her style. But she's refined things a lot since winning and she seems more confident and grown-up, and I think I may be team Jinkx now. Maybe she's just grown on me, maybe I just dislike other queens more now, maybe it's Maybelline. Who can say, really?
Moving on, this week's category is "Snatch Game" with a twist: the ladies had to pull out their best celeb impersonations for the snatch game of love. Shea Coulee did Flavor Flav, Jujubee knocked it out of the park with the best Eartha Kitt we've ever seen, and Alexis Mateo did Walter Mercado to absolute perfection. Blair St. Clair bored me (and everyone else watching) yet again – I think it's about time she goes home. But I never have been a Blair fan; Miz Cracker missed the mark with her Lady Gaga this week – she looks like her, but there were no jokes. Even her drag mama Bob agreed, and that's when you know it's rough. There's rough… and then there's India Ferrah – big yikes. India impersonated makeup and beauty guru Jeffree Star and it was absolutely abysmal. I'm honestly surprised she wasn't sent home the second she stepped foot on the runway this week given that performance and her terrible outfit choice.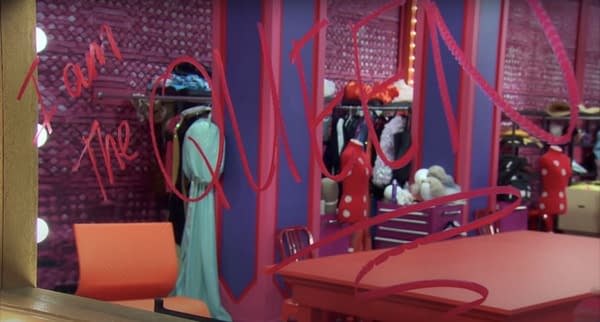 Luckily India did leave us this week, but not before stirring up all the drama first. Remember a few weeks back when Alexis voted for Shea instead of Mariah or India? Well, in a twist, Mama Ru does away with safe queens this week – that's right if you didn't win, you're in the bottom. So this week literally anybody except for Shea could have gone home. India immediately goes on the defensive (seeing as she's consistently the weakest queen) and tells Shea that Alexis was campaigning to send her home and she's shady and Alexis deserves to go home for that.
And it is at this is the point in the program where I screamed at the TV and woke up my family. Apparently, "you lying whore, go back to Ohio" is not a good thing to scream at 2 in the morning. But, they lived and went back to sleep and luckily Shea was smart enough to see through India's shady ass shenanigans, leaving poor Alexis feeling all kinds of emotional. I really do hope she sticks it out this time – Shea was great, but honestly, Jujubee or Alexis deserved to win this week. Both of their prom looks were perfection and Shea's runway just looked cheap and unoriginal and absolutely missed the assignment.
But, all's well that ends well – but not before a little drama. This week's lip-sync assassin was none other than Vanessa Vanjie Mateo and girl, my heart hurt for Alexis. To have everyone think you did something you didn't and then not believe you is the worst, and on top of that, having the added threat of being sent home by your own drag daughter? That's too much, man. Luckily Shea won and she sent home India. Good riddance, goodbye, now get gone. We'll have to wait until next week to find out all the tea on what happened back in the workroom after elimination, but at least I can wait a week knowing Alexis is safe. I just hope this kerfuffle doesn't shake Alexis and throw her off her game for next week's challenge on Drag Race All Stars.