Agents of SHIELD Season 5, Episode 6 Recap: Fun & Games
This article contains spoilers for Marvel's Agents of SHIELD season five episode 'Fun & Games'.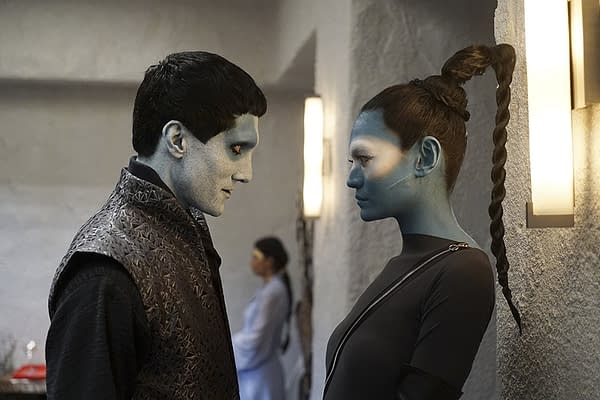 This episode was directed by Clark Gregg, which meant there was not that much Phil Coulson in it, but they made up for it with some pretty interesting things happening. The episode starts by introducing us to a new character named Flint (Coy Stewart). Comic fans probably got a hint of what was going on here by his name. We watch him trying to survive on the space station. Then we cut to Fitz, who is going by the name Boshtok, and Enoch, who is trying to get him up to speed on Marauder ways. Fitz ignores him and goes to speak to Jemma, professing his love and proposing. As sweet as the proposal is, Kasius's implants make it that his servants can only hear him, so she never hears any of it. Poor Fitz.
Over with Flint, he is among a group of humans being exposed to the crystals. The mist fills the room, then dissipates, and Flint is gone. The Kree realize that this isn't Flint's new powers, but rather someone must have taken him — that someone being Yo-Yo. She speeds him away and is helping him understand his Terrigenesis. She tells him a bit of her origin, including her exposure to Terrigen through fish tacos. Flint has no idea what tacos are, and Mack fears a future without tacos. Grill realizes what happened and Yo-Yo's speed, understanding what happened to his man that he had to condemn to roach. He's angry and zaps the metrics, which shocks Flint enough to uncover his powers of Geokinesis — or the power to control the Earth/rocks.
Flint is a character from the comics created by Charles Soule and Joe Madureira in the pages of Inhumans #3 (2014). He was activated by the Terrigen Bomb. His powers in the comics also allow him to create a rock shell or suit around him that increases his durability and strength.
Back with Kasius, he puts Daisy up against Sinara so he can impress his older brother, who has come to buy the Destroyer of Worlds for their father's army. With his brother there, Fitz has to go to plan B. When Daisy starts to win, Fitz and Simmons slash Kasius's throat (he survives), shoot his companions, and escape with Daisy. Fitz and Simmons get a chance to kiss and this time Jemma proposes to him, and he accepts. But he insists that he proposed first.
And now that they are reunited, the team has to go up against an undefeated Kree Warrior who is hunting them. I can't help but think you have a planet Earth that is blown apart and a new Inhuman that can control rocks… not just a coincidence.