The most recent episode of Marvel's Agents of SHIELD featured the return of Lance Hunter (Nick Blood) in an episode that showed how he helped the stranded and jailed Leo Fitz (Iain De Caestecker) get out of government custody, track down the guy who took the rest of the team, and figure out a way to have Fitz meet up with them 74 years in the future. All of this was done around a great buddy comedy that was filled with Star War Easter eggs and Football talk.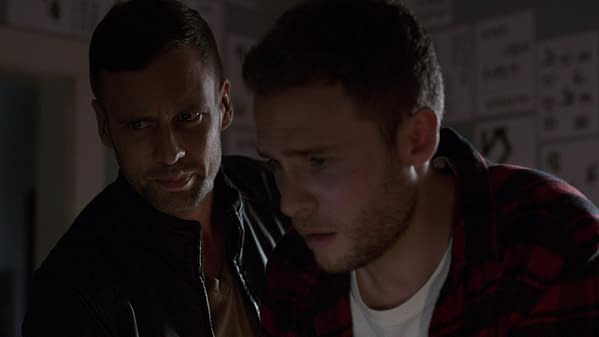 Hunter hadn't been seen since the end of season three when he and the love of his life, Bobbi Morse (Adrianne Palicki), AKA Mockingbird, were disavowed and forced to leave SHIELD. This was originally done to set up a spinoff series Marvel's Most Wanted, but ABC passed on it. Instead they got Inhumans. Now that Hunter has been seen, will we get to see more of the character? TVLine asked Blood that very question:
"Who knows! You know what Marvel's like… Agents of S.H.I.E.L.D. is always full of surprises, and things can change overnight. Like, I don't think anyone expected Brett Dalton to return, and yet he did [for Season 4C]. You never know in this world, but I'm sure I will be the last to be told their plans!"
I, for one, would be happy to see more of Lance Hunter, and of Bobbi Morse — if Palicki wasn't tied up with Seth McFarlane on The Orville.
Enjoyed this article? Share it!