"Siren": Check Out This Bristol Cove Recap Before Season 2 Returns [EXCLUSIVE VIDEO]
When Eric Wald and Dean White's Siren returns to Freeform for the second-half of its second season, it does so with the creative confidence that comes from having received a season 3 pick-up – even before you've completed your second season! But let's be clear: the popular mermaid fantasy-action drama hasn't forgotten about the business at hand when it comes to the second season – have you?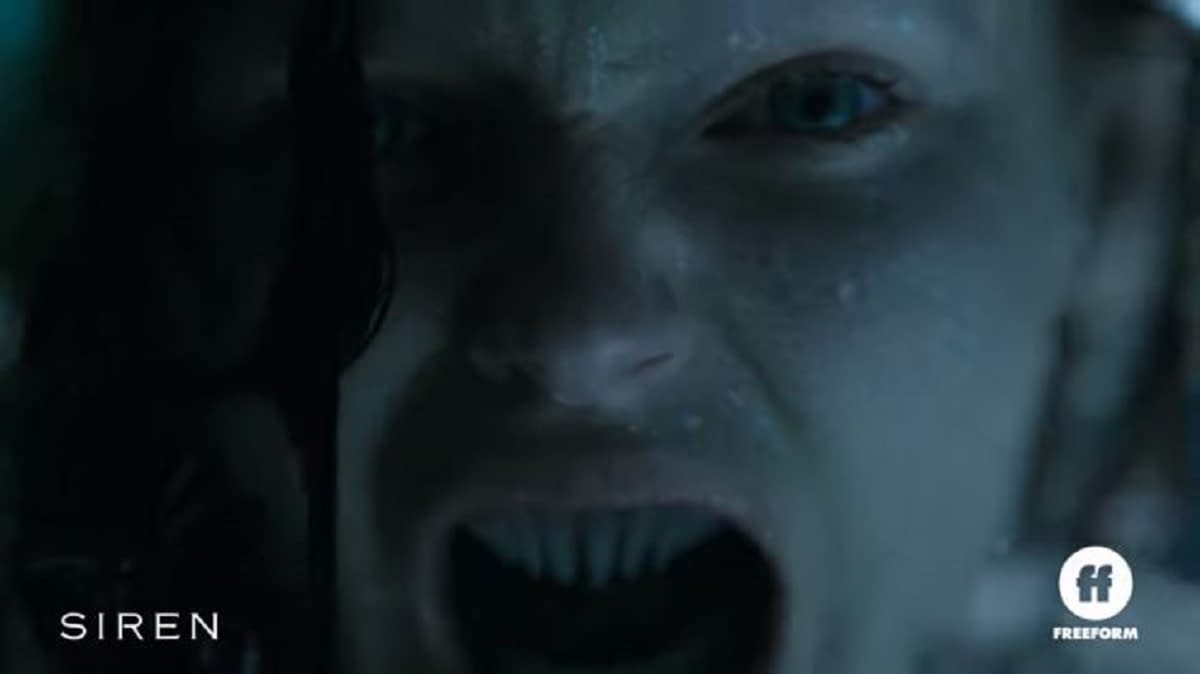 No worries! Just in case you need a "refresher course" on the trials and tribulations of Ryn (Eline Powell), Ben (Alex Roe), and Maddie (Fola Evans-Akingbola) – or just need to update your mental map of Bristol Cove – the fine folks at Freeform have gifted Bleeding Cool with an exclusive look back at season 1 and the first-half of the second season.
Here's a look back at Freeform's Siren – followed by a look ahead to what fans can expect when the series returns on Thursday, June 13, at 8 p.m. EST.
In the second season of Freeform's Siren, more mermaids arrived in the once-sleepy fishing town – but are they seeking revenge, or is something more catastrophic driving them out of the sea? Marine researchers Ben (Alex Roe) and Maddie (Fola Evans-Akingbola) continue to establish a bond with mermaid Ryn (Eline Powell), not only to protect her but to try to help save her entire civilization.

Ben and Maddie are uncertain about the mermaids' future after the deadly consequences of the attack on the oil rig and, with the mermaids returning to sea, are left feeling lost without Ryn. Once Helen (Rena Owen) learns she's not the only one of her kind, she discovers there is a dark side to her people's past.

A Look Ahead to Freeform 'Siren' Season 2b…
In the newest preview, Ben admits to Maddie that he still listens to the recording of Ryn's siren song:
In the following two previews for the series' return, Rick (Brendan Fletcher) wants to tell his sister the truth about their family's heritage, Helen (Rena Owen) advises him to be cautious; while Nicole (Natalee Linez) hears about Xander's (Ian Verdun) boat and drops by to check up on him:
The effects of her "siren song" have forced Ryn (Eline Powell) to take Ben (Alex Roe), and Maddie (Fola Evans-Akingbola) back to her world – but has the surface world already sealed their fates before their journey has even begun?
As Ryn, Ben, and Maddie's journey begins, danger awaits as they leave the surface world for Ryn's home. But with Ben and Maddie's lives on the line… what choice do they have?
The pollution poisoning the waters around Bristol Cove have forced Ryn, Ben, and Maddie to find a solution to the dying mermaid population. Time isn't exactly on their side as Ryn's people lose mating seasons – and now an endangered species – as forces look to make matters worse…
An earlier preivew finds Helen dealing with a deadly secret that could put her life – and the lives of those she loves – in danger. But where can Helen go when she isn't sure who to trust anymore?
The following first look finds Ryn "turning the tables" on Ben and Maddie: after all the time she spent learning the ways of the surface world vis Bristol Cove, Ryn gets to introduce them to her world… underneath the sea:
Freeform's Siren returns for the second-half of season 2 on Thursday, June 13, at 8 p.m. EST.