Posted in: Netflix, Review, Trailer, TV | Tagged: action, books, cable, drama, Klaus, Lemony Snicket, Lemony Snicket's A Series Of Unfortunate Events, neil patrick harris, netflix, novels, olaf, recap, Review, reviews, season 3, streaming, Sunny, television, the end, thriller, tv, Violet
---
Lemony Snicket's A Series of Unfortunate Events Season 3 is a Good Pain [SPOILER REVIEW]
If there's one thing Netflix's Lemony Snicket's A Series of Unfortunate Events never promised us, it was a happy ending. No one ever told us that all of our questions would be answered. In fact, every single installment of the series started with a warning telling us exactly what to expect: mystery, pain, frustration, grief – and fire.
Through thirteen installments (25 total episodes) we watched as Violet (Malina Weissma), Klaus (Louis Hynes), and Sunny (Presley Smith) Baudelaire's lives went from bad to worse as they were dragged from guardian to guardian by adults who were too caught up in their own problems to properly care for the orphans. Three seasons of charmingly absurd stories found the Baudelaire siblings inventing, researching, and chewing their way through hopeless situation after hopeless situation. We have now reached the end – helpfully titled "The End" – and as we have come to expect, it was sad: friends died, adults failed them, and many questions were left unanswered. The end hurt, maybe more than anything else in the show, but it was a good pain.
If you aren't prepared for Season 3 spoilers, look away now… The first two seasons of A Series of Unfortunate Events were good. They took the amazing writing from the books and translated it visually, almost like watching an audio book. There were several stand-out acting performances, most notably Weissman, Lucy Punch as Esme Squalor, and Neil Patrick Harris as Count Olaf. While good, it felt like something was missing. The show was almost too faithful to the material: some of the jokes did not transfer between media, and the action seemed to drag as more and more secondary characters were introduced, especially in "The Hostile Hospital" and "The Carnivorous Carnival."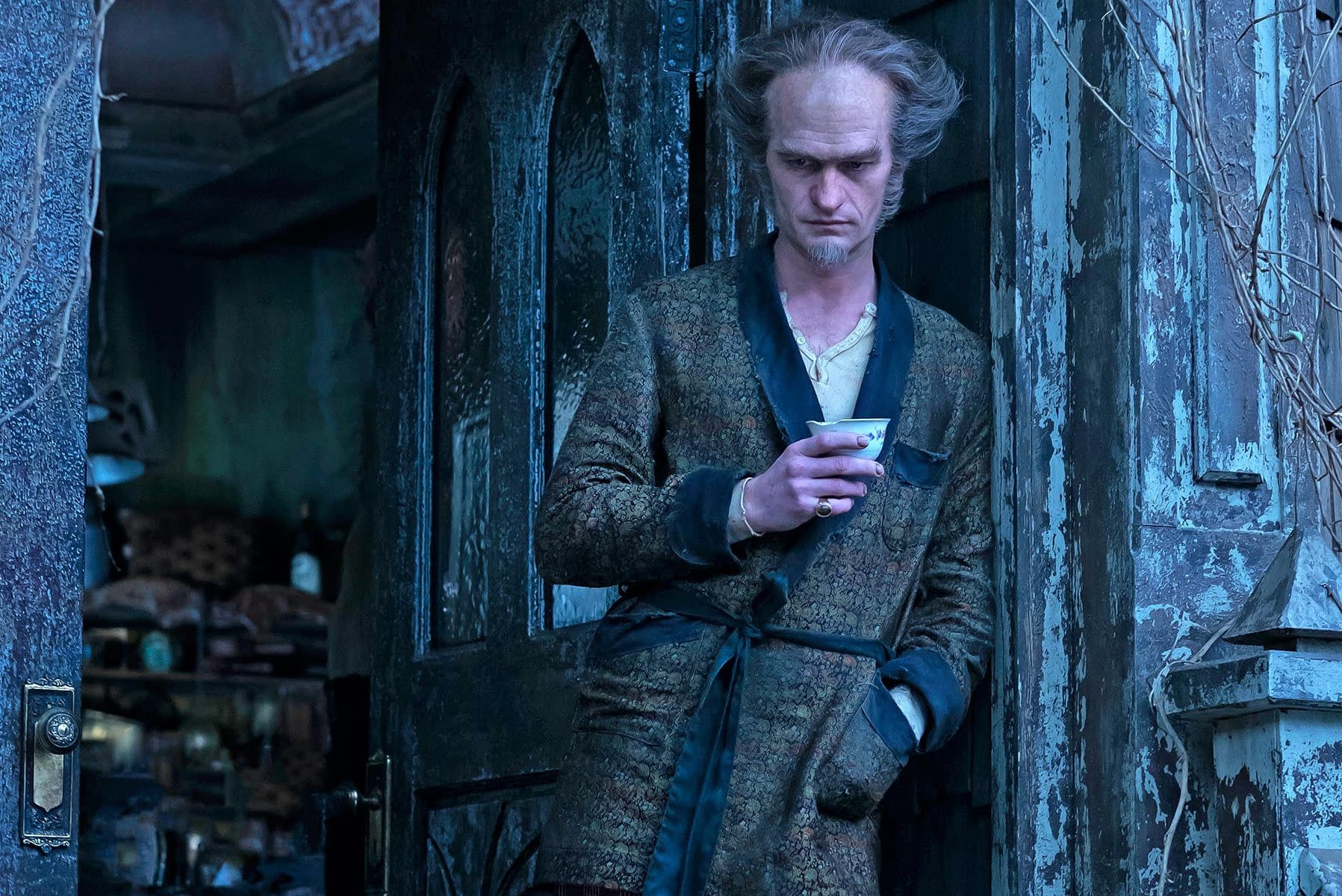 The third season, however, is excellent. With the exception of a couple slow spots in "A Slippery Slope," the pacing was perfect. You want to keep your eyes on the screen as the story unfolded, not knowing how the Baudelaire orphans will extract themselves from increasingly fraught situations. Malina Weissman is superb as Violet Baudelaire. Without words, her eyes reflect simmering frustration and disappointment in her lack of control of her surroundings and the adults that continue to fail her.
Rather than a fight to protect themselves and their fortune from Count Olaf, the arc of the third season is the Baudelaires gathering the strength and the courage to take control of their own lives. They learn not to trust what is printed in the newspaper, that sometimes hesitation and consideration is necessary, that doing the wrong thing for the right reasons does not absolve you, that safe and comfortable is not always the best option, and that everyone has their own story to tell. Additionally – and for the first time – Violet and Klaus strongly disagree on a course of action and on whether or not to trust someone. As the siblings dig deeper into the secret organization that their parents were a part of, they are forced to confront the fact that good people sometimes do bad things, and that people are not always inherently good or bad but are "chef's salads" made up of many different parts. The scene at the end of "The Grim Grotto," on Briny Beach, when the Baudelaire siblings decide to leave Mr. Poe (K. Todd Freeman) behind to go to the Last Safe Place with Kit Snicket (Allison Williams) is poignant and beautiful. Three young people decide that charting their own path through the unknown is better than not having a choice.
"The Penultimate Peril" is by far the best episode of the season – and the series. Everyone who has come into contact with the Baudelaires since their parents' deaths (and lived) descends on the Hotel Denouement – and Violet, Klaus, and Sunny finally have an opportunity to tell their story. Unfortunately, they are once again let down by those that they trusted to help them, and are forced to make several hard decisions. After hearing as many different opinions as they have had guardians, the Baudelaire siblings learn that they must make the best decision they can with the tools they have. As they sail off towards "The End" they find themselves once again in the same boat as Count Olaf – a phrase that here means they make a deal with him in order to escape a hotel the orphans helped him set on fire.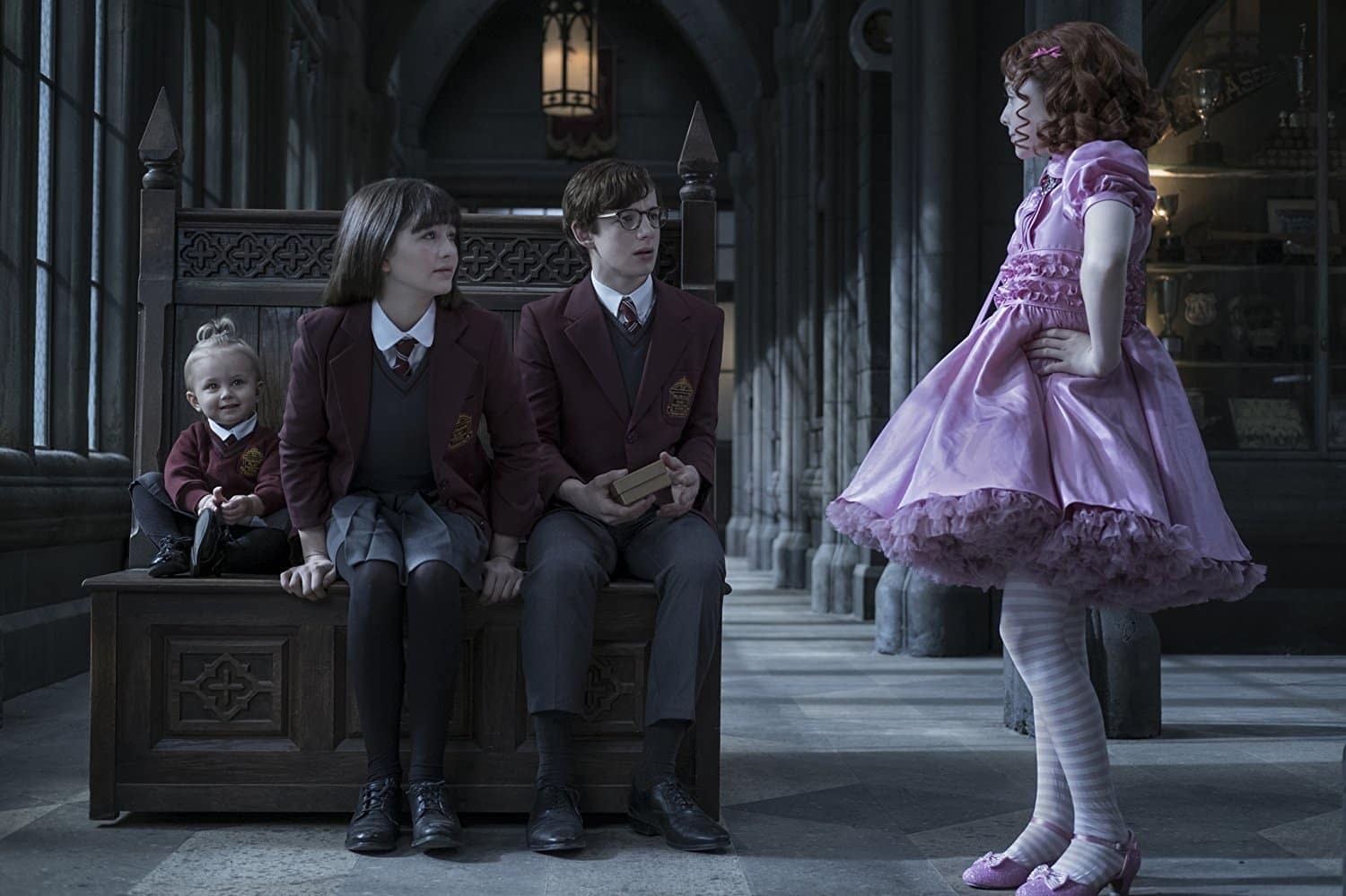 Finally, we've come – appropriately enough – to "The End." The orphans are stranded on an island populated by castaways, unknowingly drowning their sorrows in coconut cordial under the kind but unyielding leadership of Ishmael (Peter MacNicol). The Baudelaires are forced to face the truth of their situation and decide what they want their futures to look like. They can drink the cordial and live out their lives in boring, bland tranquility, or they can take their chances back on the shore. Before they have a chance to follow through with their plans, they are confronted by mob mentality, Count Olaf, a very pregnant Kit Snicket, and a deadly fungus. The Baudelaire orphans learn that Count Olaf was once capable of love – but that even love can't save a life.
After everything they have been through: the deaths, the chores, the hard treatment, and dangerous situations – after finding themselves with a fourth orphan to feed and no idea what comes next – it would be easy to imagine the Baudelaires choosing to stay secluded on their island. No one would blame them for making the safe choice. But with a little guidance that comes in the guise of very familiar handwriting, they decide to take a chance and head back to the world.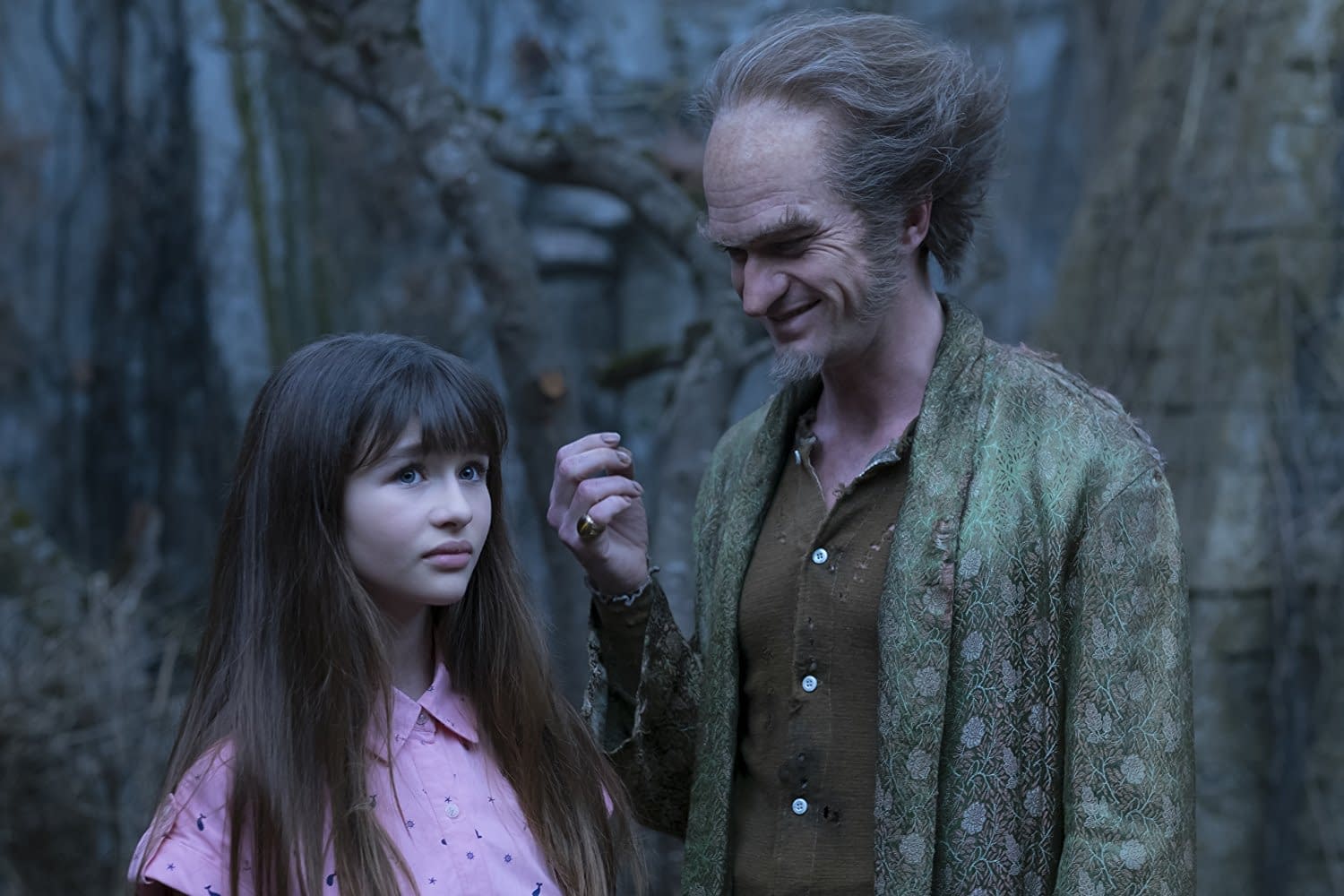 We may never know if the Baudelaires ever meet back up with the Quagmires, if the sugar bowl survived the fire, if Ishmael and his followers made it to shore, or if Esme and Carmelita Spatts (Kitana Turnbull) made it out of the Hotel Denouement alive. As orphaned teenagers and children with an infant to care for and a complicated past, it is unlikely that the Baudelaires are done with "unfortunate events." But while their world will likely never be quiet again, we are left with a cautious hope that what is to come won't be worse than what they have already seen: that everything they have been through has made them strong enough to weather what is to come.
Like a muscle, I like to think that their pain led to growth and strength – and that is a very good pain indeed.
---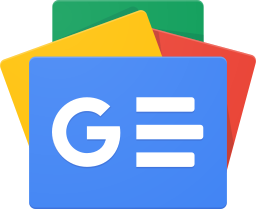 Stay up-to-date and support the site by following Bleeding Cool on Google News today!