Solar Opposites Walks Us Through The Six Stages of Social Distancing
Rick and Morty duo Justin Roiland and Mike McMahn have been going above and beyond to make sure that every one of us knows their upcoming animated sci-fi/comedy series Solar Opposites crash lands on Hulu a week from this Friday (on May 8, for those too busy to do the math). But that doesn't mean they've been oblivious to all of the social distancing and self-isolating that's been going on, and they're not the only ones. While still trying to figure out if our planet is worth terraforming into something shiny and new, out new friends from beyond the stars Korvo (Roiland), Yumyulack (Sean Giambrone), Terry (Thomas Middleditch), and Jesse (Mary Mack) wants us to know they feel our pain. So much so that they've posted a video to help us understand and get through "The Six Stages of Social Distancing." If you've moved on from the "binge-watching" stage to the "random acts of magic" stage, now would be a good time to drop the deck of cards and watch the clip below. It might just save a life.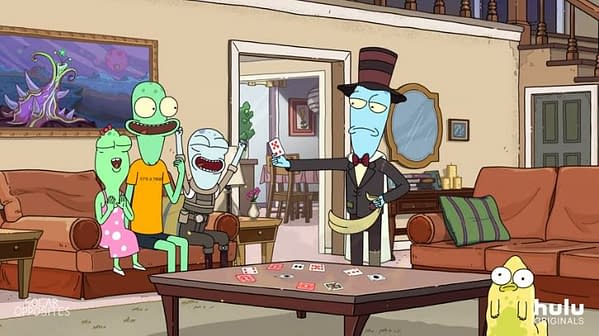 In Roiland and McMahn's adult animated series, a team of four aliens who escape their exploding homeworld only to crash land into a move-in ready home in suburban America. They are evenly split on whether Earth is awful or awesome. Korvo and Yumyulack only see the pollution, crass consumerism, and human frailty while Terry and Jesse love humans and all their TV, junk food, and fun stuff. Their mission: protect the Pupa, a living supercomputer that will one day evolve into its true form, consume them, and terraform the Earth. Here's a look at the official trailer for Solar Opposites, featuring an all-star line-up of voice actors, including Roiland, Giambrone, Middleditch, Mack, Alan Tudyk, Alfred Molina, Christina Hendricks, Jason Mantzoukas, Liam Cunningham, Rainn Wilson, Tiffany Haddish, and more.