Some People May Be Watching Supergirl Too Closely
There are times that fans can be accused of being overly pedantic when it comes to television and movie adaptations of their favorite properties. It's easy to do when you love something and see it in a new medium, any changes become glaring to you. And I think the more it has happened, the better fans have become on letting some things go… like how tall Hugh Jackman is or Joker killing the Waynes in Batman. But there is a different between creative choices and mistakes. And where pointing out a glaring error is one thing, but if you're zooming in and reading props to find errors… you might want to turn the computer off for a bit and go outside.
Last week, while Supergirl and her all female team went off into space, Alex (Chyler Leigh) stayed hope with a broken leg and kept an eye on Ruby (Emma Tremblay). Alex received a text message from her ex-girlfriend Maggie (Floriana Lima) asking if she had left her passport at the apartment. Ruby found it in a drawer and they put it in an envelope and mailed it to Maggie. It was a small, emotional moment in the B story of the episode. I think Alex and Ruby spend time together is set up for something in the future, but that's not what this post is about. Over on TVLine they asked if anyone else caught this error: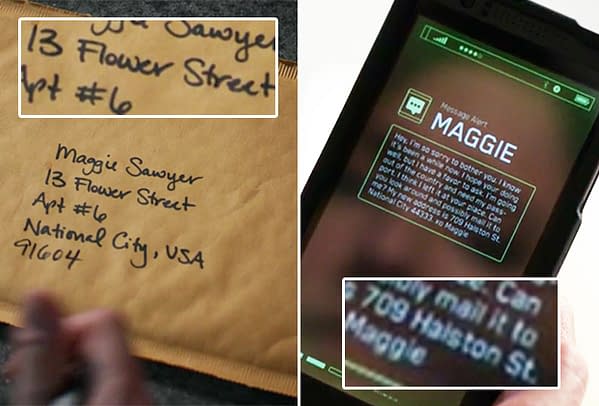 Now, that is absolutely an address mistake and one the crew should've caught. But, I watched the episode on my 40" Ultra-HD television and all I could make out on the phone was the name 'Maggie'. And the package went by so quickly I don't remember really getting a good look at the address. Who caught this mistake? I can't imagine it was someone just watching the episode for fun and it jumped out at them. Maybe someone wanted to see if Maggie moved out of National City, but why would you check both once you got one of them? It's almost as if someone specifically was looking to make sure the addresses matched. Who has this much free time?