Squid Game: "Challenge" Faces More Accusations of Being Too Squid Game
Following up on a report from last month, Netflix's Squid Game: The Challenge is facing more accusations of unsafe filming conditions.
---
At the end of January, a report claimed that contestants in Netflix's Squid Game: The Challenge faced freezing cold temperatures (with reports of frostbite) and medical issues during the UK filming of the "Red Light/Green Light" game, a competition that required long stretches of time where contestants remain motionless. For example, one contestant described the filming as "like a warzone… people left in tears." For their part, the streamer and producers Studio Lambert & The Garden denied the reports in a statement, saying that "while it was very cold on set – and participants were prepared for that – any claims of serious injury are untrue." The statement continued, "We care deeply about the health and safety of our cast and crew and invested in all the appropriate safety procedures." Now, Variety has spoken with a number of contestants under anonymity (due to non-disclosure agreements), who shared what their experience was like filming the reality series based on Director, Writer & Executive Producer Hwang Dong-hyuk's global phenomenon.
Before we look at three takeaways from the quite thorough & exhaustive report, the streamer and producers Studio Lambert & The Garden issued a new statement pushing back on the claims in the Variety article. "We care deeply about the health of our cast and crew and the quality of this show. Any suggestion that the competition is rigged or claims of serious harm to players are simply untrue. We've taken all the appropriate safety precautions, including aftercare for contestants – and an independent adjudicator is overseeing each game to ensure it's fair to everyone," read the statement released.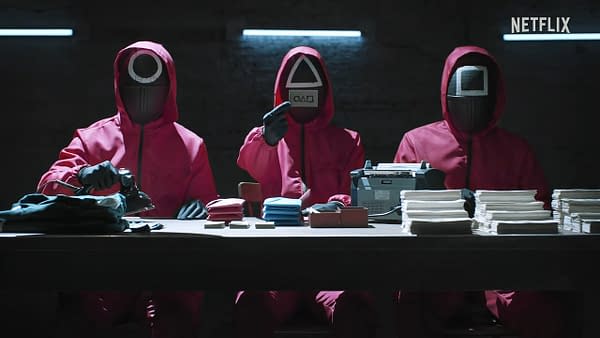 From reportedly cell phones being confiscated to long stretches outside in inhumane weather conditions to a number of medical emergencies (again, allegations that the streamer & studios deny), here are just a few of the takeaways from the full report:
"John": "Imagine you're playing 'Red Light Green Light' for six hours. What game is that? This isn't a game. The fun is now gone. You can't tell people they have to stand in below-freezing temperatures in just a tracksuit and two pairs of socks. Come on."
"Marlene": Though claiming that filming was "not as extreme as people are saying," Marlene took issue with the streamer and studios' attempts to paint a different narrative. "But it's definitely not as minimal as is being conveyed by Netflix." She added, "It's not like we signed up for 'Survivor' or 'Naked and Afraid.' The conditions were absolutely inhumane and had nothing to do with the game."
"Jenny": Flown in from outside of the U.K to compete, Jenny also takes issues with the attempts to publically downplay what the contestants went through. "I'm infuriated by the narrative that Netflix is putting out there, that only [a few] people were injured…we were all injured just by going through that experience. I've never been that cold for that long a period in my life. We couldn't feel our feet or our toes. It was ridiculous," Jenny shared (also claiming that restroom and water breaks were prohibited during filming of the competitions). "Take some responsibility for the fact that you were ill-prepared for this kind of thing, with this number of people," she continued, described as getting teary-eyed in the article. "There were some things I guess [producers] didn't think about, but when they saw the weather was going to be that way, they should have made adjustments."
The 10-episode competition series is a co-production between Studio Lambert (The Circle) and The Garden (24 Hours in A&E), part of ITV Studios, and it will be filmed in the UK. Stephen Lambert, Tim Harcourt & Toni Ireland from Studio Lambert, and John Hay, Nicola Hill & Nicola Brown from The Garden will serve as executive producers.