Stranger Things 3 Video Celebrates ABC's of One-Year Anniversay
It's hard for Stranger Things fans to not be anxiously obsessing about the series future. With the COVID-19 pandemic hitting just as production was getting underway, they're looking at a summer with no fourth season. But the news hasn't been all bad, with the upcoming season's writers offering a look at all of the scripts. On top of that, David Harbour (Jim Hopper) and series creators Matt Duffer and Ross Duffer dropped new intel on the season's themes and focuses, and Marvel's Agents of S.H.I.E.L.D. star Joel Stoffer (Chronicom fan-fav Enoch) revealed he would be spending some time in front of the camera, too.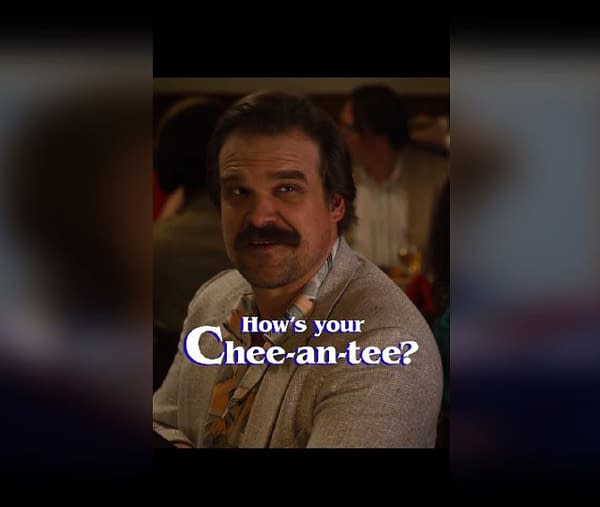 But on this 4th of July weekend, the Netflix series is taking a moment not to look ahead, but to look back. That's right: Saturday, July 4, marks the one-year anniversary of the premiere of Stranger Things 3. So to mark the occasion, we're getting an "ABC's" look at the 26 best things about the "mall-tastic" with the sweet cliffhanger ending in the following video- starting us off with some ice cream counter smooth talk and wrapping it all up with a concern about someone's skin complexion.
In early March, the cast of Stranger Things took us inside the show's fourth season "secret" table read, which had more of a family reunion/return to summer camp vibe to it (if there with Demogorgons in the woods, that is) than a "going back to work" one. Noah Schnapp (Will Byers) revealed earlier that he had gotten his hands on the first four scripts when asked about starting production on the fourth season (which explains his good vibes heading into the table read): "I look forward to this so much. It's my favorite thing in the world, and I love working with these people. It's like a family. I read the first four scripts, and they are amazing. I can't wait to see where they go with the rest of the season." Here's a look at the table read video, followed by the original Hopper-revealing teaser: