Supergirl Season 3: The Enemy of My Enemy is My Teammate
The CW has released a new clip from tonight's episode of Supergirl season 3, 'Fort Rozz'. The plot for the new episode is that there is a prisoner from Fort Rozz that knows how to defeat Reign (Odette Annable). Supergirl (Melissa Benoist) and Saturn Girl (Amy Jackson) recruit villains Livewire (Brit Morgan) and Psi (Yael Grobglas) for a mission to go find the prisoner.
Psi, aka Gayle Marsh, was introduced earlier this season and has strong telepathic powers that includes telekinesis and the ability to force people to face their greatest fears. Livewire, aka Leslie Willis, used to work for CatCo and was hit by lightning that passed through Supergirl, giving her the ability of living lightning. She appeared a few times in the first two seasons, with the last appearance having her in an uneasy alliance with Supergirl.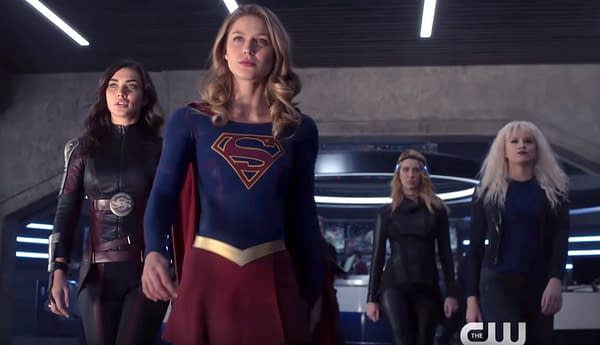 In the clip we see Supergirl bringing in Livewire, who remembers Mon-El (Chris Wood) trying to save her, calling him 'Cosplay', but she doesn't remember working with Winn (Jeremy Jordan) back at CatCo. When Psi is brought in, she's wearing some kind of power-dampening headset that J'onn (David Harewood) gives Supergirl the key to, stating his apprehension for bringing Psi along. It's not clear in this clip why this is the team that is needed while Mon-El, Brainiac 5 (Jesse Rath), and J'onn are staying behind. I'm sure the episode will explain it.
Supergirl airs tonight at 8 p.m. ET on the CW.
https://youtu.be/-p1wm2jR_iI