Supergirl Season 3, Episode 11 Recap: Fort Rozz
This article contains spoilers for the Supergirl season three episode 'Fort Rozz'.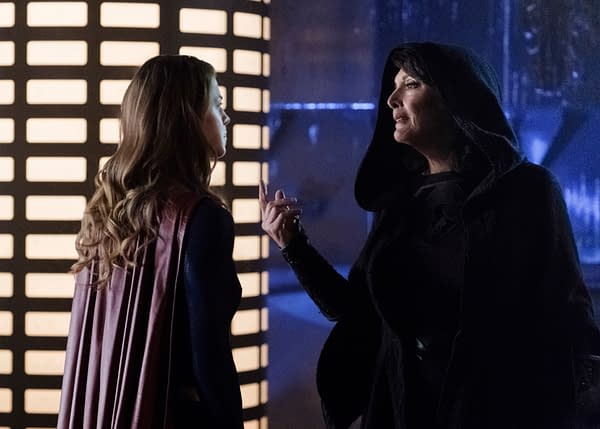 The most recent episode of Supergirl showed us one of the best and one of the worst things about the genre. The episode focuses around Supergirl (Melissa Benoist) needing to find out more about Reign (Odette Annable) and they take the word of Thomas Coville (Chad Lowe) on where to begin. He spoke of learning all that he knew from a Kryptonian priestess from Fort Rozz. Checking the prisoner log, they discover Jindah Kol Rozz (Sarah Douglas), the person the prison was named after — the problem being that Supergirl threw Fort Rozz into space and it is now in orbit around a Blue Sun.
Saturn Girl (Amy Jackson) explains that not only will Supergirl not have her powers there, but the radiation from the Blue Sun is deadly to anyone with a 'Y' chromosome. In other words, all the guys would die, leaving Saturn Girl and a depowered Supergirl to go and try to get the information on how to beat Reign. But J'onn (David Harewood) says that's not enough… so Kara enlists the aid of Livewire (Brit Morgan) and Psi (Yael Grobglas).The trip is uneventful, but the prison is wide open, meaning the criminals are running loose. They are attacked by a Tormock, who they defeat (but not easily), and Psi "accidentally" attacks Imra. They lock Psi back up.
There is a solar flare that is causing Fort Rozz to plummet into the sun, and the ship they used to get there is stuck to it now. Saturn Girl and Psi stay on the ship to try and work with Brainiac 5 (Jesse Rath) through communications to fix the ship while Livewire and Supergirl go to find Rozz. The solar flare knocks out communications, though, and Brainiac, who can't seem to get past current technology, isn't really any help. However, Winn (Jeremy Jordan) figures out how to reestablish communication using the Voyager probes to bounce the signal.
Supergirl finds Rozz and tries to have a conversation, learning that there are other Worldkillers. But before she can say more, Reign arrives and kills Rozz. There is a fight and Livewire does okay against Reign, but not great. Supergirl tries to distract Reign, who shoots her heat vision at Kara, but Livewire leaps in the way and blocks it. The Psi arrives and pushes into Reigns mind, triggering her biggest fear: losing Ruby (Emma Tremblay). It forces her back to Samantha for a moment, enough that when she does switch back to Reign, she bails. Supergirl checks on Livewire, who appears to die. They return to the ship and head back to Earth, only really gaining the knowledge that there are more Worldkillers.
Back on Earth, Ruby has spent the day with Alex (Chyler Leigh), who is still recovering from her broken leg. The two bond, but when Sam returns and realizes she had more missing time and that she never went on the trip she was supposed to go on, she asks Alex for help. We end with two women leaving a building and then having a car hurtling at them. One of the women pushes the other out of the way and then is sandwiched between two cars. She should be dead, but her eyes open and she pushes the cars apart. This is the second Worldkiller named Purity (Krys Marshall).
The best part of the episode was seeing Sarah Douglas, who plays Ursa in the Richard Donner Superman films. I love the legacy casting that they do in these series. The rest of the episode felt forced, like they really wanted to do an all-girl team and the best they could come up with was a Blue Sun. Now, a Blue Sun has been used in the comics before, and the effects are very different. Superman became supercharged and gained the ability to pass on his powers to other through a vision beam. The explanation in the episode sounded like someone had been reading Y: The Last Man recently.
The bonding between the characters in space didn't really feel earned, even though they all want to stop Reign for one reason or another. And where Livewire switching sides was set up in the past, Psi seems like a long shot. This would've been a fun time for Kara to use that portal they have to recruit someone like Killer Frost or Vixen. And I'm not sure if I'm buying the death of living lightning from a heat vision blast.
Next week seems to focus on the city in fear of Reign, but we get back to the Lena Luthor (Katie McGrath), James Olsen (Mehcad Brooks), and Morgan Edge (Adrian Pasdar) storyline… and things don't look good for Lena.
https://youtu.be/Wa5PbCe7zlw