The CW has released an inside the episode video for tonight's new episode of Supergirl, 'The Fanatical'. Executive producers Jessica Queller and Robert Rovner show us some of the major themes that will be looking at, including a major social issue straight out of today's headlines. The video has spoilers, so be warned going forward with the article.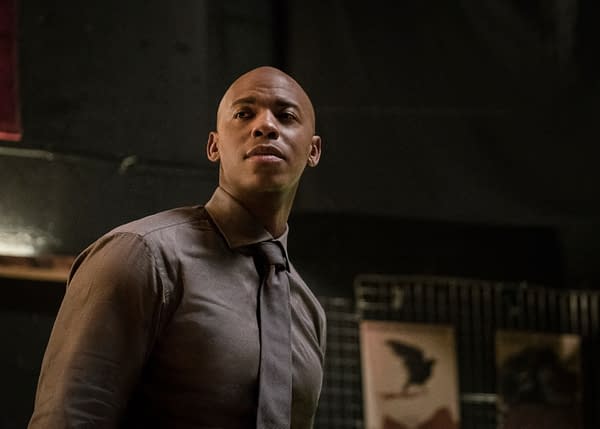 The episode picks up from what we saw at the end of last week where one of the followers of Thomas Coville (Chad Lowe) runs away, taking Coville's journal with her. The video explains that the cult that we met earlier in the year is still going, even though they believe Coville is dead, and that they are using his journal to make a bomb. The follower, Tanya (Nesta Cooper), bring the book to James Olsen (Mehcad Brooks) so he can get it to Supergirl.
Later we see him in a situation with Tanya as Guardian where he loses his helmet and the police come in, assuming he's the bad person in the scene because he's black. This hits on the issue of racial profiling and discrimination that has been in the news a lot lately. And James will have to think about what would happen if he were to show the word that he is Guardian.
The episode also shows Supergirl (Melissa Benoist) trying to fix things with Lena (Katie McGrath) because of her friendship with Lena as Kara. But Lena has no desire to be friends with Supergirl, and Kara fears that if she ever finds out Kara's secret, it would be devastating.
Supergirl airs tonight at 8 p.m. ET on the CW.
https://youtu.be/ufSvTzsWzDQ
Enjoyed this article? Share it!