Supergirl Season 3: Mon-El and Saturn Girl vs. Reign
We are just days away from the return of the Arrowverse shows, starting with Supergirl on Monday night. While Kara (Melissa Benoist) is recovering from the beatdown she received in the mid-season finale, Reign (Odette Annable) is still causing mass destruction throughout National City — and it's up to the Legion of Superheroes to stop her.
In the new clip from the show's return we see Saturn Girl/Imra Ardeen (Amy Jackson) and Mon-El (Chris Wood) take on the Worldkiller. It's our first good look at Saturn Girl using her powers, first to hurl weights as a form of attack and then as a defensive maneuver to create a shield around Mon-El as Reign hits him with her freezing breath.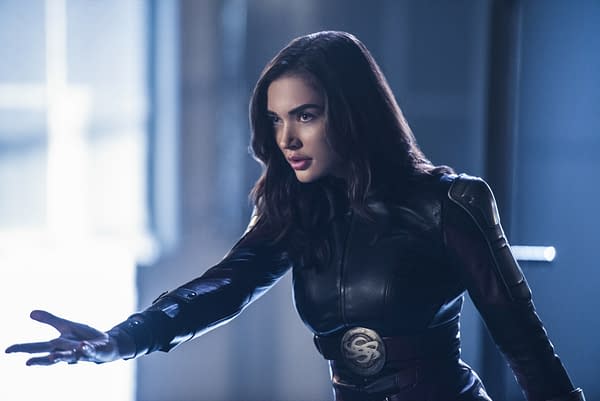 We know that the Legion tries to stop Reign and we get to meet Querl Dax/Brainiac 5 (Jesse Rath) for the first time as he tries to help Kara escape her mind prison. the episode is going to show us more than just that. Executive producers Jessica Queller and Robert Rovner told EW.com:
"We'll also learn more about what Mon-El has been up to in the future."
Though it's only been seven months for Kara, Mon-El has been living in the future for seven years. We can assume he did more than just created a super team and find a wife.
Supergirl airs Monday, January 15th at 8 p.m. on the CW.