It seems like it's been forever since we've last seen Supergirl and her friends, it wouldn't be surprising if anyone — and by anyone I mean me — has lost track of where we are. But this new plot synopsis for episode 16 helps to jog my memory.
The season has focused on the Worldkillers, and we met Reign early on in her human identity of Samantha Arias (Odette Annable). We would later meet the second one named Purity in her human identity of Julia Freeman (Kris Marshall), but we know since the trip to Fort Roz that there are three Worldkillers and we have yet to meet Pestilence, but it looks like that is going to change with in the first couple episodes back as the synopsis tells us that Supergirl (Melissa Benoist) and Saturn Girl (Amy Jackson) must work together to stop her.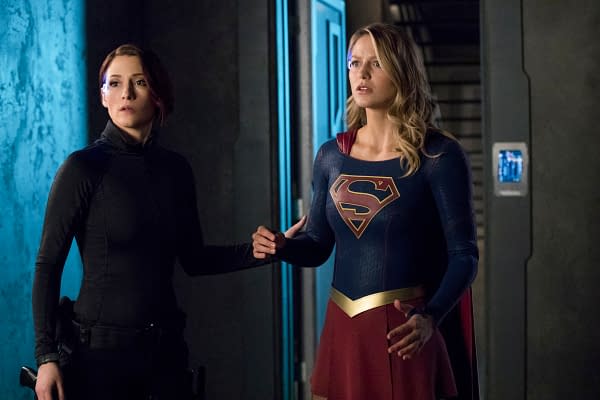 "Of Two Minds"
SUPERGIRL AND IMRA MUST WORK TOGETHER TO STOP THE THIRD WORLDKILLER – Supergirl (Melissa Benoist) and Imra (guest star Amy Jackson) have different ideas on how to stop the third Worldkiller, Pestilence. However, when both Alex (Chyler Leigh) and Winn (Jeremy Jordan) are seriously injured by Pestilence, Supergirl and Imra team up to stop the destruction. Alexandra La Roche directed the episode written by Gabriel Llanas & Anna Musky-Goldwyn (#316). Original airdate 4/30/2018.
Supergirl airs Monday at 9 p.m. ET starting next week again on The CW.
Enjoyed this article? Share it!