Supergirl Star Chyler Leigh Comes Out, Shares Her Personal Journey
Supergirl star Chyler Leigh aka Alex Danvers posted her coming-out story on Monday, sharing the personal journey she took towards embracing her sexual identity that began with her on-screen character coming out during the second season of the popular CW "Arrowverse" series. Leigh's post "Wear Your Pride" appeared on the Create Change website, founded by Leigh along with her husband Nathan West and Angelo Lagdameo. In the piece (which you can read in its entirety here), Leigh reveals how filming during the second season helped position her to learn how to accept and be comfortable with who she was (though she does not specifically label her sexual identity):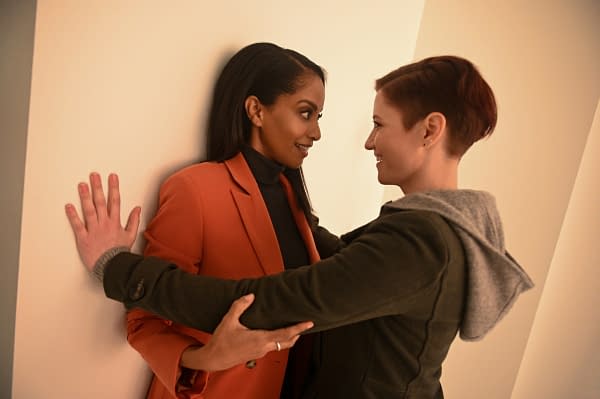 "When I was told that my character was to come out in season 2, a flurry of thoughts and emotions flew through and around me because of the responsibility I felt to authentically represent Alex's journey. What I didn't realize was how the scene where she finally confessed her truth would leap off the pages of the script and genuinely become a variation of my own. IRL. My heart felt like it was going to beat out of my chest each take we filmed, every time presenting another opportunity to get those honest words out of my mouth. Though they don't exactly match my personal dialogue, the heart behind it surely did. From the director, the press, the media, the cast, and the fans, I'm still told that it was the most realistic coming out scene they'd ever witnessed. And to steal from Alex's words, that's because there's some truth to what she said about me."
Though the Grey's Anatomy alum and her husband are proud of who they are "no matter the cost," Leigh reveals that she's lost some people who she used to be close with after the second season episode aired: "Here's the kicker though. Since that episode aired, I was told from dear friends (and even avid watchers of Supergirl) that they would no longer watch the show because of the fact that Alex's journey took a turn from their less than acceptable beliefs. Soon after, they began to distance themselves, and eventually, my family and I were outcast, marking the loss of many folks we loved. However, after the initial sting, I don't hold a grudge towards the negative response, because as I said, we all have had a hard time in one way or another with acceptance (whatever the subject may be) whether towards ourselves or others." Here's a look at what Leight posted to Instagram shortly after: