Supernatural: Collins & Ackles Want Some Sweet "The Last of Us" Money
As "central characters" in the game, Supernatural stars Misha Collins & Jensen Ackles jokingly wonder where their "The Last of Us" money is.
---
With Neil Druckmann & Craig Mazin's Pedro Pascal (Joel) & Bella Ramsey (Ellie)-starring The Last of Us pretty much on everyone's minds these days, it's only fair that everyone who was involved in making the video game & (now) television franchise such a global success. Like Supernatural co-stars Misha Collins (Gotham Knights) and Jensen Ackles (The Boys) – at least as far as Collins (jokingly) sees it. In the 2020 video game The Last of Us 2, there's a ten-ton reference to Collins & Ackles at the Seattle Conference Center, where Ellie learns about comic book conventions (seeing how Supernatural can fit into this equation, right?) ahead of taking on some hordes inside the center. And it's there that we get the references to "Jensen" and "Misha" in a letter that includes the telling lines, "I got ambushed on my way to relieve Misha at the monorail lookout" and "And tell Mish I'm sorry, I tried to hustle." Well, with the video game franchise being as huge as it is and the HBO series already being crowned the best show this year (though it's still a bit early, people) as it readies for its second season, Collins couldn't have picked a better time to go public with queries regarding Collins and Ackles getting paid for being the game's "two most recognizable and central characters." And if you're looking to go public and make some noise, what better place to go than social media – right?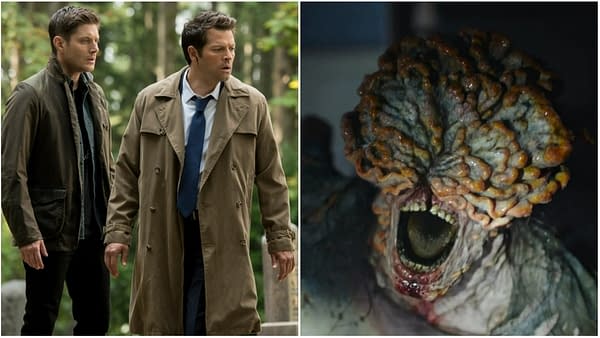 Having some fun by also addressing his Instagram caption to Ackles, Collins wrote, "Have you been getting royalties from [HBO]?? As you can see from this video, The Last of Us video game owes its success to its two most recognizable and central characters, 'Misha and Jensen,' and by extension, the hit HBO series [The Last of Us] is basically a Misha/Jensen spin-off, so obviously, we should be getting checks. But for some reason, I still haven't gotten any residual payments from them. Let me know if your agent has any info." Here's a look at the post, an Instagram version of the tweet that Collins also sent out:
But based on Ackles' response, it sounds like one of them has been getting their checks. We think it might be time for Collins to check in with his agent to see what's up because somewhere out there could be a pile of residual checks ranging from $0.83-#1.27 each, with Collins' name of them: