Take Notes, Geralt: The Witcher Showrunner Knows How to Slay a Troll
Even though production on the second season of Netflix's The Witcher isn't set to resume in the UK until August 17, that doesn't mean series showrunner and executive producer Lauren S. Hissrich has time to waste. She's already over in the UK, quarantining herself to keep in accordance with the government and health agencies' new coronavirus safety rules and guidelines. So when she took to Twitter on Tuesday to announce that she had reached the end of her quarantine time, it was easy to understand the need to celebrate. That much time on lockdown is a lot to endure when you're in your own personal space, adding in being separated from friends and loved geographically also just compounds it. In fact, I'll stop stumbling over my words and let Hissrich explain it better than I ever could: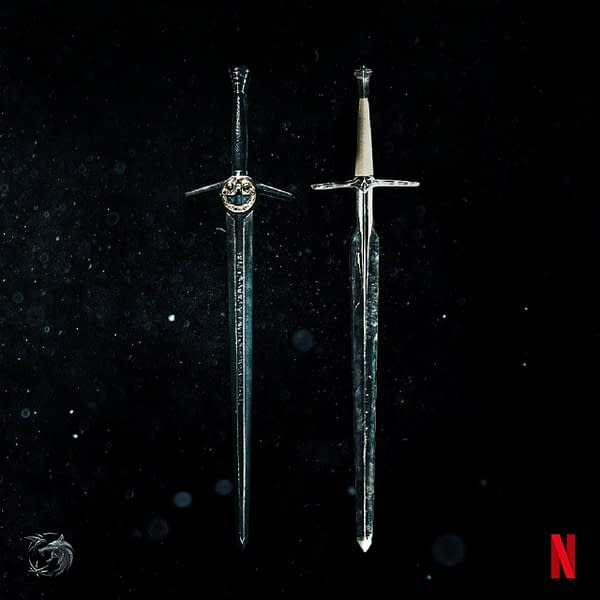 But with Twitter being Twitter, a genuine expression of one's thoughts and feelings will always be met by some trolling a**hole who gets off on thinking they're "cute" and "snarky" by taking cheap shots- which is what one a**-clown (no name, no glory) made the mistake of doing to Hissrich. Not a good move. Because Hissrich goes on to make one thing crystal clear: she's not here to justify how she feels to anyone. And if you can't deal with that? Well, she has other things to concern herself with, thank you very much:
"…I am so glad you pointed this out. I AM strong. Fucking smart, too. Feisty, independent, always up for a challenge, a multitasker like you wouldn't believe. Like over the last decade? I've pushed two kids out of my body. And they suckled from my breasts as I ran tv shows.

Which, let's be honest, is why you follow me. Not for the breasts. For the tv show. The Witcher, right? So let's talk about that. Because aside from said kids, it's the thing I'm proudest of, and the thing that precisely demonstrates the strengths you so enthusiastically noted.

First things first: I'm a woman in a man's world. This one is obvious. Only 30% of the people in my job — that is, the person in charge of creating and running the whole damn show — are women, per the WGA inclusion report. In the world of fantasy, that number is even smaller.

So do I feel like I belong here? Hell. Yes. I fucking LOVE it here. I love this genre, the blood and swords and monsters and guts and swearing (duh), the complex characters, the romances, the politics, the wit, the subversiveness. It's as layered as my pretty little female mind.

That's the creating part. Let's talk about the running part. I work about 16 hours a day, on average. I run the writers room, I oversee prep, I am on set from call to wrap every single day, and I am the final person to sign off on editorial cuts, music, sound, and picture.

Those are my roles. But the most important part of my job? The 400 people The Witcher employs. I know them by name. That's my business, see, because leadership isn't about yelling orders from up above. It's about being down on the floor, side by side. Tired. Sweaty. In love.

Motherhood taught me that, actually. My best mothering happens when I'm on the floor, covered in graham crackers, singing Panic! At the Disco's "High Hopes" for the 1000th time. My best showrunning happens when I am not the boss, but a person with empathy, kindness, and respect.

All of that said: anyone who has worked with me will tell you that the most terrifying form I take is Disappointed Mother. You don't want that. No one wants that.

But yeah, I've cried at work. God, have I cried. Makes me human. Makes me stronger. Makes me write a female character who have vulnerability, even if she's the most powerful sorceress in the world. Makes me write a male character who is just as fallible, and heroic because of it.

This inner strength is what allows me to work 6000 miles from my kids. To write until the sun rises. To hike up Roque Nublo to shoot that kickass scene in Ep 104. To show up here, to talk honestly about my life and my tv show. Thanks for noticing, Lars. I appreciate it. Truly."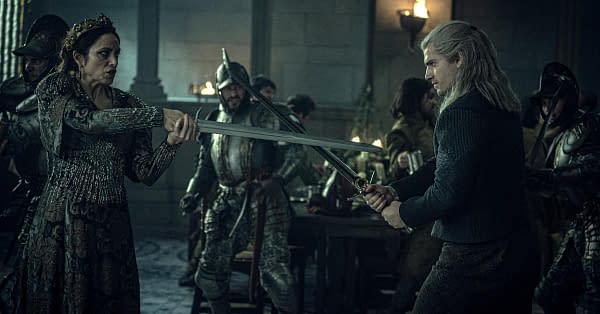 Netflix's The Witcher season 2 welcomes Kristofer Hivju (Game of Thrones) as Nivellen, Kim Bodnia (Killing Eve) as Vesemir, Yasen Atour (Young Wallender) as Coen, Agnes Bjorn as Vereena, Paul Bullion (Peaky Blinders) as Lambert, Thue Ersted Rasmussen (Fast and Furious 9) as Eskel, Aisha Fabienne Ross (The Danish Girl) as Lydia, and newcomer Mecia Simson as Francesca. Stephen Surjik (Netflix's The Umbrella Academy) has been tapped to direct the season's first two episodes, with Sarah O'Gorman (Cursed) directing the third and fourth episodes, Ed Bazalgette (The Last Kingdom) directing the 5th and 8th episodes, and Geeta Patel (Meet the Patels) will direct the 6th and 7th episodes.
The first season of Netflix's The Witcher stars Henry Cavill (Justice League) as Geralt, Anya Chalotra (The ABC Murders) as Yennefer, Freya Allan (The Third Day) as Ciri, MyAnna Buring (Kill List) as Tissaia, Tom Canton (Good Karma Hospital) as Filavandrel, Lilly Cooper (Peterloo) as Murta, Jeremy Crawford (Titans) as Yarpin Zigrin, Eamon Farren (Twin Peaks) as Cahir, Mahesh Jadu (Marco Polo) as Vilgefortz, Terence Maynard (Cursed) as Artorius, Lars Mikkelson (House of Cards) as Stregobor, Mimi Ndiweni (Black Earth Rising) as Fringilla Vigo, Royce Pierreson (Judy) as Istredd, Wilson Radjou-Pujalte (Hunter Street) as Dara, Anna Shaffer (Harry Potter) as Triss Merigold, and Therica Wilson Read (Young Wallender) as Sabrina.