Author George R. R. Martin has completed another "Game of Thrones" universe book, but not the one you think. We've been telling you about his newly-released history tome, "Fire & Blood", all about the history of one of the most notorious families in Westeros- The Targaryens.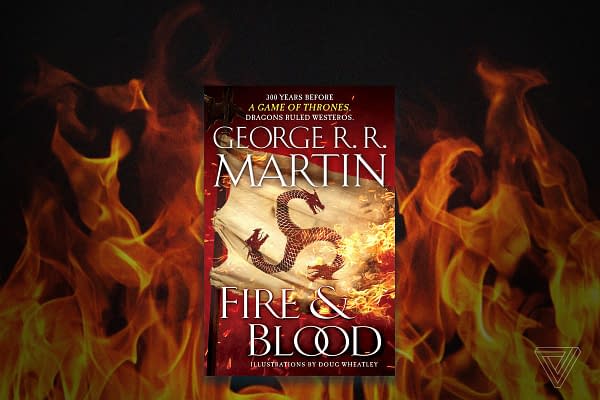 In a new interview with Entertainment Weekly about the still-not-"Winds of Winter"-novel (which is available now[easyazon_link identifier="152479628X" locale="US" tag="bleedingcoo07-20"]Fire & Blood: 300 Years Before A Game of Thrones (A Targaryen History) (A Song of Ice and Fire)[/easyazon_link]), Martin expounds a bit about why he chose the dragon family for this history book:
EW: You could have done a history book on any aspect of the realm. What made the Targaryens right?

George R. R. Martin: They're distinctly different from every other Westerosi family. They're kings. They're practicing incest like the Ancient Egyptians to try to keep the bloodline pure. And they have the dragons, which nobody else has. You can never go wrong with a dragon. So sure, I could do a book about what was happening with the Tyrells at Highgarden, but I don't think it would be as juicy. But who knows? If I ever got into that, maybe I could figure out some good stories to make it juicy.
EW also tried to glean some info about the upcoming Game of Thrones HBO prequel series from Martin, but it didn't work the way they wanted. We do get some confirmation however as to the timeline we'll be getting, though.
EW: This book takes place hundreds of years ago and Westeros seems pretty different than in Thrones. I wonder, since HBO's prequel pilot takes place 10,000 years before Game of Thrones, will that world even be recognizable to fans as Westeros since there's such a huge time jump?

Martin: "10,000 years" is mentioned in the novels. But you also have places where maesters say, "No, no, it wasn't 10,000, it was 5,000." Again, I'm trying to reflect real-life things that a lot of high fantasy doesn't reflect. In the Bible, it has people living for hundreds of years and then people added up how long each lived and used that to figure out when events took place. Really? I don't think so. Now we're getting more realistic dating now from carbon dating and archeology. But Westeros doesn't have that. They're still in the stage of "my grandfather told me and his grandfather told him." So I think it's closer to 5,000 years. But you're right. Westeros is a very different place. There's no King's Landing. There's no Iron Throne. There are no Targaryens — Valyria has hardly begun to rise yet with its dragons and the great empire that it built. We're dealing with a different and older world and hopefully that will be part of the fun of the series. [Prequel showrunner Jane Goldman] is a tremendous talent. She flew into Santa Fe and we spent a week talking about her ideas. She's going into territory that I haven't explored very much in the books. I've hinted about them. But she's a major writer, I love her work.
And what excites Martin the most about "Fire & Blood" you may ask? The fact that he finished it. No, really:
EW: Before we go, here's a standard question I missed asking you at the start: What excites you most about Fire and Blood?

Martin: The book is a lot of fun. The people who are open to reading an imaginary history and not a novel — which I realize is not everybody — have enjoyed it so far. But honestly, the single thing that excites me most is that I finished it. I know there are a lot of people out there who are very angry with me that Winds of Winterisn't finished. And I'm mad about that myself. I wished I finished it four years ago. I wished it was finished now. But it's not. And I've had dark nights of the soul where I've pounded my head against the keyboard and said, "God, will I ever finish this? The show is going further and further forward and I'm falling further and further behind. What the hell is happening here? I've got to do this." I just got the [Fire and Blood] copy and, holding it in my hand, it's a beautiful book. The illustrations by Doug Wheatley are great. It's been a long while since I had a new Westeros book and nobody knows that as well as I do. I know that just as much as the angriest of my hardcore fans. And I have continued to publish other things. It's not like I've been on a seven-year vacation. I have Wild Cards books coming out every six months. But not like this, one that's entirely my writing. So to finish a book that I'm proud of and excited by was emotionally a big lift for me.
Enjoyed this article? Share it!