We've all just finished watching the penultimate episode of this season of Doctor Who, Ascension Of The Cybermen, in the UK. And what a cliffhanger.
1. Unhand Me You Zealots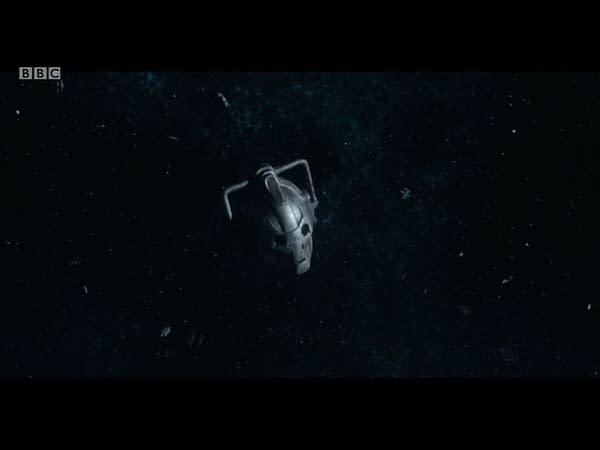 'Every empire has its time, and every empire falls. But that which is dead can live again in the hands of a believer'. The Cybermen, not so much as cold, calculating machines, but the last remaining number have become believers, zealots, committed to the cause. No room for balance in the Cyberempire, but it seems everyone is on their last legs, human, cyber, or otherwise.
2. All Creatures Grunt And Smell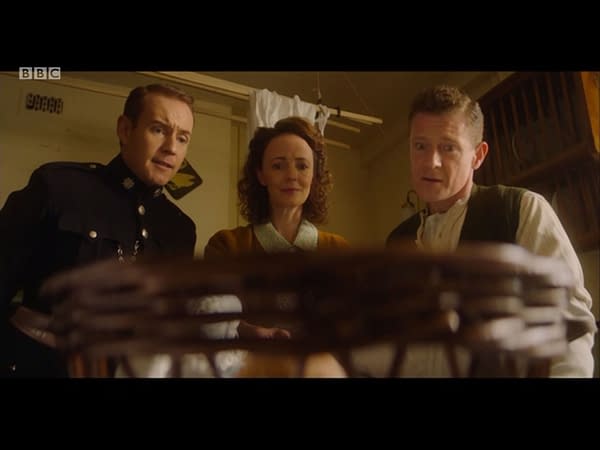 We're in Fiddle-Dee-Dee Country to begin, far away from any Cyberman Empire. Ireland, between the wars, and the young Brendon. A foundling wanting to serve, to make a difference. Whatever he actually is. Wherever he actually is. What on earth is actually going on. A cyber-delusion? Was he the lone Cyberman? What reality is he being shown? One of the many aspects that will demand answers in a week's time… will he end up killing his own children?
Either way, it made for a brilliant shift in tone from twentieth-century countryside living away from war, to… well…
3. This Is War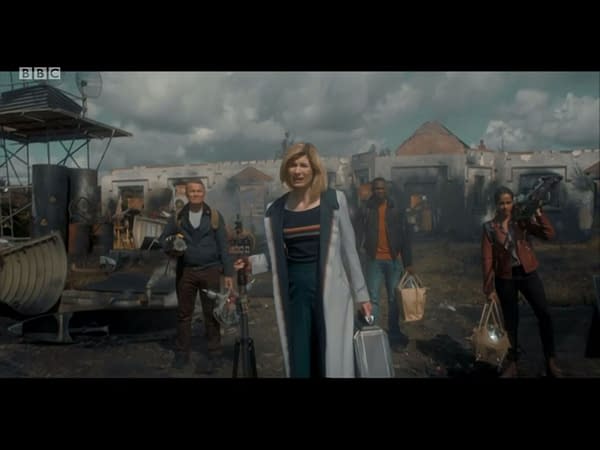 The human race has been wiped out. The last of the humans have been targeted. And all of the Doctor's plans, which smack of having been dreamed up in the Fitzroy Tavern twenty years ago, have been wiped out. We have mobile Cyberheads as Cyberdrones, the Lone Cyberman has friends and the Doctor realising that maybe, just maybe, she is endangering the fam and requiring humans to be soldiers – even though they are all soldiers and nurses. And doctors. The Doctor lost Adric to the Cyberman in the eighties, and Bill Potts in the teens, With the Ascension Of The Cybermen and what is to come, loss is to be expected again.
Note that the fam are a little more up for stuff, more confident, the ones doing the rabble-rousing rather than needing to be roused. Less talk, more action (though we get a good speech from Yaz). This is grim, gritty, with just a little Graham humour to keep us from deleting ourselves. And a little teaching of Americans about rhyming slang.
And we have seen so many decapitated Cyberheads over the years. Could some have them have been cyberdrones all along? Handles?
4. The Monologue Of The Cybermen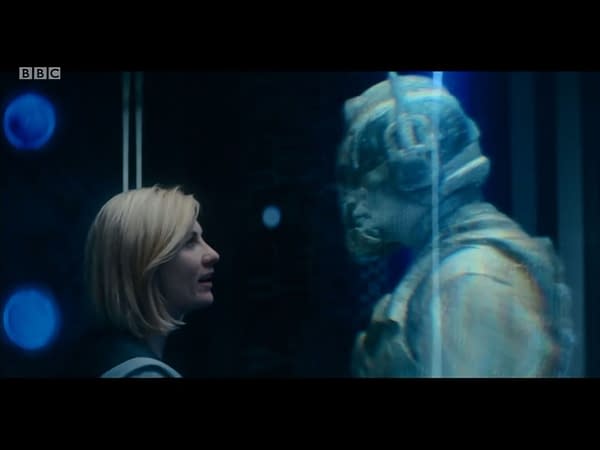 Talking about talking… Cybermen have never been one for speeches. But the Lone Cyberman has a little more Republic Serial Villain about him. And apparently the Doctor can make him mad… how possible should that be, even for the last of the Cybermen?
5. Hotwiring A Cybershuttle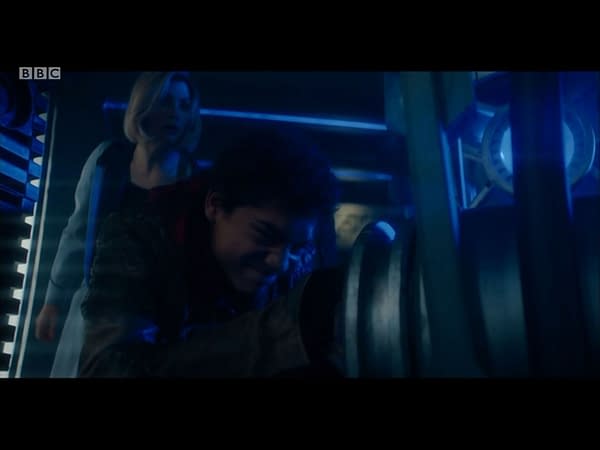 Is this the first use of 'warp drive' in Doctor Who? As in, something that actually exists and can be used? If there's not a lot of Cyberbits in the way? And we get a cyber-monologue part two as well. Doesn't he sound a bit like Davros right now? Splitting the fam into two very different ships trying to escape, leaving the TARDIS far behind, we get new dangers, new threats and the possiblility that no, the Doctor can't help her friends… and what did happen to Ryan anyway?
6. Million To One Chances Always Pay Out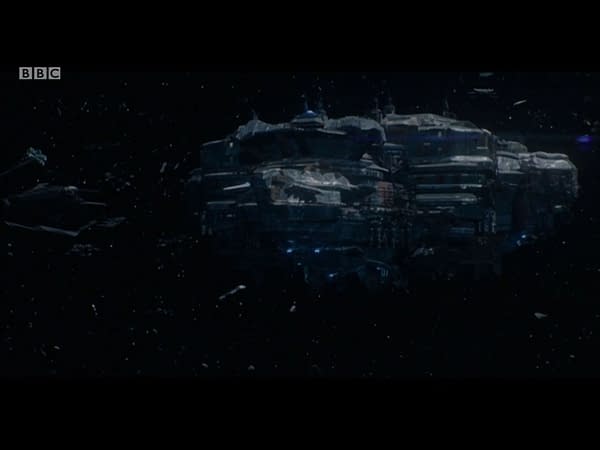 Get rid of the air. Use the life support system. Why not throw a cricket ball. You just need a million to one chance – and as Discworld showed us, that always pays off. 'We're not lucky, sunshine, we're persistent' says Graham, but no, they are lucky as well.
7. I Never Forget A Face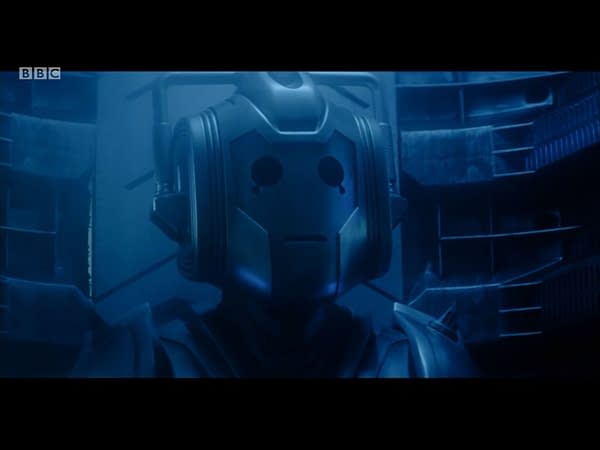 An eighties Cyberman – in helmet at least. Last seen in a Utah underground basement in 2012…
8. All Shall Pass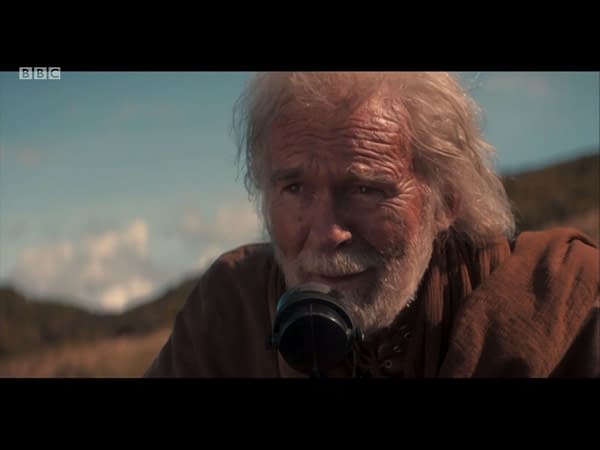 Old men with staffs at the edge of one level of reality… Doctor Who gets its own Gandalf in Ko Sharmus  While the Doctor swaps jelly babies for ginger humbugs. That custard cream dispenser is also a long way away as well… could he be Brendan somehow instead of the Lone Cybermen? He was father immortal…there are suddenly a lot of Irishmen in Doctor Who. And many Cybersuspects.
9. Gallifreying At The Edges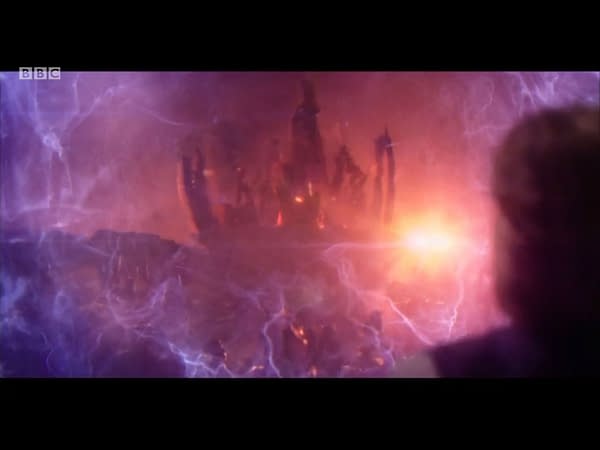 A planet with a boundary to a mythical place to survive sounds a lot like Utopia. But that never existed, it was all a scam set up by The Master. Could this be something real? Some actual place to survive the Cybermen? Where humanity can find refuge? And if so, why does the His Dark Materials/Star Trek Wormhole-alike portal show a very familiar city in flames on the other side? And could that mean the Timeless Children are the remains of humanity on Gallifrey? Could humanity be the progenitors of Gallifreyans in the first place? And is that why the Dpctor has always felt at home on Earth? Has she been visiting the grandparents all this time?
10. Master Of His Domain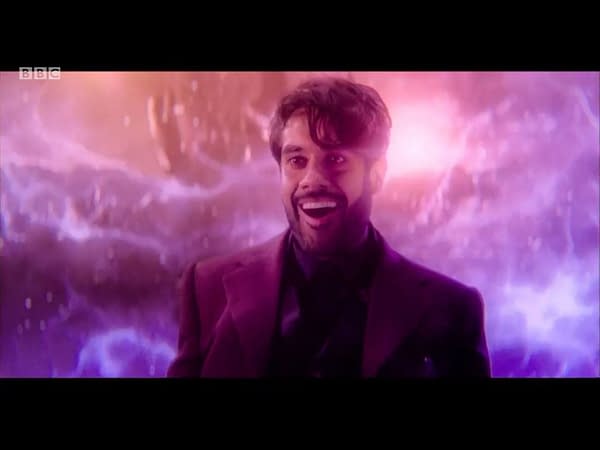 Of course he's here. Humanity seeking refuge on Gallifrey. Is that why everything the Doctor knew was a lie?
SUMMARY:
In the aftermath of the Great CyberWar, the Doctor arrives in the far future, intent on protecting the last of the human race from the deadly Cybermen. But in the face of such a relentless enemy, has she put her best friends at risk? What terrors lie hiding in the depths of space, and what is Ko Sharmus? Guest starring Julie Graham, Patrick O'Kane and Steve Toussaint.
The Doctor Jodie Whittaker
Graham O'Brien Bradley Walsh
Ryan Sinclair Tosin Cole
Yasmin Khan Mandip Gill
Ravio Julie Graham
Yedlarmi Alex Austin
Bescot Rhiannon Clements
Patrick Branwell Donaghey
Ashad Patrick O'Kane
Meg Orla O'Rourke
Michael Andrew Macklin
Ethan Matt Carver
Feekat Steve Toussaint
Brendan Evan McCabe
Sergeant Caolan Byrne
Director Jamie Magnus Stone
Executive Producer Chris Chibnall
Executive Producer Matt Strevens
Series Producer Nikki Wilson
Writer Chris Chibnall
Enjoyed this article? Share it!