The Baby-Sitters Club: Meet Kristy, Claudia, Stacey, Mary Anne & Dawn
Are you ready to say hello to your friends? Netflix is dropping the new The Baby-Sitters Club series on July 10, and even though it's only about a week away, I seriously cannot wait. No, they didn't release a new trailer, but they did release a new video introducing the members of the baby-sitters club, and now I super can't wait but it looks like they may have just gotten things right. Fans of the original books, television series, and films will totally recognize the characters – they're modernized, yet still recognizable and familiar. They work social media into the show, but it doesn't look like it's taken over the stories or narrative in any capacity; it adds to it to make a believable world the characters exist in.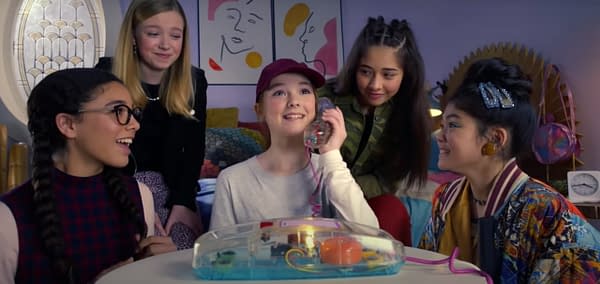 Oh, the characters! That's what this video is all about – meet the girls of the baby-sitters club!
Kristy is the fearless, sporty leader of the club. She's a strong leader who has great ideas, though sometimes she doesn't think things all the way through. Claudia is the fashion-forward artist of the group. She's great at babysitting and making art…not so good at school though, much to the disappointment of her parents, who pressure her to take school more seriously and get better grades- especially in math.
As terrible as Claudia is at math, Stacey is great at it. She's a little boy crazy, but a great baby sitter. They tease that she has a secret – fans of the original series already know all about Stacey, but I won't ruin anything for those who are new to the franchise. Mary Anne is the secretary of the club – she's studious, organized, a little shy, but doesn't let that stop her from going for what she really wants…most of the time. Dawn is a recent transplant from Los Angeles, and she's totally a California girl, though she doesn't let that stop her from fitting in.
So, are you ready to get your friends together and say hello to The Baby-Sitters Club? I can't wait! Join the "Club" on July 10, when Netflix releases the first season.