The Bleeding Cool TV Top 10 Best of 2019 Countdown: #2 "Rick and Morty" (Adult Swim)
Once upon a time… working for television was labelled a "demotion," a professional death sentence for actors whose careers were considered on a no-way-back downward spiral.
Today, actors of all ages and experiences (especially women and actors of color) have found more opportunities to practice their craft and tell their stories (and be recognized for it) than ever before. While there are still many roads that need to be travelled in terms of fairness and equality on both sides of the camera, progress has been made – even as the film industry continues a slow descent into "event film haze" to remain relevant.
Once upon a time… it was thought for a show to succeed, it needed to start every September, end every April/May, and run at least 20 episodes per season.
Today, fans wait over a year for a half-season of Adult Swim's Rick and Morty, and have shown their willingness to embrace an 8-episode quality season over a 16-episode "padded" season.
https://www.youtube.com/watch?v=Rw6BrzB1drs
Once upon a time… television meant "The Big Three," HBO went off-air at 11 p.m., and "water cooler" moments before the VCR could be a very select club at the work place.
Today, cable and streaming have turned "The Big Three" into "The Big 333" – with DVR, on-demand, and binge watching making any time a great time to watch.
With that said, it's hard to believe it's been a year since our last go-around – and as difficult as it was to choose only 10 shows last year, this year tripled the pressure. Once again, it felt like we were trying to find ten specific needles in a pile of needles – and this year, that pile was huge… and twice as painful when it came to cuts.
But we prevailed – and over the course of the next ten days, you'll see that our list represents the best in diverse thought and action that graced our screens this year. Continuing on from our previous eight picks (which you can check out for yourselves here. here, here, here, here, here, here, and here) – and speaking of Rick and Morty… Bleeding Cool's own Andy Wilson makes the case why Dan Harmon and Justin Roiland's dimension-hopping duo's fourth season adventures were more than worth the wait:
#2 "Rick and Morty" (Adult Swim)
Buckle in for disappointment because there's no way these episodes will be good enough for how long you waited. But maybe they will be? It's season four! It's sexy and smooth. Buckle in! Did I already say that? Definitely stay buckled in.

Rick and Morty is the Emmy-award-winning half-hour animated hit comedy series on Adult Swim that follows a sociopathic genius scientist who drags his inherently timid grandson on insanely dangerous adventures across the universe. Rick Sanchez is living with his daughter Beth's family and constantly bringing her, his son-in-law Jerry, granddaughter Summer, and grandson Morty into intergalactic escapades.

Rick and Morty stars Justin Roiland (Adventure Time), Sarah Chalke (Scrubs), Chris Parnell (Saturday Night Live), and Spencer Grammer (Greek). The series is created by Dan Harmon (Community) and Roiland, who also serve as executive producers.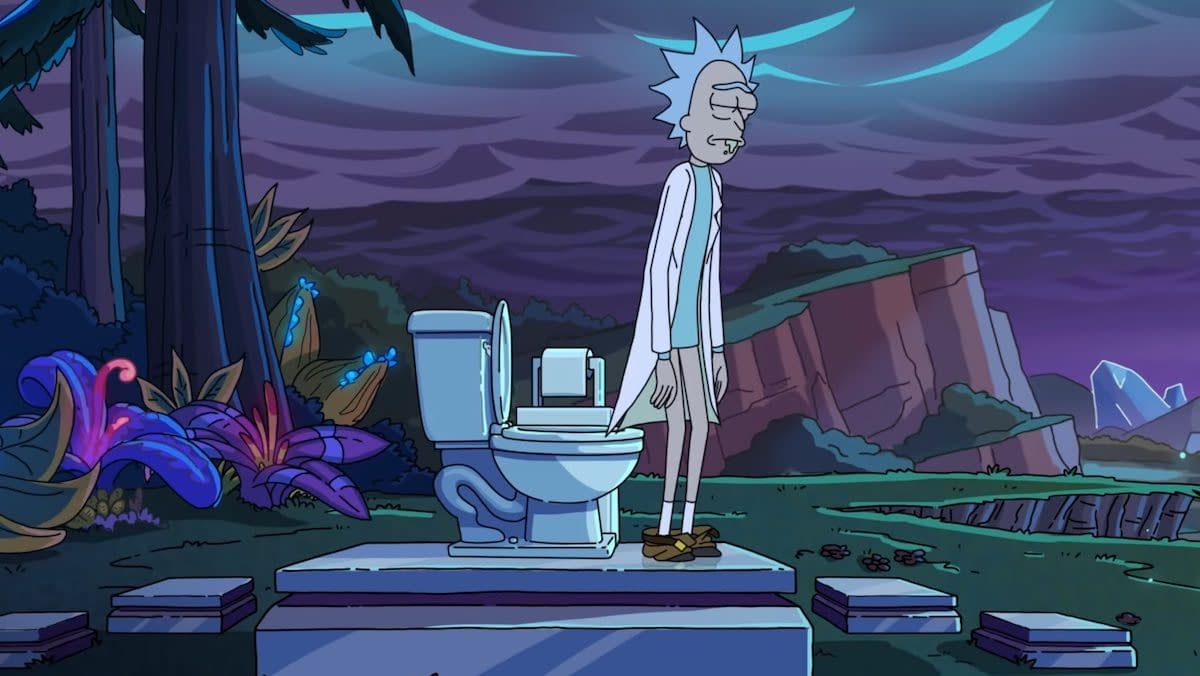 "What other show has the audacity to fly two giant middle fingers at the most toxic elements of its fanbase? In almost every episode this season, Rick is exasperated at having to deal with Nazis. From alternate universes to time-traveling snake Hitler, the show seems keenly aware of our political zeitgeist and yet makes it zany and hilarious. It will go down not only as one of the best shows of 2019, but also the postmodern version of Chaplin's The Great Dictator making fun of Hitler.

To be fair, you have to have a very high IQ to understand Rick and Morty. The humour is extremely subtle, and without a solid grasp of theoretical physics most of the jokes will go over a typical viewer's head. There's also Rick's nihilistic outlook, which is deftly woven into his characterisation- his personal philosophy draws heavily from Narodnaya Volya literature, for instance.

The fans understand this stuff; they have the intellectual capacity to truly appreciate the depths of these jokes, to realise that they're not just funny- they say something deep about LIFE. As a consequence people who dislike Rick & Morty truly ARE idiots- of course they wouldn't appreciate, for instance, the humour in Rick's existential catchphrase "Wubba Lubba Dub Dub," which itself is a cryptic reference to Turgenev's Russian epic Fathers and Sons. I'm smirking right now just imagining one of those addlepated simpletons scratching their heads in confusion as Dan Harmon's genius wit unfolds itself on their television screens. What fools.. how I pity them.

And yes, by the way, I DO have a Rick & Morty tattoo. And no, you cannot see it. It's for the ladies' eyes only- and even then they have to demonstrate that they're within 5 IQ points of my own (preferably lower) beforehand.

Nothin personnel kid"

– Andy Wilson
Fans of Adult Swim's Rick and Morty counted down the months and days until Harmon and Roiland's animated mayhem returned to their screens. That wait ended in November with season premiere "Edge of Tomorty: Rick Die Rickpeat" (reviewed here), where we got a crash course in "death crystals" and gained a deeper understanding of just how hard it would be to kill Rick Sanchez – and keep him dead.
"The Old Man and the Seat" (our review here) proved a brilliant balance between sharp social satire and a gut-punch examination of love, loss, control… and poop. Which lead to "One Crew Over the Crewcoo's Morty", which "heisted" our minds in such a way that it made it our favorite episode of the season so far (check out our review here).
After a week to sleep it all off, our dimension-hopping dysfunctional duo returned with "Claw and Hoarder: Special Ricktim's Morty" (treat yourselves to our humbly-enriching review here). Which leads us to our look at midseason finale "Rattlestar Ricklactica" – the one Roiland says is his favorite of these first five (and close to being ours, as you'll see in our review here).