"The Boys" Season 2, "Walking Dead" Spinoff, "AHS" Future, Hulu/Disney Animation & More: The Bleeding Cool Top 30 TV Series Influencers 2020 (#10-#6)
Welcome to The Bleeding Cool Top 30 TV Series Influencers 2020, a look inside our "crystal ball" as we predict the broadcast, cable, and streaming shows that can and will have a major influence on your viewing habits as we steamroll into 2020 – and beyond.
So for those of you who were with us last year, you'll notice that we made some changes this year – so here's what you need to know: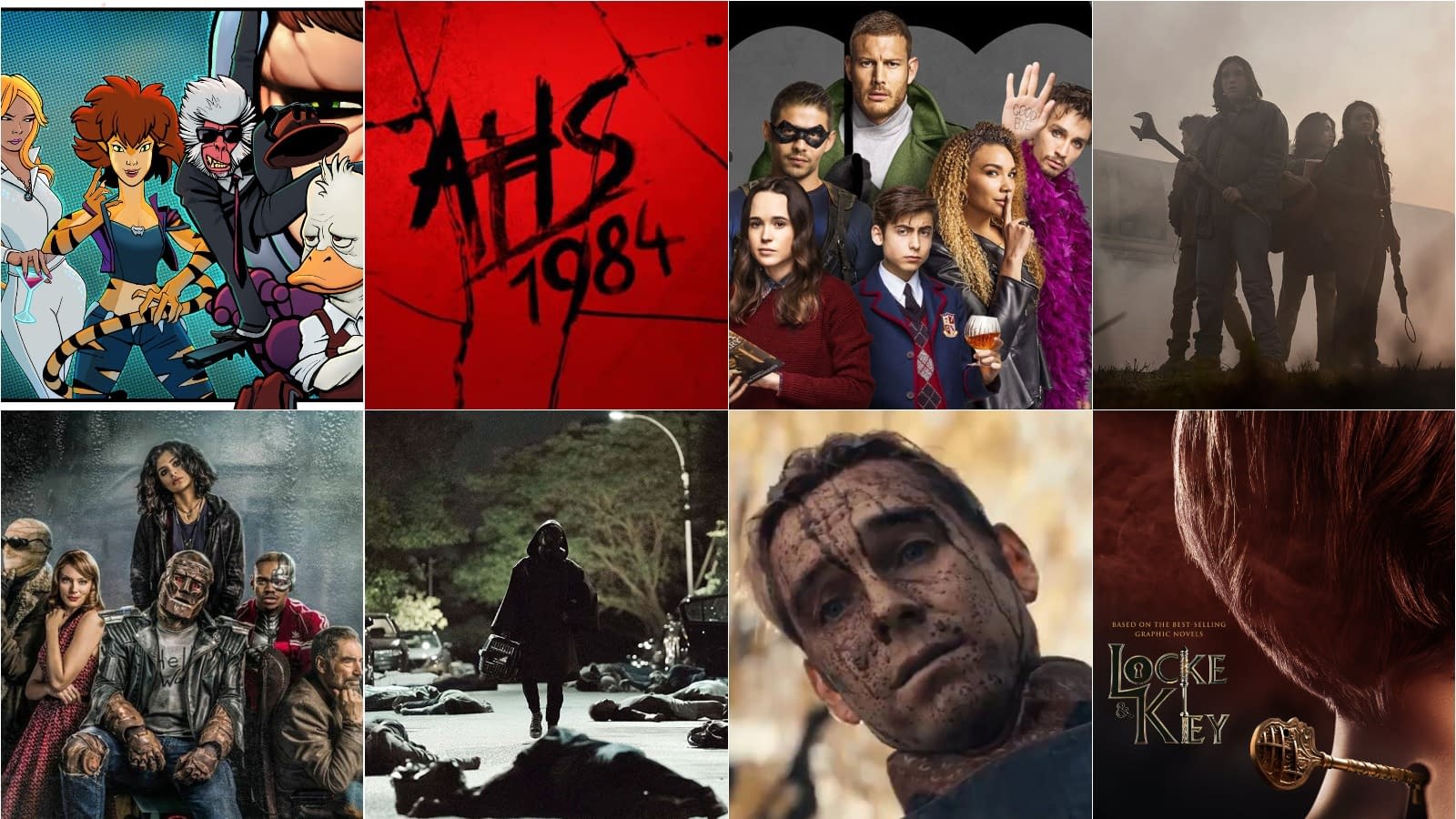 ● With the growing number of streaming services on the horizon and the tidal wave of content across all platforms continuing to grow, we're shifting our focus exclusively to new and returning series/limited series.
● Our 30 selections were based on a year's worth of Bleeding Cool television coverage, third-party coverage, analytics, trends, and raw gut instinct. Our inital list began with nearly 100 new and returning series/limited series, which was nearly halved to 50 before being shaved down to the 30 we're about to present.
● Just to be clear… being a "series influencer" does not necessarily mean that you are the best show or that you are necessarily better than series that didn't make the cut. Along with judging the quality of what we know about a show so far (director, cast, platform, etc.), we're also taking into consideration the impact a show's success (or failure) can have on the proverbial "bigger picture".
So let's keep rolling on with our next five picks (and make sure to catch up on our countdown here, here, here, and here)…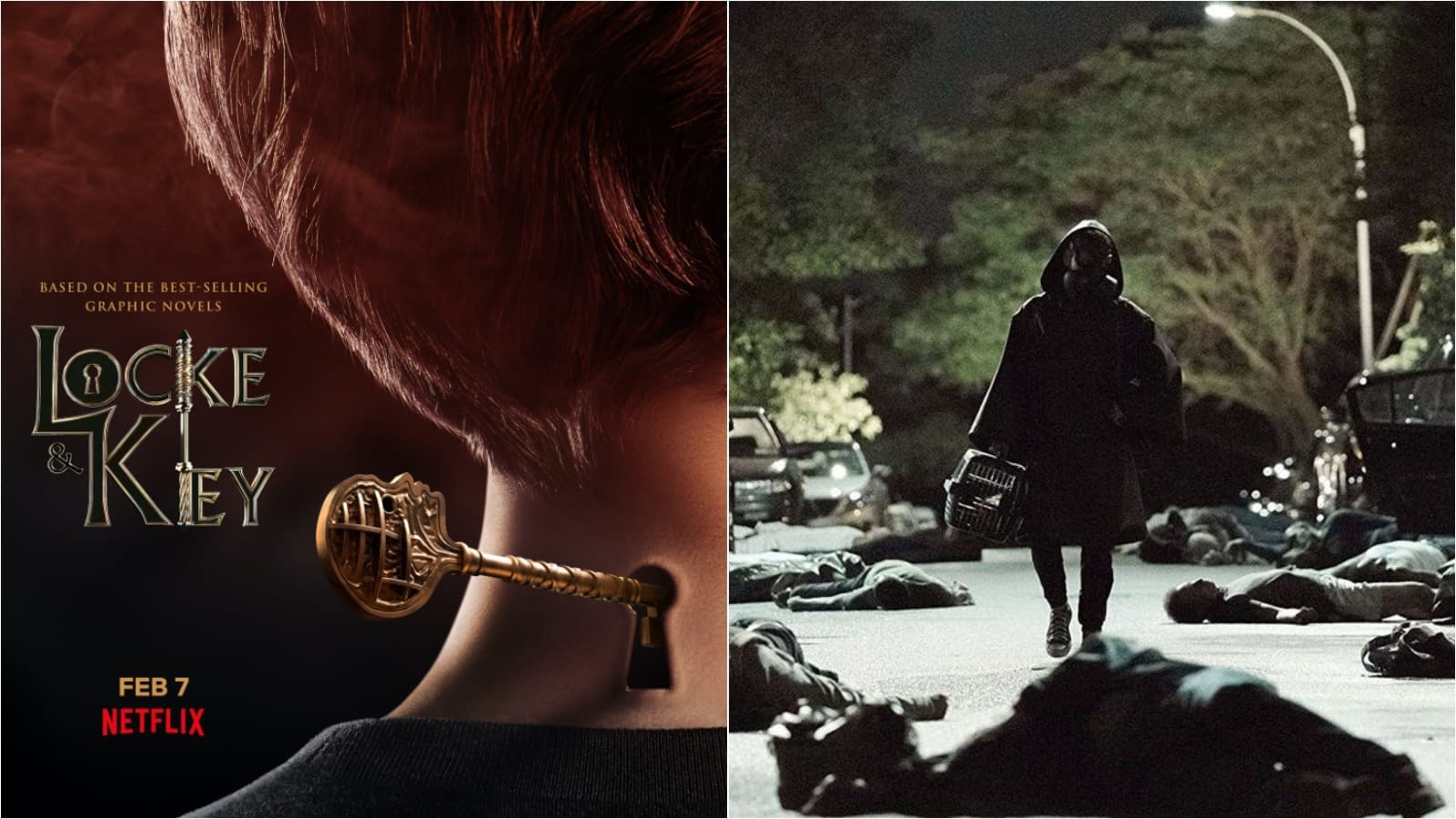 #10 – "Locke & Key" (Netflix) / "Y" (FX)
Consider this the "prequel" to our 7th pick (more on that below), Netflix's Locke & Key and FX's Y are two very distinctly different comic book adaptations storyline-wise – but they share a common bond.
Both have a had a pretty rough "origin story" getting them to where they are now – and we're still not sold on ever seeing one of them.
Between March and May 2018, Joe Hill and Gabriel Rodriguez's comic book jumped streaming services – from Hulu to Netflix, who took a near "scorched earth" approach to redeveloping the series. In April 2019, FX's adaptation of Brian K. Vaughan and Pia Guerra's comic book said goodbye to co-showrunners Michael Green (American Gods) and Aida Mashaka Croal over "creative differences" (Eliza Clark currently serves as showrunner).
Our hopeful side sees both Locke & Key and Y building upon the "quality comic book adaptation" vibe started by The Umbrella Academy, The Boys, Doom Patrol, and Watchmen. As the four latter shows proved, success opens doors for other opportunities – which Locke & Key and Y are benefitting from, so now it's time for them to "pay it forward" to help other adaptations waiting in the wings.
So far, I'm getting a "batting .500 vibe": for Locke & Key – and if what we've seen so far is a sign of things to come – it looks like adversity has resulted in some amazing art. As for Y… our brain jury's still out on this one. Feels like we should be seeing or hearing a bit more about it by now – not sure "silence is golden" in this regard, and I wouldn't be surprised if the series ends up in the Swamp Thing pile.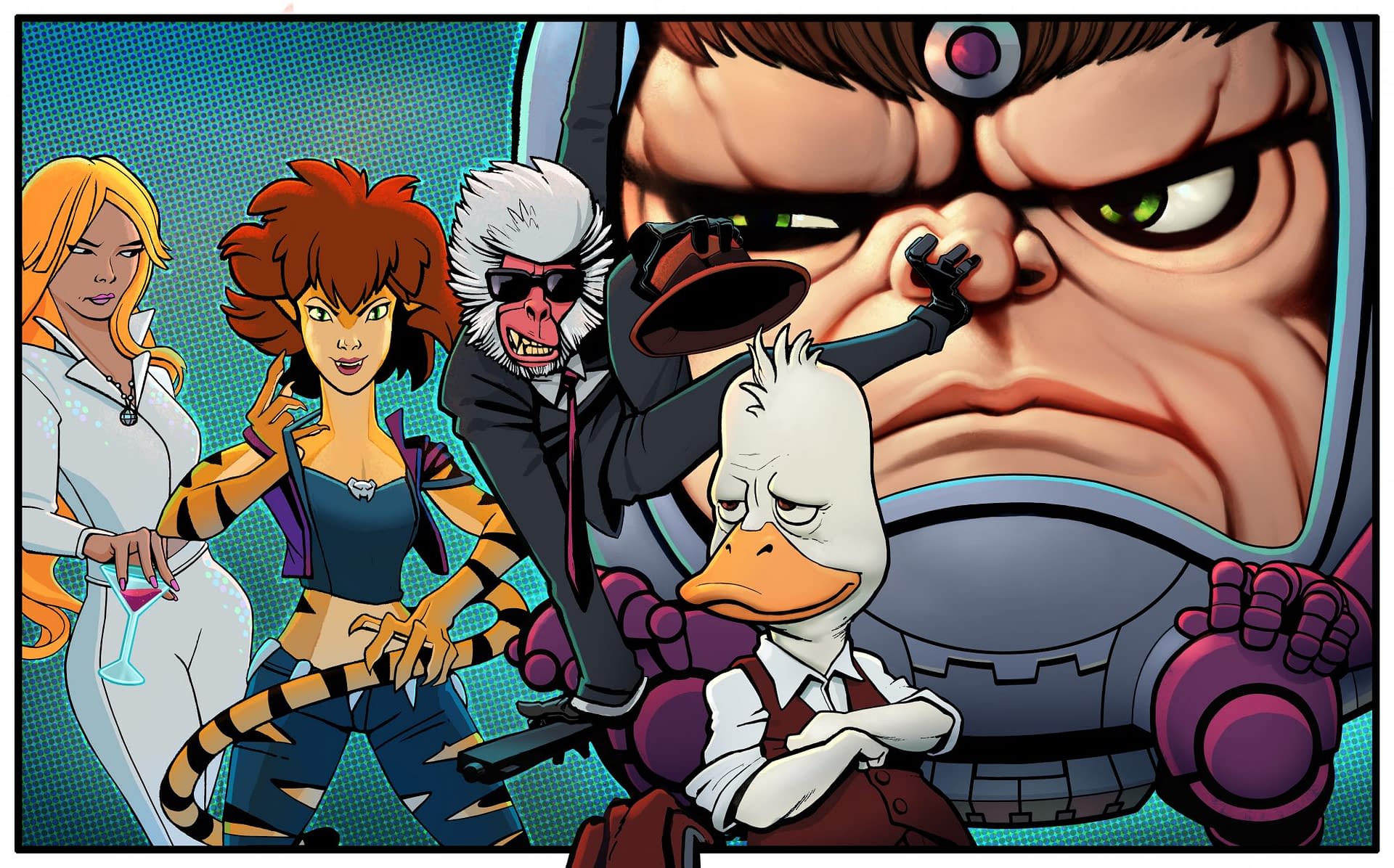 #9 – Upcoming Hulu/Marvel Animation Slate
There were rumblings once Marvel Studios' Kevin Feige took over the role of chief creative officer for all things Marvel Entertainment: film, television, comics – all the stuff that "The House of Mouse" calls its own. That's a problem when you have someone like Jeph Loeb (Marvel Television's resident mastermind: Marvel's Agents of S.H.I.E.L.D., Daredevil, Jessica Jones, etc.) – especially with a new slate of animated series set up at Hulu (Howard the Duck, M.O.D.O.K., Hit-Monkey, Tigra & Dazzler Show, and The Offenders).
Apparently, that problem was solved in October – with reports that Loeb was stepping down from Marvel before the end of the year – and then a very "interesting" thing happened: we started seeing Marvel shows getting collectively "Loeb-otomized".
Though production and casting is moving forward on Marvel's Helstrom (possibly sensing a Lucifer fanbase it could tap into), what follows isn't an impressive scorecard:
Hulu's Marvel's Ghost Rider? Gone.
Hulu's Marvel's Runaways? Done in three.
Freeform's Marvel's Cloak and Dagger? Gone in two.
ABC's Marvel's Agents of S.H.I.E.L.D.? Done after this upcoming season.
Then came word of trouble within Hulu's upcoming animated slate, with news that Tigra & Dazzler Show showrunner Erica Rivinoja (Girls Trip, The Addams Family) and the project's writing team let go over "creative differences." Rivinoja's team had completed a number of scripts and script outlines, and were 15 weeks into the show's 20-week production cycle
In early December, the other shoe dropped with news that Marvel TV will be phased out and absorbed into Marvel Studios. Staffing reductions will be in effect – though some executives will transition to Marvel Studios to oversee remaining Marvel TV projects (which Kevin Smith has heard are all still a "go" – for now).
With Disney+ pretty much cornering the market on what will be more family-friendly, PG-13 Marvel programming, Hulu could be the place for the "darker MCU" – one of the reasons why we wished Marvel's What If…? was there and not on the new streamer. Because if there's one thing the MCU needs, it's a bit more "grim-n-gritty" and less "60's Batman" vibe – these shows should matter and have consequences.
Or will Howard the Duck, M.O.D.O.K., Hit-Monkey, Tigra & Dazzler Show, and crossover limited series The Offenders end up on the programming scrap heap – where good ideas go to die painful corporate deaths?
#8 – "American Horror Story" (FX)
Let's start with two interesting comments from American Horror Story co-creator Ryan Murphy about the tenth season – the last contracted season with FX Networks:
From October 2019:
"The tenth is the last season that's ordered but John [Landgraf] and I said around Season 5, this is something that is so beloved that maybe it could keep on going. And now in its ninth season, in terms of worldwide…it's one of the most popular shows in the world, so I will continue to have an appetite to do it as long as John wants to do it. So, we have been talking about should we end it? Or should we keep moving forward? But I hope we can move forward."
From November 2019:
"We're working on an idea for season 10 that I think people will love because it's about reuniting fan-favorite actors to come back — because it might be our last season. It's the last season we have contracted. So, I've been quietly reaching out to various people. Some people I haven't reached out to yet because I was like 'Do I have a role for them?' So far, everybody I reached out to said 'Yes', so that's been great."
If you think those comments have an air of "inevitable renewal" about them, then you're in the same camp as we are. Look, AHS isn't going anywhere – but that's not the part that makes it interesting.
What will FX offer to keep Murphy happy? Remember, we're not just talking AHS… we're talking a relationship that includes American Crime Story, Pose, and others. We're also talking about one of (if not the) longest-running horror series in television history – and did we mention that it's never a bad thing to be in business with Murphy? Because Murphy brings an impressive and diverse "acting troupe" of faithful actors along with him.
Just ask Netflix…
On Murphy's side, AHS 1984 seems to have reignited some creative fires within the franchise – but Murphy also isn't getting less busy. Will we see him taking on a more "creative supervisor" role on the series? Will there be a continued push to tie the seasons together? What about rumored Coven spinoff? While FX doesn't want to lose Murphy, the AHS co-creator doesn't want to see one of his babies become a ghost of what it used to be.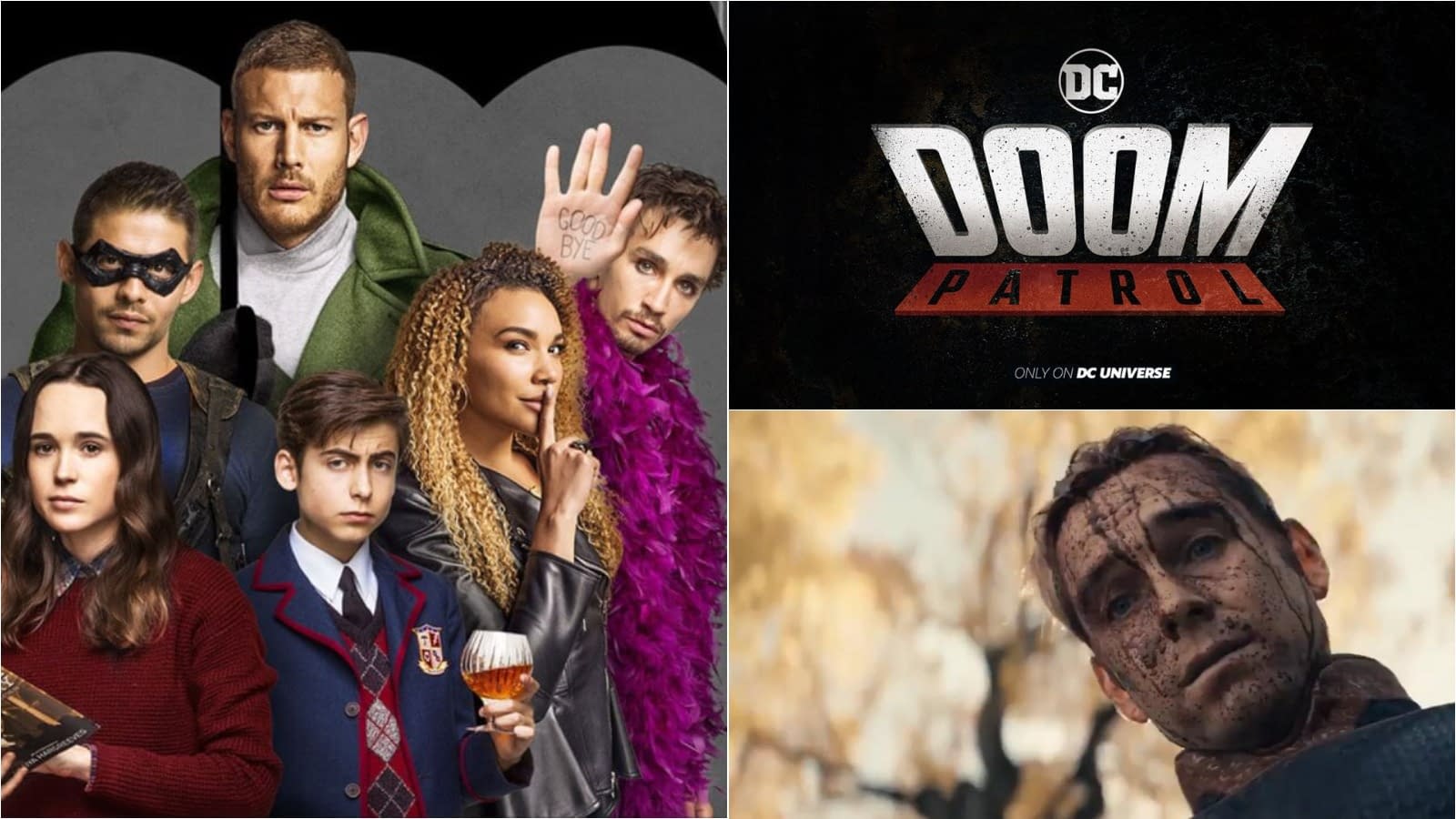 #7 – "The Umbrella Academy" (Netflix) / "The Boys" (Amazon Prime) / "Doom Patrol" (DC Universe)
What do all three shows have in common? They represent a major transition in how comics-to-television adaptations are perceived. That was my "fancy intro" way of saying that they (along with HBO's Watchmen and in many ways The CW's Arrowverse) showed people that comic book adaptations don't have to be beholden to the source material.
And that they don't have to suck.
In fact, I don't think it's a "dumpster fire of shock-n-awe" to say that they improved upon the original comic book series in a number of ways, making them relevant for a new generation – inviting them to discover (or rediscover) the comics (as we've seen by the boost in Watchmen TPB sales during the television series' run.
So what do they need to do? Don't screw up! Don't over-think the "sophomore slump" myth into a self-fulfilling prophecy. For The Umbrella Academy and The Boys, it's about maintaining what works and making the slight adjustments necessary for new seasons – and from what I've seen, things aren't looking "pre-season American Gods"… which is a really good thing. For us, Doom Patrol needs to do more to – as much as the cast (with Matt Bomer seriously deserving of awards attention once again) did an amazing job becoming a part of our pop culture dysfuntional family, the show itself still feels a little too much "motion comic" at times and less its own art in its own right.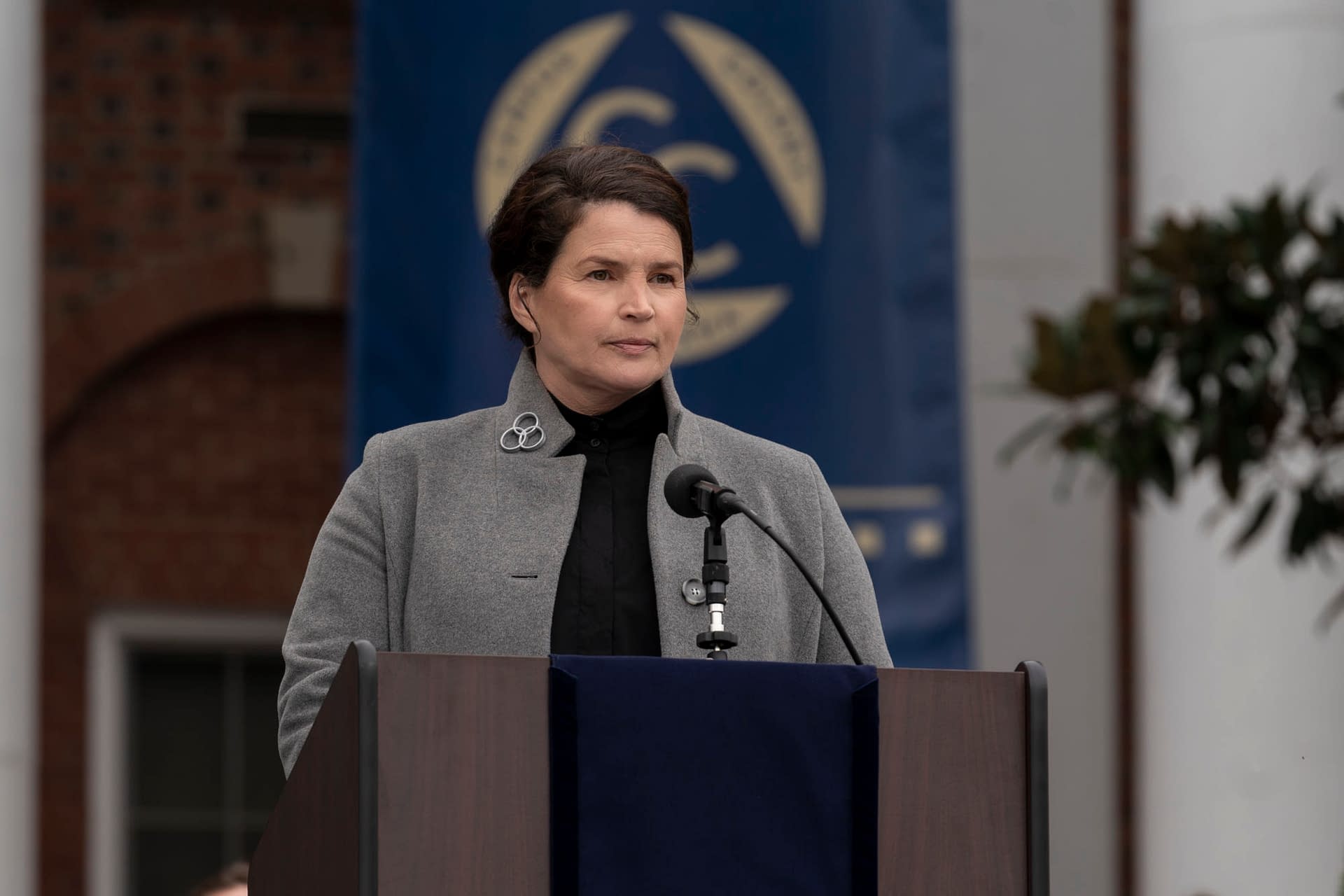 #6 – "The Walking Dead: World Beyond" (AMC)
How important is The Walking Dead: World Beyond to AMC and the Walking Dead universe?
It's "Hire Julia Ormond"-important, that's how much.
AMC's The Walking Dead has been riding a huge creative wave since the 9th season departure of Rick Grimes (Andrew Lincoln), thanks in huge part to the leadership of Angela Kang. Fear the Walking Dead enters its third season with an expanded cast and a new storyline direction that finds it connecting with Rick's CRM-sponsored disappearance more than even we expected. Of course, we didn't forget about Rick: he's got a trilogy of movies coming our way to show what happened after he got scooped up Elizabeth's (Ormond) black helicopter. Then there are the online shorts and features produced – like "The Althea Tapes", that expanded quite a bit on FTWD's season narrative.
Which brings us to Scott Gimple, chief content officer for the Walking Dead universe – and the person spearheading the effort to tie it all together. Of course, there are a hundred easy ways they couldve gone – instead? Develop a new spinoff series with a different tone and atitude than TWD and FTWD – with new faces and storylines.
Not enough pressure? Make sure that it not only ties into CRM-black helicopters, but that the overarching mythology stands at the heart of the series – essentially making TWD: WB the foundation series for the films moving forward.
So when a global franchise is resting its future on your scripts and what ends up on our screens?
You hire Julia Ormond.