The Comey Rule: Showtime Moves Up Comey/Trump Series to September
We're wondering if Showtime had any idea that The Comey Rule, its $40 million adaptation of former FBI head James Comey's New York Times bestselling book A Higher Loyalty, would end up nearly as controversial as the individuals it highlights. It's been a week since it was announced that the limited series' premiere had been moved to late November, and since that time concern has grown that influence from the Trump administration factored into the project being moved until after the presidential election. CBS Viacom head Shari Redstone and Trump are known to have mutual respect for one another. Sources say that there was an initial push for the limited series to be ready in time for the presidential elections, with Jeff Daniels making "special scheduling accommodations" after leaving To Kill A Mockingbird in preparation for The Comey Rule to premiere prior to voting.
Fueling that speculation was writer/director Billy Ray, who shared a letter with the series' crew to apologize for the change and also question the motivations behind the delay (more on the below, obtained by Deadline Hollywood). Well, it looks like someone spoke to someone about how all of this was looking because Showtime is now set to air The Comey Rule on September 27 and 28, at 9 pm. Based on the book as well as a year's worth of additional interviews with key players from the time, the limited series stars Daniels as Comey and Brendan Gleeson (Mr. Mercedes) as President Donald J. Trump (both featured in the preview images below) and details the devolution of Comey and Trump's relationship and the battles that ensued even after Comey left his position as FBI director.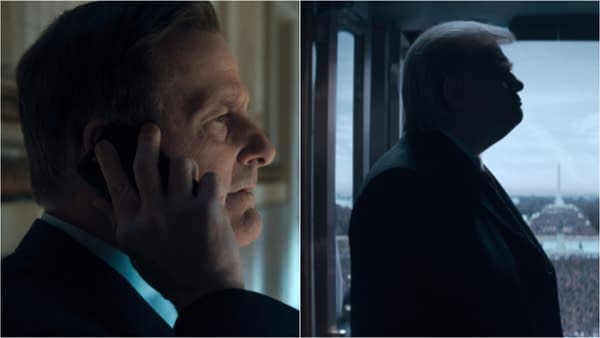 Here's a look at Ray's letter:
This is a really hard letter to write…

By now, you've no doubt heard that our airdate on Showtime will be late November, several weeks after the election.

I know what a disappointment this is to you. It is for me too – because while I've made movies about my country before, this was the first time I ever made a movie for my country. We all were hoping to get this story in front of the American people months before the coming election. And that was a reasonable expectation considering that we'd been given a mandate by the network to do whatever was necessary to deliver by May 15.

But at some point in March or April, that mandate changed. Word started drifting back to me that a decision about our airdate had been made at the very highest levels of Viacom: all talk of our airing before the election was suddenly a "non-starter." I and my fellow producers asked for a chance to plead our case on the matter, but we were told that even the discussion itself was a "non-starter." (So was the idea of our getting the movie back from the network so as to seek another partner to air it.)

Why? I don't know. The health of a media company depends on attracting audiences – and our movie, aired in August of an election year, would have been very big news. Can you imagine the billboards? Comey Vs. Trump! A cast loaded with Emmy winners!

Yet here we are.

I am deeply sorry that I didn't win this one. You trusted me with your time and your talent, and you deserved better than this. Your performances were spectacular. Please know that I won't give up; and that regardless of airdate I am thrilled at the prospect of showing the world your wonderful work.

Talk Soon– Billy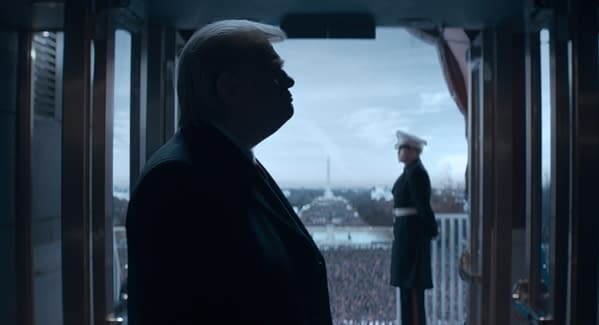 In addition to Daniels and Gleeson, The Comey Rule features Holly Hunter (The Piano) as former Acting Attorney General Sally Yates, Michael Kelly (Tom Clancy's Jack Ryan) as former FBI Director Andrew McCabe, Jennifer Ehle (Zero Dark Thirty) as Patrice Comey, Scoot McNairy (Halt and Catch Fire) as former Deputy Attorney General Rod Rosenstein, Jonathan Banks (Better Call Saul) as former National Intelligence Director James Clapper, Oona Chaplin (Game of Thrones) as former FBI lawyer Lisa Page, Amy Seimetz (The Girlfriend Experience) as former FBI lawyer Trisha Anderson, Steven Pasquale (The People v. O. J. Simpson: American Crime Story) as former FBI agent Peter Strzok, Peter Coyote (The Disappearance) as Robert Mueller and Kingsley Ben-Adir (High Fidelity) as President Barack Obama.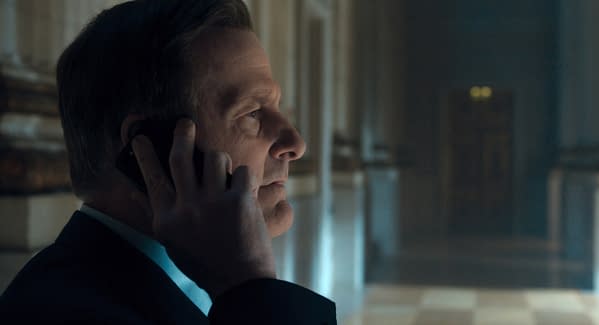 In addition, the Showtime limited series stars Steve Zissis (Togetherness), Shawn Doyle (House of Cards), Brian d'Arcy James (Spotlight), Dalmar Abuzeid (Anne with an E), William Sadler (When They See Us), Richard Thomas (Tell Me Your Secrets), T.R. Knight (Grey's Anatomy), Joe Lo Truglio (Brooklyn Nine-Nine), Spencer Garrett (Bombshell), Michael Hyatt (Crazy Ex-Girlfriend), Damon Gupton (Black Lightning), and Seann Gallagher (Good Witch). Adapted for the screen and directed by Oscar-nominated screenwriter Billy Ray (Captain Phillips) and executive produced by Shane Salerno, Alex Kurtzman, Heather Kadin, and Ray, The Comey Rule was produced by CBS Television Studios in association with Home Run Productions, The Story Factory, and Secret Hideout.