The Daily Show: Leslie Jones Runs the Gauntlet, Talks TDS Hosting
The Daily Show host Leslie Jones discusses hosting this week, and TDS Correspondent Roy Wood Jr. runs Jones through the "host gauntlet."
---
Though Trevor Noah departed Comedy Central's long-running late-night comedy/news series at the end of last year, the mission of The Daily Show to hold feet-to-flames must roll on. To that end, we have a series of guest hosts, as well as TDS correspondents, who've carved up the calendar to cover hosting until a final decision on the official new face of The Daily Show is made. Starting tonight, Leslie Jones (NBC's Saturday Night Live & one of the best people to follow on social media) will be working the desk, and we have two previews to pass along offering some clues to what we can expect. In the first clip, TDS Correspondent Roy Wood Jr. runs Jones through a "white people politicians" gauntlet to see if she's truly ready. From there, Jones checks in with late-night host & fellow SNL alum Seth Meyers to discuss how she's been preparing to take over the anchor desk this week.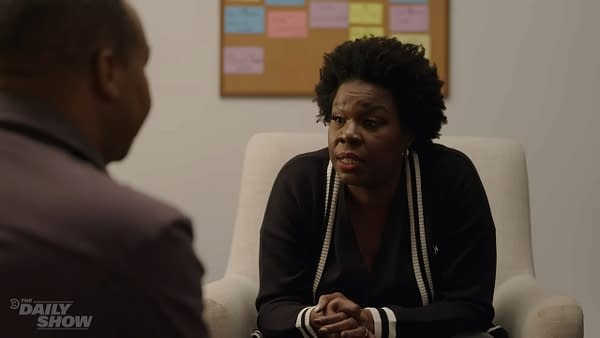 After Jones wraps up her run this week, Comedy Central's The Daily Show has Wanda Sykes (week of January 23rd), D.L. Hughley (week of January 30th), Chelsea Handler (week of February 6th), and Sarah Silverman (week of February 13th) lined up. The hosting dates for Al Franken, John Leguizamo, Hasan Minhaj, Kal Penn, Marlon Wayans, and The Daily Show correspondents & contributors will be released soon.
And here's a look back at Jones formally introducing herself as the first guest host, followed by a look back at the announcement video confirming the upcoming line-up:
With a diverse and comedic news team including Ronny Chieng, Michael Kosta, Desi Lydic, Dulcé Sloan, Roy Wood Jr., Lewis Black, and Jordan Klepper, the Emmy and Peabody Award-winning franchise engages its expansive linear and social platforms to unpack urgent issues in a compelling way, helping audiences make sense of the world around them. The show has an audience of over 44M across social media accounts, including Facebook, Twitter, YouTube, Instagram, TikTok, Snapchat, and @DailyShowDogs.