'The Goldbergs' Crosses Over With 'The Wedding Singer' Next Wednesday
The Goldbergs is finally going to show us what happens when Barry (Troy Gentile) and Lainey (AJ Michalka) attempt to tie the knot on Wednesday, and they are doing it in a surprising way. Remember the Adam Sandler hit The Wedding Singer? The episode will crossover with the film in a neat way. Both take place in the 80's of course, and the show is using footage from the plane scene in the climax of that film (Sandler is a producer for the show). Turns out, the Goldbergs were on that same flight. Check out the trailer for the episode below, which series creator Adam F. Goldberg shared on Twitter:
What a genius way to have "guest stars" like Sandler, Drew Barrymore, and Billy Idol on the show! Not to mention the footage fits seamlessly into the new stuff they filmed for the episode. This might be where Lainey leaves the show as well, after this episode airs is the debut of The Goldbergs spin-off Schooled, which stars Michalka's Lainey in the 90's and teaching at their old high school. Could her and Barry still be married then? Could they get married on the show and end up divorced or something? My money is on the wedding falls apart and this is how they write off Lainey, which is a shame because Michalka has a great deal of chemistry with this cast.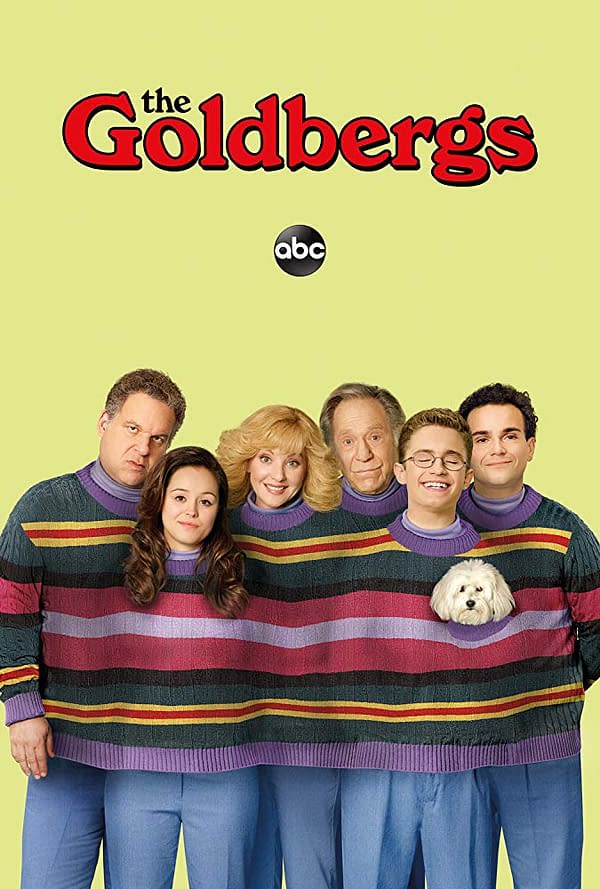 We shall find out when The Goldbergs airs its Wedding Singer crossover this Wednesday at 8PM, followed by the series premiere of Schooled at 8:30 PM on ABC.