The Great North S01E09 Proves Meeting Your Heroes Can Suck: Review
The recent episode of The Great North on FOX, "Tusk in the Wind Adventure", saw the Tobin family examine the fun moments of bonding over a TV show and the extent to which we try to see our heroes through rose-colored glasses as long as we can sometimes. The episode, written by Kevin Avery, who wrote previously for shows such as Last Week Tonight with John Oliver, dives into Beef Tobin's obsession with a local celebrity, Tusk Johnson.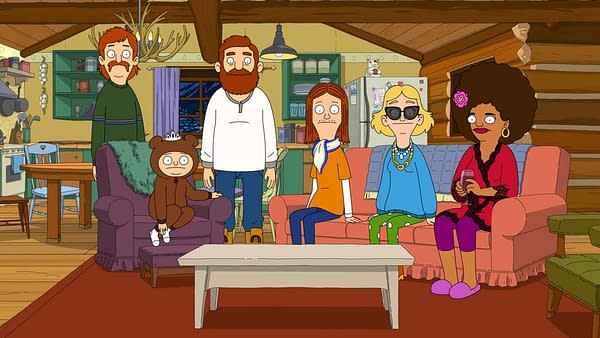 When Tusk turns out to be a manipulative "has-been" of a woodsman and the season six VHS of Dynasty was found to be taped over and recorded a train-themed series by Beef Tobin, conflict arises in the family. Wolf Tobin desperately wants to belong to the world of Tusk, but he doesn't initially see what Beef has in the fraud persona put forward by the local celeb.
West Coast, it's time to explore the great outdoors with Tusk Johnson. #TheGreatNorth starts right now on @FOXTV. pic.twitter.com/xoV9iZpHIO

— The Great North (@GreatNorthFOX) April 19, 2021
The way that Beef and Wolf want so badly to have a connection with a hero of theirs in this episode is commendable. It's a theme that many have had at some point in their life whether they've met that hero or not. The reveal of someone being "reckless" or a "fraud" can be so disheartening and The Great North conveyed that in a terrific manner. The father and son realize there's a lot more to them than what they can or can't do alongside whatever character Tusk Johnson has put forth. The finale scene in this episode of The Great North ends everything so well when Beef showcases the way he fathers his children by making up for dismissing spent time with them as he gets them the other seasons of Dynasty. And the end of the episode, specifically the credits, make for an excellent ending by having Alanis Morissette sing about "Tusk Johnson Mountain Man". Let us know in the comments if you liked this episode of The Great North!