The Last of Us Ep. 4 Look; Offerman, Bartlett on Bill & Frank's Story
Along with a look at what's to come with HBO's The Last of Us S01E04, Nick Offerman & Murray Bartlett discuss Bill & Frank's journey & more.
---
It's been a pretty good couple of days for Neil Druckmann & Craig Mazin's Pedro Pascal (Joel) & Bella Ramsey (Ellie)-starring The Last of Us. As if getting a Season 2 green light wouldn't have been reason enough to celebrate, the live-action adaptation of the popular video game decided to show folks the true beauty, tragedy & grace that television storytelling can bring. Of course, we're talking about Nick Offerman's Bill & Murray Bartlett's Frank and the love story that was created for them exclusively for the series. So to kick off the week, we have a sneak preview of what's to come this weekend with S01E04 "Please Hold My Hand" (directed by Jeremy Webb and written by Mazin). Along with that, we have a look behind the scenes at S01E03 "Long Long Time" as Mazin, Druckmann, Offerman & Bartlett discuss fleshing out for the series what the game didn't offer regarding Bill & Frank. After that, we have the latest episode of "The Last of Us Podcast," where host Troy Baker and Mazin & Druckmann discuss departing from the game for the sake of the series, why Offerman & Bartlett were perfect casting decisions, and an easter egg referencing the game that's waiting for viewers at the end of the episode.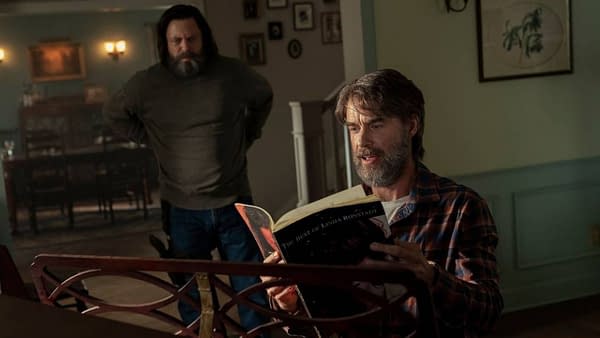 So for a look at what's to come as well as a look back at the season's heartfelt & heart-wrenching third episode, check out the following preview clip & featurettes for HBO's The Last of Us (with a new episode hitting screens this Sunday):
A Look at HBO's The Last of Us
Based on the critically acclaimed video game developed by Naughty Dog exclusively for the PlayStation platforms, the story takes place twenty years after modern civilization has been destroyed. Joel (Pascal), a hardened survivor, is hired to smuggle Ellie (Ramsey), a 14-year-old girl, out of an oppressive quarantine zone to the Fireflies, a cure-searching organization. What starts as a small job soon becomes a brutal, heartbreaking journey as they both traverse across the U.S. & depend on each other for survival.
Joining Pascal and Ramsey are Gabriel Luna (Tommy, Joel's younger brother), Nico Parker (Sarah), Merle Dandridge (resistance leader Marlene), Jeffrey Pierce (Perry), Anna Torv (Tess), Nick Offerman (Bill), Murray Bartlett (Frank), and Storm Reid (Riley Abel). Lamar Johnson & Keivonn Woodard have also joined the cast, with Graham Greene & Elaine Miles set to guest star as characters original to the series (and not the video game). In addition, video game franchise voice actors Ashley Johnson & Troy Baker (Ellie & Joel in The Last of Us and The Last of Us Part II video games) will also be appearing in the series.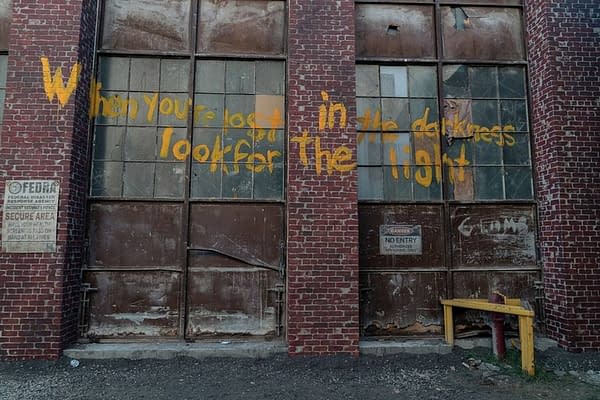 Written by Mazin and Druckmann with Kantemir Balagov (Beanpole, Closeness) directing the pilot, the series is set to be executive produced by Carolyn Strauss (Chernobyl, Game of Thrones), Naughty Dog's Evan Wells, PlayStation Productions' Asad Qizilbash & Carter Swan, Mazin, and Druckmann. The series is a co-production with Sony Pictures Television, with PlayStation Productions, Word Games, and Naughty Dog producing. Academy Award nominee Jasmila Žbanić (Quo vadis, Aida) and Ali Abbasi (Border) join pilot-director Balagov in the director's chair.