The Marvelous Mrs. Maisel Drops Official 5th & Final Season Teaser
The Marvelous Mrs. Maisel will debut its fifth & final season on Amazon's Prime Video on April 14th, and here's the first teaser for it!
---
Marvelous Mrs. Maisel, the Prime Video comedy smash that really put them on the map as a place where quality programming could live, has its fifth season coming on April 14th. It will also be the last. A teaser for the season was released this morning, featuring our star Midge (Rachael Brosnahan) being the star she seems to have been born to be as flashbulbs go off and her manager Susie (Alex Borstein) yells her name from afar. You can see the teaser for the final season down below.
You Will Forever Be Marvelous Mrs. Maisel
Maisel has won 20 Emmys from 54 nominations over the course of its run, including Brosnahan winning the Primetime Emmy for Outstanding Actress in a Comedy Series, two Golden Globe Awards, three Screen Actors Guild Awards, and two Critics Choice Awards. Also starring in the series are Emmy winner Tony Shalhoub, Emmy winner Borstein, Emmy nominee Marin Hinkle, Michael Zegen, Kevin Pollak, Caroline Aaron, SAG Award winner Reid Scott, Alfie Fuller, and Jason Ralph. A plethora of guest stars over the seasons may also be around for the swan song from series creator Amy Sherman-Palladino and executive producer Daniel Palladino. Below is also the poster for the final season as well.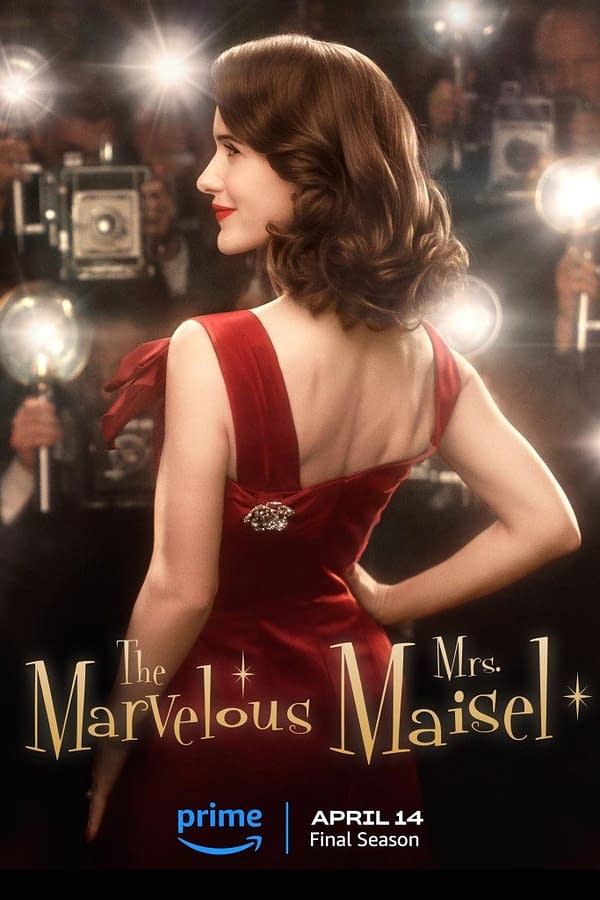 It will be very sad to see this show go, but the fact that we (seemingly) will have five high-quality seasons to enjoy for years to come is all one can ask for. As the seasons pass, Maisel becomes more beloved for me than Gilmore Girls, which is saying something as I find the latter to be one of the most well-written shows ever put on television. Now if we can just reunite the cast of Bunheads for some kind of one-off…
The fifth and final season of The Marvelous Mrs. Maisel debuts on Prime Video on April 14th.