The Midnight Gospel Offers Viewers Imaginative, Introspective Trips
On April 20th Netflix dropped The Midnight Gospel, a new animated series by creative minds Duncan Trussell (Curb Your Enthusiasm, Drunk History) and Pendleton Ward (Adventure Time). Trussell uses the time-honored tradition of the podcast to help tell whatever story in each episode. The host of said podcasts — Clancy — travels to dying planets to interview the creatures he finds there. He then sends his podcasts out into the space cast for his loyal yet small following. The podcast clips used are from Trussell's The Duncan Trussell Family Hour podcast, where Trussell interviews the likes of Dr. Drew Pinsky, Damien Echols, David Nichtern, and more. Topics include drug use, magic, and death, and are studious in which clips to use from the podcast.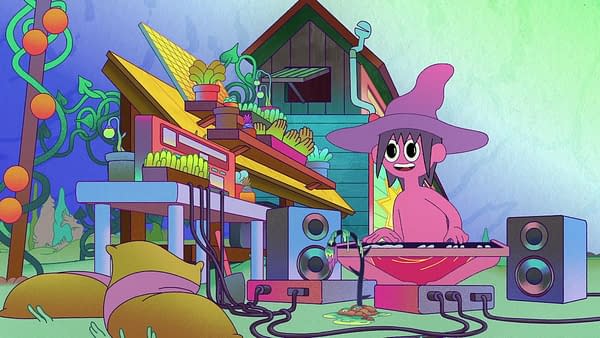 The series executes aesthetically pleasing lines and color schemes with precision and care. Ward is no stranger to creating imaginative worlds full of weird creatures in dire circumstances. While the circumstances that lead up to Clancy interviewing these beings may not always match up with the events going on around them, you can't help but get lost within the hyper neon beauty of it all. This show is just fun to look at, which may read like a simplistic way to explain what the series did to my senses but it's also the purest answer I can offer about the experience.
The music also goes a long way towards defining the series, with its understated mood fitting the overall vibe of the series like a glove. As main characters go, Clancy 's progression through the show is natural and feels real largely in part to the podcasts. As a result, we connect and evolve with Clancy, which makes it easier for us to root for him even though he's never really in danger through most of the show. He's the perfect avatar for the audience and is gentle with how he guides us into some deep discussions. It's easy to get lost within the unique worlds of this show, but Trussell and Ward offer us a guide who feels more like a friend who's always been around. If you haven't checked out The Midnight Gospel yet, it's definitely worthy for a top spot on your binge-watch list. With each of the season's eight episodes clocking in at around 20 minutes, the season is easily a trip worth taking (and check out our interview with Trussell, where we dive a little deeper into what went into the making of the Netflix series and what Trussell hopes viewers take away from it).