The North Defends Against Shamrock & Callihan: Impact Slammiversary
We're (probably) about halfway through Impact Wrestling's Slammiversary PPV at this point, and we've already seen quite a lot. The Motor City Machine Guns returned to take on The Rascalz in an open challenge. Moose had a hardcore match with Tommy Dreamer. A new #1 contender was decided in a Knockouts Gauntlet Match. Heath Slater invaded Impact. And Chris Bey and Willie Mack put on what has been, so far, the match of the night.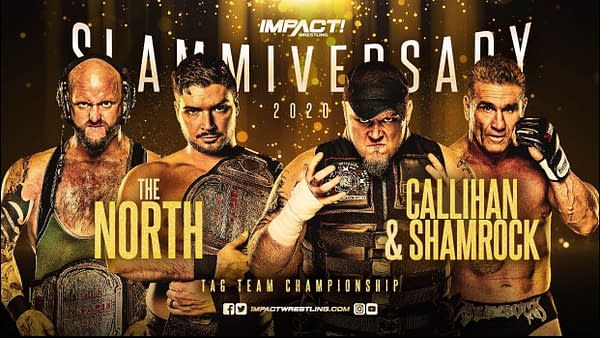 Now it's time for Ken Shamrock and Sami Callihan vs. The North. Josh Alexander and Ken Shamrock start things off and it's not long before Alexander ends up in an ankle lock. Ethan Page gives Alexander a pep talk. Shamrock looks for one from Callihan, but Callahan tags himself in instead. Callihan whoops ass on both members of the North.
Shamrock and Callihan take turns beating up Ethan page for a long while until The North manages to use some strategy. Shamrock tosses PAge into the ropes, but Alexander stops his momentum. Callihan goes for a clothesline but Alexander pulls down the ropes to send Callihan outside. Alexander then gets a blind tag and comes in, only to be tossed outside by a still-raging Shamrock. But when Shamrock follows, The North finally gets the upper hand.
That doesn't last long though, as the North can barely handle Shamrock on their own. Callihan is a little more manageable though, so once he kicks in, with a little bending of the rules, The North takes over. Alexander beats on Callihan, which Callihan seems to be enjoying. I would say they're working toward the hot tag now, but… there's no crowd. So how hot can it be?
Callihan eventually gets a stunner on Callihan, though Page gets in between him and Shamrock. Page unwisely decides to get into an exchange of blows with Callihan. It ends with a double big boot, and now it's time for both men to crawl.
The hot tag happens. Shamrock hits some dropkicks and shoulder tackles on The North. Shamrock then immediately tags in Callihan, who barely had time to recover. Callihan ends up on the top turnbuckle in the North's corner and gets double-crucifix-bombed. Callihan does manage to kick out and I'm still trying to figure out why Shamrock tagged him back in so quickly in the first place. Callihan gets another lukewarm tag on Shamrock, who belly-to-belly suplexes Alexander out of the ring. Page gets a superkick on Callihan but Shamrock gets Page in the ankle lock. Alexander gets Callihan in the ankle lock.
I'm not even sure who the legal men are at this point. Shamrock gets Alexander in the ankle lock now, but Sammy, trying to keep Page away, accidentally trips over Shamrock and breaks up the ankle lock. There's some miscommunication here, but Callihan hits a piledriver on Alexander. Page breaks it up, and Shamrock doesn't even try to stop him. One thing leads to another and Shamrock ends up kicking Callihan in the face (by accident?). Alexander goes to the top turnbuckles but Shamrock stops him and hits a belly-to-belly superplex. Alexander rolls out of the ring.
Shamrock goes for a dive that the North gets out of the way, way too early. Shamrock flops to the floor. The announcers try to sell it as Shamrock being unable to stop his momentum. The North throw Shamrock back in and get the pinfall. Shamrock, for a man of 85, is in great shape and it's amazing he can still go like does. This match was hard-hitting and mostly coherent, though it kinda fell apart at the end.
After the match, Page grabs a mic. Page says nobody asked for The North's comments when they hit their one-year anniversary as champs. I smell a Gallows and Anderson appearance. Alexandar starts bragging now. Page says no team in the history of Impact has better chemistry or more devastating tag team tactics. They're the greatest team in Impact Wrestling History.
The Motor City Machine Guns come out. Alex Shelley compliments The North, but they disagree on who's the greatest. Sabin says when you're truly the greatest tag team, you don't have to constantly remind everyone. Sabin says the North has been the greatest for the past year, but now the Motor City Machine Guns are here. They have a match on Tuesday against the North for the Impact Tag Team Championships. So is this a theme for the night? Every time you think Gallow and Anderson are gonna come out, Motor City Machine Guns do instead?
Gia Miller is outside the locker room of the Good Brothers. She knocks, and Rich Swann answers. Swan says he came to Slammiversary to support Mack, but he also came because he has his eye on the Impact World Championship match. Swann says that once he's cleared, he's going after that title.
Slammiversary continues, and Bleeding Cool continues our live coverage. The Knockouts Championship match is up next.